Published on October 27, 2015 by Spencer Kirkpatrick  
Golden State's intriguing style of play is altering the organization's profits, the NBA's ratings, and revolutionizing the game of basketball.
If you have ever had the chance to play for a coach with an old-school basketball philosophy or watch retro NBA players commentate on games like Charles Barkley, you'll often hear sayings like: "four passes until we shoot", "work the clock", and "you live and die on the three". Now, if you've had the opportunity to watch Golden State play on any given night, you'll agree that these once popular sayings have never even entered the minds of marksmen Steph Curry and Klay Thompson.
Evidence of this assumption is located on nearly every media outlet one could imagine. These media outlets are crammed with highlights of Curry and Thompson's bizarre, deep, off-balanced fade away threes. A lot of these shots were also taken within the first ten seconds of the shot clock and sometimes no passes were used during the possession. The most popular occurrence being Steph Curry's double behind-the-back, step-back shot that put Chris Paul on his backside. This move immediately went viral on all media platforms including Vine, YouTube, ESPN, and NBA TV.
It is no secret why Golden State had so much success this past season. They shot the lights out of the three point ball, finishing second in the league in three pointers made and first in three point percentage. They certainly ruined the common belief of "teams that live on the three, die on the three", as they relied heavily on the shot.
After the Magic Johnson, Larry Bird, and especially the Michael Jordan era, the NBA Finals saw Nielsen ratings diminish for several years. The Warriors and Cavs series recently received the highest Nielsen ratings the NBA Finals had seen in thirteen years. After all, nothing seems to make for a better game than the league's best player in the world verses the most potent offense the game has to offer. But if more teams continue to adapt to a more fast-paced game that is heavily reliant on the three point ball, will it automatically lead to more fans in the stadium and more TV viewership in homes?
The NBA has seen several teams revenue go significantly up as the "average franchise is now worth a record $1.1 billion dollars", according to Forbes.com. The Golden State Warriors is one of the many organizations to also move up in revenue. But, Golden State is accomplishing this at a rapid rate, now their team value is at $1,300,000 with a whopping 73% increase in revenue from the year 2014. They now rank #7 on most valued NBA team. That's quite a jump, especially when considering that they were the #18 most valued NBA team six years ago. Finance journalist Elyssa Kirkham predicts that "if the Golden State Warriors experience a similar boost in earnings, they should see operating income increase from $45 million in 2015 to possibly $117 million in 2016."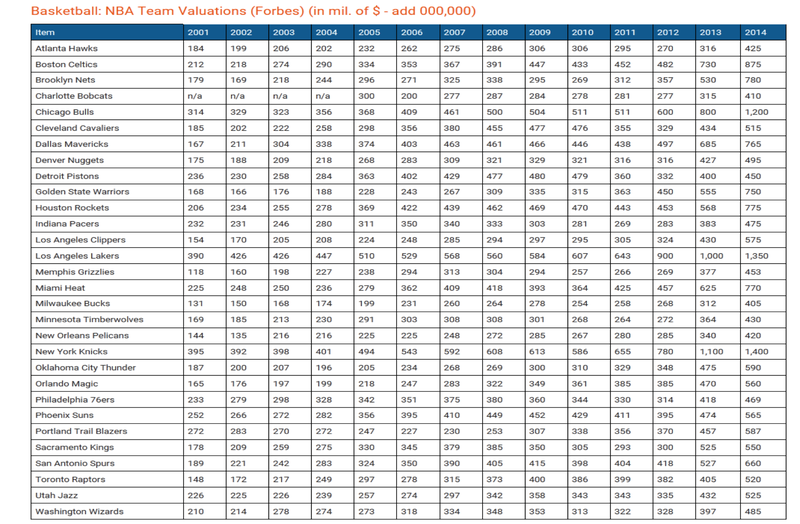 It also helps an organization's brand when the team has a superstar to endorse. Just look at what ticket sales, team merchandise, and the change in fan base did when LeBron joined "the big three" in Miami. High-profiled contracts have been offered to Steph Curry such as Under Armor, State Farm, and Degree. His fan base is also surging as he passes LeBron James for the most popular jersey in the NBA.
NBA megastars like LeBron James, Carmelo Anthony, and Kobe Bryant have ruled the league for the last decade. Currently, all three players are in their thirties and will soon have to significantly limit their minutes. It will then become a question of who will overtake the throne. As of now, it is pretty clear which waive of players is stepping up to take over the legends' spotlight. Kevin Durant, Steph Curry, Russell Westbrook, and James Harden are the front-runners to accomplish this and all three are playing the game in their prime years.
It is inspiring to see that a once struggling franchise like the Warriors are now among the premier organizations in the league and forecasted to be at the top for a long time coming. A franchise who before Curry and Lee, had not had an All-Star selected since Latrell Sprewell in 1996. A league that only had three teams worth over one billion. The Warriors' massive success has altered their organization's profits, the NBA ratings, and the game of basketball.
This blog post was written by Samford University student Spencer Kirkpatrick.
Sources
Gonzalez, A. (2015, June 30). Curry Overtakes LeBron James for NBA's Top Jersey. Retrieved September 3, 2015.
Kirkham, E. (2015, June 17). What Golden State Warriors' NBA Finals Win is Worth to MVP Andre Iguodala and Team. Retrieved September 3, 2015.
Forbes. (2015). Golden State Warriors Team Value. Retrieved September 3, 2015.
Price, S. (2015, June 17). 2015 NBA Finals Received Highest TV Ratings Since Michael Jordan's Last Title. Retrieved September 3, 2015.
Chart of Team Valuations: http://www.sbrnet.com.ezproxy.samford.edu/researchrc.aspx?ResCode=nbate1