Published on February 25, 2015 by Darin White  
British Invasion 2.0
Over the last decade dozens of British-based soccer teams have spent millions of dollars in an effort to develop strong fan bases in the U.S.  Teams regularly play multiple games in the U.S. during the summer as part of a pre-season tour. Other teams, like Chelsea and Liverpool, have formed partnerships with top U.S. youth soccer clubs. In doing so they assure that their team name, logo and colors will be prominently displayed by top youth players at elite soccer tournaments (like the Disney Showcase or the Nike Cup) all across the country as players from these clubs become brand ambassadors every time they take the pitch. Still other teams have attempted to build a strong brand presence in the U.S. by launching online club stores specifically designed for their U.S. based fans.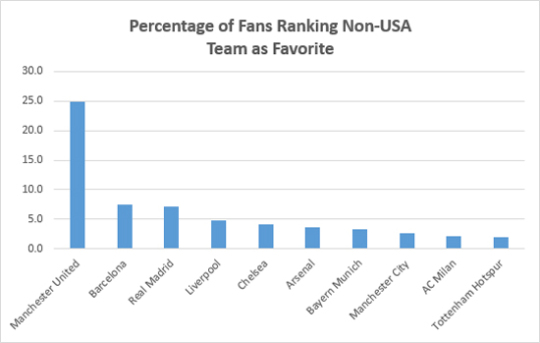 The Most Dominant Sports Brand in the U.S.?
As the above chart demonstrates, all of these efforts have been minimally effective in dislodging Manchester United's brand dominance in the U.S. Recent data collected by SBRnet found that ManU remains over 5 times more popular with U.S. soccer fans than any of their English Premier League counterparts. The next most popular EPL clubs in the U.S. are Liverpool, Chelsea, Arsenal, Manchester City and Tottenham (in that order). All of their fans combined do not add up to Manchester United's. Incredibly, 1 in 4 U.S. soccer  fans lists Manchester United as their favorite non-U.S. based team. This seems particularly remarkable given the efforts put forth by other teams to build brand equity in the U.S.  It is also surprising given the growth of the Hispanic population in the U.S. Traditionally Hispanics have supported teams from La Liga over other European clubs, yet only 2 such clubs made the the top 10 in the above research (Barcelona and Real Madrid). No other sports property comes close to dominating a sport here in the U.S. like Manchester United does soccer. Even the mighty New York Yankees do not dominate baseball the way Manchester United dominates soccer.
What do you think?
Given Manchester United's recent struggles on the field, do you think they will be able to hold such brand dominance in the U.S. in the decade to come?
Written by: Dr. Darin White