Published on January 3, 2017 by Barrett Merrill  
With the constant progression and interconnectedness of people and communities around the world, globalization has not only been a subject at the political and economical forefront of everyone's thoughts, but has also been a hot topic in the world of sports. And, when it comes to globalization in the world of sports, the National Basketball Association as a whole has proven itself as the fastest diversifying professional league in the US. Shocked by this?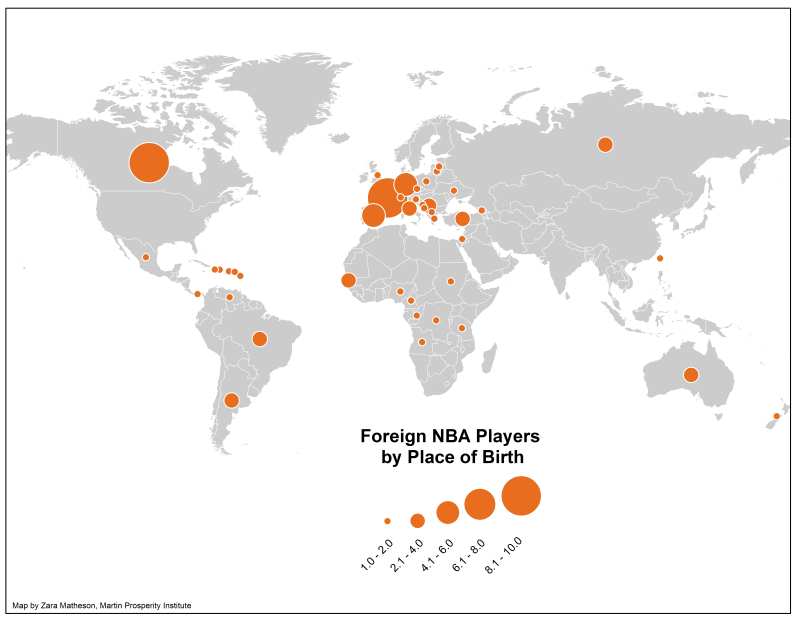 Just look at last year's finals between the Warriors and Cavaliers. There were not only three players from Australia between the two teams, but also players from Russia, Canada, Brazil, Nigeria, and Bosnia and Herzegovina, with many of them being starters. In fact, when scanning across all thirty teams, Adam Silver, Commissioner of the NBA, states that they actually "have a league where 25 percent of [the] players were born outside the US." Additionally, in entering a new season, the NBA is coming off of a record-breaking 2014-2015 year with an involvement of over 100 international players. So what has the NBA done as of late to integrate into the global market of sports in a way that other leagues have failed to embrace and how is it that they intend to move forward to further globalize the game of basketball?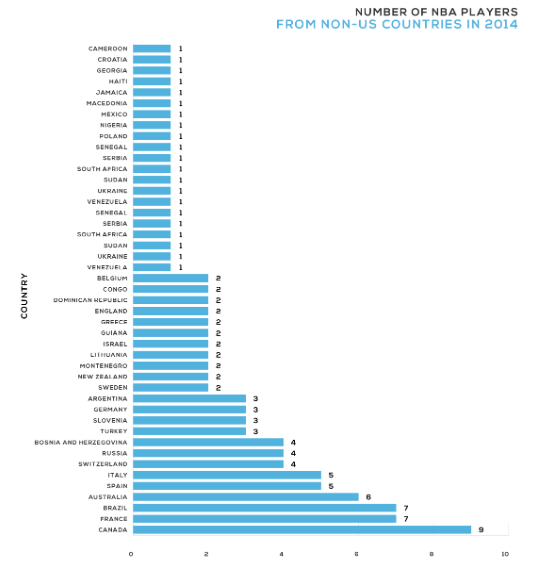 The Olympics
Internationalization is a slow process, and to develop a patriotic passion towards anything across cultures that is not already ingrained into local tradition can seem incredibly daunting, if not impossible. But what if you could use something that is already a part of a community, or hundreds of communities, to leverage something that is not?
At the beginning of the 90s, the NBA set out on an internationalization project (only 21 internationals in the NBA at the time) with the intent of connecting with non-American sports markets, and their entry point: the 1992 Olympic Games. This was a huge success. As the "Dream Team," compiled of NBA all-stars, went over to Barcelona, the US walked away securing the gold medals and having established a very captivating NBA presence among many nations. This was only the start of what has now led to fourteen worldwide NBA offices and a massive London headquarter that broadcasts to 118 countries in Europe, Africa, and the Middle East. Now, with another summer Olympics coming up in 2016, there are high hopes of further expanding influence as many countries will be represented by players who come out of the NBA.
Pre-Season Tours
Though the Olympics stand paramount in comparison to other avenues when it comes to shining a spotlight on the NBA, Adam Silver and the rest of his team cannot depend solely on this once-every-four-year competition as it would be spreading their marketing to thin. Fortunately, by cultivating certain previously formed relationships, primarily initiated through the Olympics, the NBA has been able to do international pre-season tours.
For instance, this past preseason was the first set of NBA games that Johannesburg, South Africa has ever hosted, laying the foundation for an entirely new market and fan base. In the words of two-time All-Star from Sudan after playing in the game in Johannesburg, Luol Deng (@LuolDeng9) shared: "Basketball is a growing sport, it's an international sport, and it's touching many parts of the world now...A lot of people in Africa have always been passionate about it. And growing up, they never had the chance to watch [NBA] basketball. And now, they have the chance to do so and be more involved. It's just an amazing thing."
Team Ownership
It's apparent that overseas preseason games, and the occasional regular season international game, play a huge role when paired with the Olympics in moving the globalization of the NBA forward, but how might this plan be translated into a day-to-day strategy and not only an event-based one? Similar to the annual increase in diversity of basketball players, the NBA has also seen multi-cultural growth in the form of its ownership.
In mid-May of 2013, we saw Vivek Ranadive of Mumbai buy the Sacramento Kings, joining Mikhail Prokhorov of Moscow (owner of the Brooklyn Nets) and Israeli-born Micky Arison (owner of the Miami Heat). With non-local leadership integrating into multiple teams, the NBA has already seen a growth in its global following, especially through each of these teams. These leaders, fueled by a lot of the passion Ranadive brings to the table, have been using their influence and contextualization to find strategic approaches to get their countries more involved.
This blog was written by Samford University student Barrett Merrill. Barrett is an Economics major from Atlanta, GA interested in social enterprise, international sports business, economic development, and micro-church planting movements.
References
Brunious, Courtney. The Fields of Green. "Four Pressing Business Issues Greet New NBA Season."
Florida, Richard. City Lab. "The Remarkable Global Diversity of the NBA."
ImmigrationProf Blog. "The NBA Finals and the Internationalization of American Professional Basketball."
Mooney, Loren. Stanford Business. "Five Key Trends that are Driving the Business of Sports."
NBA. "NBA Sets Record with 101 International Players from 37 Countries and Territories."
Sports Business Research Network. "Headliner: Adam Silver NBA."
Sports Business Research Network. "NBA Chief Stern States European Vision."
Wallace, Michael. ESPN. "NBA Exhibition in South Africa to feature Luol Deng, Chris Paul." Retrieved from:
Images
Florida, Richard. City Lab. "The Remarkable Global Diversity of the NBA."
Friedgood, Adam. Bleacher Report. "France Olympic Basketball Team: 2012 Roster Predictions and Analysis."
Smith, Stephen A. "Quite Frankly."