Published on September 12, 2015 by Brian Horncastle  
There is no denying that the NFL has been the dominant superpower of the global sports industry over the past two decades. In fact, if you look specifically at the numbers from 2014, the NFL had 136,627,000 people identify as fans (SBRnet). That dwarfs the second place sport, college football, by over 27.5 million fans (SBRnet). One can gather from this data that America is dominated by football, yet in recent years the NFL has found they have an Achilles heel - mass defection of female fans due to repeated domestic violence incidents by NFL players.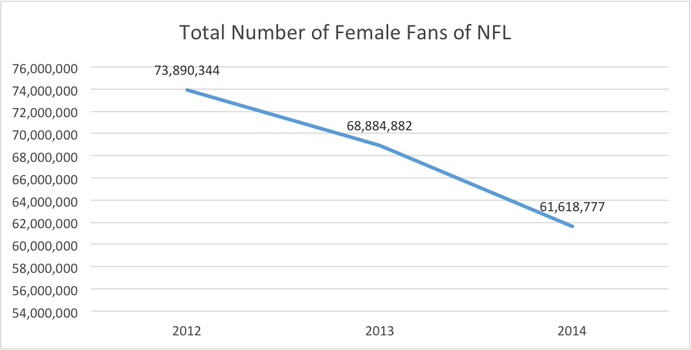 As can be seen from the above graph, the NFL has definitely taken a hit in the number of female fans. There was a drop of 10.5% from 2013 to 2014 which translates to approximately 7,266,120 female fans in just one year (SBRnet). Another way to measure the loss the NFL is taking is by looking at the sales of team apparel. The league saw a 6% decrease in total apparel sales from 2013 to 2014, giving the NFL its lowest total in over three years (SBRnet).

Senior Vice President at the sponsorship consulting firm IEG, Jim Andrews (@JimAndrews_IEG) said "The NFL can't afford to lose their female fan base, and there are a lot of fans out there who will be up in arms about the way the league has handled this." referring specifically to the Ray Rice incident. It is without question a very common consensus among all that something needs to be done.
Gender of NFL Fans
Total Percent of NFL Fans
 
2011
2012
2013
2014
Male
57.7%
51.6%
52.7%
54.9%
Female
42.3%
48.4%
47.3%
45.1%
What's Next?
In response to these numbers, the NFL has run an advertisement campaign called "No More" to show where they stand on domestic violence. Although the NFL has shown no signs of relinquishing its reign on top of the American sports industry, it has definitely shown to all that even they are vulnerable to controversy. A lot of the blame has been put on Roger Goodell, the commissioner of the league, as he has been anything but consistent in his punishments given to players. It remains to be seen if the NFL can reverse the trend and start growing their female fanbase again.
This blog post was written by Samford University student Brian Horncastle.
References
Harwell, Drew. Chicago Tribune. "After Ray Rice, will women forgive the NFL?" Retrieved from http://www.chicagotribune.com/sports/football/chi-women-forgive-nfl-20140912-story.html
SBRnet. "Sports Fan Market Size." Retrieved from http://www.sbrnet.com.ezproxy.samford.edu/research.aspx?subrid=862
SBRnet. "Football (NFL) Sports Logo Apparel: Summary Report." Retrieved from http://www.sbrnet.com.ezproxy.samford.edu/research.aspx?subrid=704
SBRnet. "Football: NFL Fan Market Summary." Retrieved from http://www.sbrnet.com.ezproxy.samford.edu/research.aspx?subrid=722
Image from http://www.foxsports.com/nfl/laces-out/top-selling-jerseys-among-american-women-dicks-sports-goods-110314