Published on July 18, 2017 at 11 a.m. by Sara Griffith  
Nike has been viewed by most as the leading brand of apparel in athletics over the past few years as the company has released more innovative and cutting-edge uniforms than its competitors. How do Nike-sponsored college football teams compare to teams sponsored by other brands though?
Nike in the FBS
Nike sponsors 79 of the 128 FBS college football teams, giving it a majority of 61.7% of apparel sponsorships in the FBS. Its closest competitor is Adidas sponsoring 30 FBS teams (23.4 %), followed by Under Armour with 15 FBS teams (11.7%) and Russell Athletics with four teams (3.1%).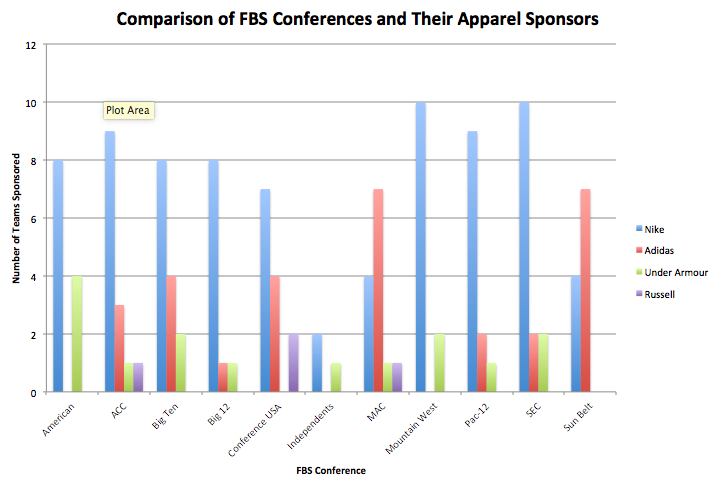 Even more impressive, however, is that Nike not only sponsors 61.7 percent of total FBS teams, but that 20 of those teams were ranked in the 2017 AP Pre-Season Top 25 Poll. In fact, the top ten teams in the 2017 AP Pre-Season Top 25 are all sponsored by Nike with the exception of #9 Wisconsin. 
Nike in the FBS & FCS Championships
Amazingly, the first three College Football Playoffs (2015, 2016 & 2017) have only featured teams that are sponsored by Nike – Ohio State, Alabama, Florida State, Oregon, Washington, Oklahoma and Michigan State. Nike also currently sponsors 17 of the last 19 FBS National Champions. Alabama, Florida, Florida State, Ohio State, LSU, and USC, who all won multiple championships from 1998 to 2017, are all currently sponsored by Nike. Auburn, the 2010 National Champions, are sponsored by Under Armour, and Miami (FL), the 2001 National Champions, are sponsored by Adidas.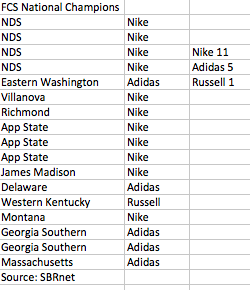 In the FCS, Nike currently sponsors 11 of the last 17 (64.7 percent) National Champions. North Dakota State and Appalachian State won seven of the last 17 national championships combined, and Nike currently sponsors both schools. Eastern Washington, Delaware, Georgia Southern, and Massachusetts are FCS Champions who Adidas currently sponsors, while Western Kentucky University is the only champion since 1998 sponsored by Russell Athletics.
Nike and Its Association with Success
Although Nike does dominate the FBS, sponsoring 61.7 percent of FBS teams, its history of dominating the highest-performing teams in college football is even more noteworthy. Nike sponsors 80 percent of the 2017 AP Pre-Season Top 25.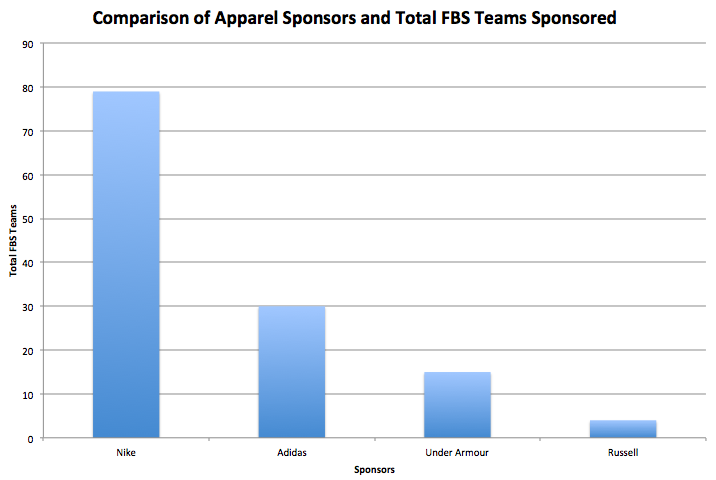 Even more impressive is that Nike currently sponsors 88.2 percent of the last 19 FBS National Champions and 64.7 percent of the last 17 FCS National Champions. Therefore, Nike sponsors a higher percentage of champions and current football leaders than it does in the entire FBS, as all of the percentages are greater than the 61.7 percent of FBS teams the company sponsors.
Nike clearly has a reputation of being associated with the highest performing teams in college football. Not only does Nike gear provide athletes with the most modern and trendy uniforms in the business, but it also allows athletes to perform their best on the field. "Just Do It" in college football means "Just Win" for Nike-sponsored teams.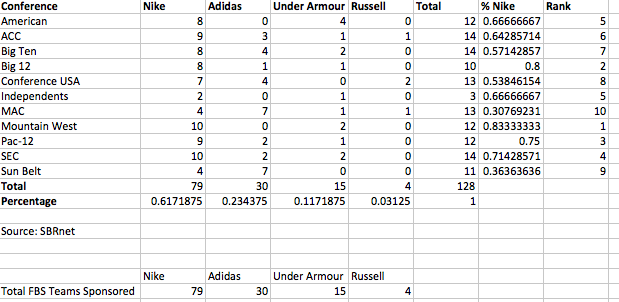 This blog post was written by Samford University student Sara Griffith.
References
Barnett, Z. (2015, April 2). Nike, Adidas or Under Armour: Who wears what in FBS? Retrieved October 13, 2015, from http://footballscoop.com/news/nike-adidas-or-ua-who-wears-what-in-fbs/
*Note: If team is not listed on this list, sponsorship information included in paper was found on specific university's athletic website.
Checcio, C., & Wise, B. (2014, August 8). Nike still dominates jersey sponsorships of top college football teams. Retrieved October 14, 2015, from http://thefieldsofgreen.com/2014/08/08/nike-still-dominates-jersey-sponsorships-of-top-college-football-teams/
FBS Football. (2015, February 12). Retrieved October 15, 2015, from http://www.ncaa.com/history/football/fbs
FCS Football. (2015, February 12). Retrieved October 17, 2015, from http://www.ncaa.com/history/football/fcs
The AP Top 25 Poll. (2015, October 18). Retrieved October 18, 2015, from http://collegefootball.ap.org/poll