Published on February 25, 2015 by Lincoln Honts  
 You had the end of the MLB Playoffs including the World Series, the NFL was at the peak of its season, the NBA was really starting to ramp up, and College Football Bowl season was just getting started, including the lead up to the first ever College Football Playoff semifinals. It was a great season for athletes and sports fans alike; it was also a very lucrative season for Nike. Nike operates on a fiscal year that starts in June, so in this second quarter of Nike's fiscal year, the Sports Business Research Network reports that sales increased by 15 percent and earnings rose by an incredible 22.7 percent. The Sports Business Daily reports that Nike's orders of footwear and apparel grew by 7 percent in the quarter, which is slower than the 11 percent growth in the quarter before, but Nike CFO Don Blair said that "as long as we don't see huge moves in the macroeconomics, we believe that we can continue to generate growth in the business."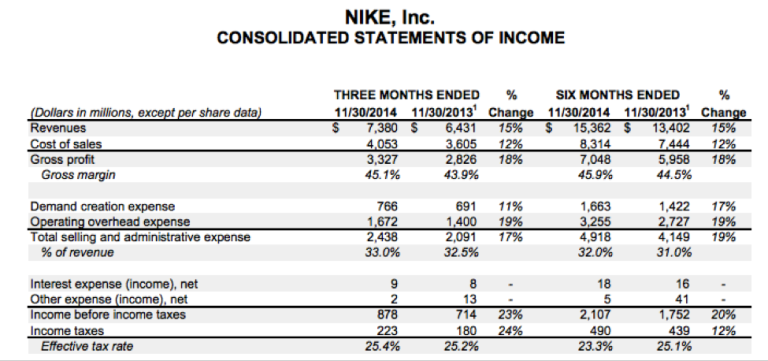 Why This Growth?
As mentioned earlier, there were an enormous amount of sporting events occurring during this quarter for Nike which could have led to the growth. Nike sold officially licensed gear for MLB teams in the playoffs, which had fantastic sales. Also, all four of the teams in the first college football playoff were Nike sponsored teams in Alabama, Oregon, Florida State, and Ohio State. For the University of Oregon specifically, the Duck Store Director of Marketing Katie Conway described the apparel as "flying off the shelves" in a way that was totally different to the sales they had when the Ducks made it the BCS Championship in 2011. Conway said that this was probably due to the fact that being a part of the first ever College Football Playoff was something really special. Ohio State reported something very similar about their official playoff apparel, as did Alabama and Florida State.
Besides this, Nike is the official apparel sponsor of the NFL, where they have not only been expanding men's clothing options but also really growing the apparel market for the rapidly increasing female NFL fan base. According to an article by Alicia Jessop of Forbes, the NFL fan base has become over 44 percent female in the past few seasons, while more than 60 percent of females identify as an NFL fan. Nike took over NFL apparel at the end of 2010, and since then female officially licensed apparel sales have more than tripled, and the market only continues to grow. In fact, toward the end of October, Nike officials claimed that they expected their sale of "women's footwear and apparel" to increase by 40 percent in the next two years.
Sources
Sports Business Research Network
Sports Business Daily Articles http://www.sportsbusinessdaily.com/Daily/Issues/2015/01/08/Marketing-and-Sponsorship/Oregon-merchandise.aspx?hl=nike%20sales&sc=0
http://www.sportsbusinessdaily.com/Daily/Issues/2014/12/19/Finance/Nike.aspx?hl=nike%20sales&sc=0
http://www.sportsbusinessdaily.com/Daily/Issues/2014/10/23/Marketing-and-Sponsorship/Nike.aspx?hl=nike%20sales&sc=0
Jessop, Alicia. "How New Marketing Approaches Helped the NFL Achieve Triple Digit Growth In Women's Apparel Sales." Forbes. 26, Nov. 2012. Web. Accessed 16, Jan. 2015.
Nike Investor News and Quarterly Earnings. http://investors.nike.com/investors/news-events-and-reports/?toggle=earnings [Link broken as of 9/3/2019]
This blog post was written by one of my students at Samford University, Lincoln Honts.