Published on October 21, 2015 by Jordan Johnson  
With the National Women's Soccer League (NWSL) coming to a close after its third season, there is one big question that some players might be pondering—is it time for me to hang up the cleats and retire? Unfortunately, this is a reality for a lot of players in the league—whether players have hit their athletic peak or just simply can no longer afford to live off of a professional soccer player's salary.
Money is an Issue
Some of these athletes are scraping just to get by. While the minimum salary of the players in the Major League Soccer (MLS) has just been raised to $60,000, the minimum salary for a NWSL player is a mere $6,842. That is hardly enough money to live off of for two months, let alone a year, including the off-season where they are making no money. A lot of players simply cannot continue to live off of their parents, or they feel as if they cannot pass up job opportunities to continue to make no money and push their bodies to the limit day in and day out.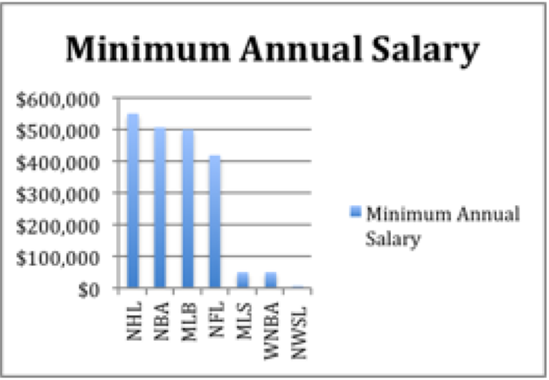 One great example of this is Katie Deines, a midfielder from the University of Washington. She played in 18 matches in 2014 for Seattle Reign FC and then was traded to FC Kansas, the leagues defending champions. Her future looked bright for the league, however, she felt guilty turning down countless job opportunities to continue to play a game, and make no money. At one point in Seattle, she was living in a five-bedroom house, with roommates both from her team and from the MLS team, Seattle Sounders.
Deines said, "it definitely feels like an extension of college life, and it is way less glamorous than college" (Kassouf, 2013). Being a former collegiate soccer player at both an ACC school and a SoCon school, as well as interning with the Boston Breakers this summer, I can definitely attest to the low budget of the NWSL, and how the lives of these players are way less glamorous than that of a college athlete. Should professional athletes have less benefits and glamour than collegiate athletes?
Time to make some changes
Jeff Plush, the commissioner of the NWSL, says, "the player looking to make a career out of this who is on the lower end of the wage scale is going to have to do [additional things]" (Kassouf, 2013). This means some players may end up running soccer clinics, coaching at local clubs or high schools, even getting miscellaneous part-time jobs, just to get by during the off-season. With that being said, Plush, also states, that the league is "very respectful of that and we fully understand that we need to continue to build out our potential business platforms that can tap into help augment their salary".
Bottom line is, these players are not in it for the money. No, they are in it for far more. They are trying to pave the way for future women soccer players, hoping to someday be pioneers for their sacrifice. They play for the love and passion of the game. Deines mentioned that she hopes the league will someday progress to the point of the WNBA, which gets backing from the NBA which helps it to stand on "solid footing". Right now, the league only has two teams backed by the MLS (Houston Dash and Portland Thorns FC), however, several other MLS teams have shown interest, and the league is looking to grow their connection.
Hopefully with the World Cup win this past summer, the league will be able to continue its growth and gain more support, so that these players don't have to make as many sacrifices for the love of the game.
This blog post was written by Samford University student Jordan Johnson.
References
Fortier, S. (2015, July 7). The Minimum Pro Female Soccer Salary Is Below The Poverty Line. Retrieved August 31, 2015.
Kassouf, Jeff. "Chasing the Dream." NBC Sport. 13 Apr. 2013. Web.
(picture) http://www.pitchsidereport.com/2013-nwsl-team-rosters/