Published on June 15, 2015 by Darin White  
Fans attending sport events frequently are more likely to respond to sponsors' activation messages than fans viewing sport events frequently on TV for all sport categories. The difference between sport event attendees vs. TV viewers is greatest among golf fans. The sponsorship Index is slightly over 100 for TV viewers (118) but nearly five times greater for fans who attend tournaments (527). Other sports with wide disparities favoring attendees include MMA, Tennis and IndyCar.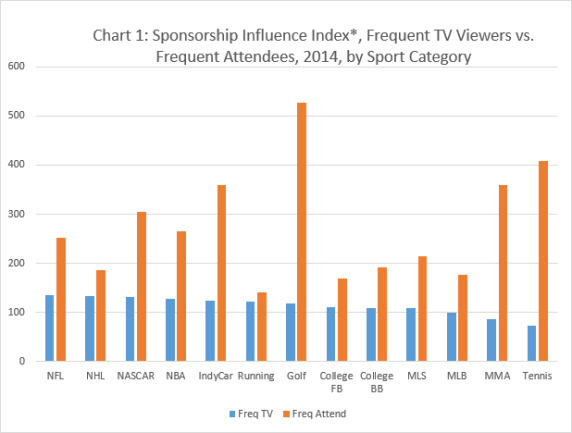 Below are some interesting thoughts about the data.
Attending games may be a more social experience than viewing games on TV, thereby creating a more favorable impression of sponsors among game attendees;
Sponsor advertising may be perceived as an intrusion for fans viewing games on TV, whereas there may be no such feeling of intrusion when fans attend games;
Depending on the type of activation, the sponsor's logo, etc., may be exposed during the entire game or event, whereas TV advertising receives only sporadic exposure during a game or event;
Venue sponsorship will often feature more local sponsors that may be better known to fans than national companies who sponsor events on TV.
What do you think?
Note; This post was originally published in the SBRNet Newsletter - May 12, 2015