Published on August 24, 2015 by Heath Quinn  
You might find it obvious if I were to tell you that the Packers, Seahawks, and the Patriots were my favorites to win the Super Bowl, but what if I said the Chiefs, Jets, and Falcons had a legit shot at winning the Super Bowl? That's right, the same three teams that haven't won a championship in over forty years. It may be a long shot, but here is my list of the potential sleepers for the 2015- 2016 NFL season.
Atlanta Falcons- Since 2008, the Falcons have amassed a record of 66-46. They play in a division that was statistically the worst division in football last year. If that were the case again, they should be able to get into the playoffs without having to play their best football throughout the season. With a new coach, Dan Quinn, the Falcons will look to improve a defense that struggled last year. They allowed 280 passing yards per game last year, while giving up the most yards in the NFL. They addressed their needs in the offseason by drafting a game-changing player in Vic Beasley. The dynamic pass rusher will play a vital role in getting to the quarterback this upcoming year. On offense, the Falcons added standout running back Tevin Coleman. With receivers Julio Jones and Roddy White returning from injuries, the falcons will look to be one of the most explosive teams come September.
Kansas City Chiefs- You cannot argue that the Chiefs had one the best defenses in the NFL last season. They have finished in the top five the past two seasons in points allowed. Assuming the defense will be as stout as last year, the team has added some key players on the offensive side of the ball. In the offseason, the Chiefs acquired receivers Jeremy Maclin and Chris Conley. This should be an added dimension that supports the play of star tight end Travis Kelce and the electric Jamaal Charles. With these additions, the Chiefs should challenge the Denver Broncos as the top team in the AFC West.
NEW YORK JETS- The last team on my list is a team that has struggled in recent years. They have not reached the playoffs since 2010. The Jets begin a new era with head coach Todd Bowles. The team added lockdown cornerbacks Darrelle Revis and Antonio Cromartie as well as a game changing wide receiver, Brandon Marshall. On offense, the Jets also added Stevan Ridley, Zac Stacy, and Devin Smith. All three could make an immediate impact on a team whose offense ranked 22nd in the NFL last season. With a top ten defense last season, a rejuvenated offense could mean the Jets may be one of the biggest sleepers in the NFL next season.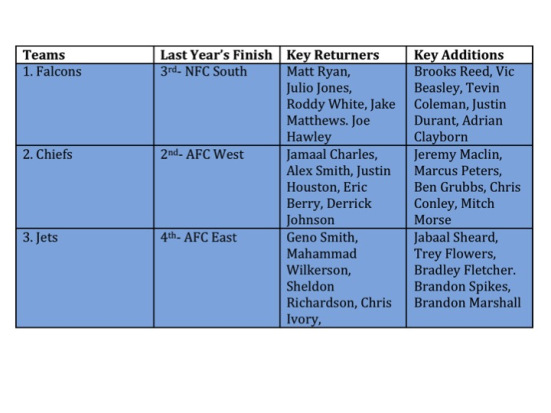 This blog post was written by Samford University student Heath Quinn.
Sources
http://espn.go.com/nfl/statistics/team
Miglio, A. (2015, May 26). NFL's Key Offseason Additions, Losses. Retrieved August 7, 2015, from http://bleacherreport.com/articles/2474992-recapping-every-teams-key-additions-and-losses