Published on July 7, 2015 by Darin White  
COMING-OF-AGE: "the attainment of prominence, respectability, recognition, or maturity"
In the summer of 2052 after the U.S. Men's team wins its third FIFA World Cup championship, Millennials will tell their grandkids about the summer of 2014 and 2015 when soccer final came-of-age on the American sports scene. Even after last summer's surprise outpouring of support for the Men's World Cup, sports business executives across the U.S. have expressed "shock and awe" over the level of interest Americans demonstrated over the last month towards the 2015 Women's World Cup.
One year ago, three games (U.S. vs Belgium; U.S. vs Portugal; Germany vs Brazil) all surpassed the most watched soccer game for an English language broadcast  in U.S. history by several million viewers. In the weeks that followed there was much debate questioning if soccer had finally reaching a tipping point with the U.S. sports populous. Supporters have pointed to the increased attendance at MLS and NASL games, increased ratings for EPL games on TV, millions of ticket sales for European club teams playing summer tours in America, increased dollar value of soccer TV rights deals, and the huge increase in sponsorship spending with the MLS as proof that soccer's day has finally arrived.
Yet still, no one predicted how the 2015 Women's World Cup would be embraced by U.S. sports fans. According to the New York Times, Richard Sandomir, Fox Sports Senior VP/Programming & Research notes there was "shock" regarding the "record size of Sunday's audience." And Desser Sports Media President Ed Desser believes, "This was an event, the sort of thing that galvanizes an audience".
Galvanized indeed! The Women's World Cup Final absolutely shattered, by over 46%, the record set just last summer for the most watched soccer match of all time for an English speaking broadcast in the U.S.
The American soccer revolution is being led by the most coveted group of fans that every sports property is desperate to attract -- millennials. In a time of great social and political cultural change in America, we are in the midst of a similar sea to shining sea, cataclysmic shift in our sports culture towards the world's most popular game.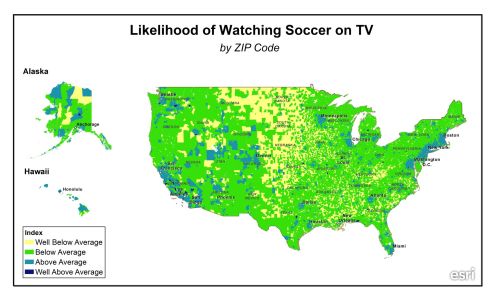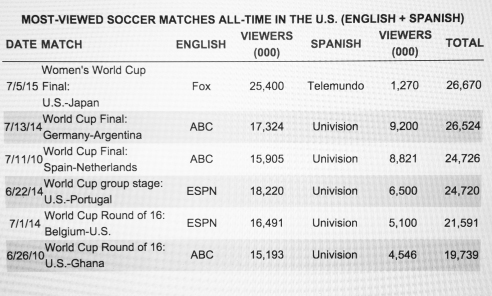 Source
Map from @SBFinance, 2013
Table from Sports Business Journal, July 7th, 2015
Image from Google Images