Published on November 16, 2015 by Ashton Nix  
What can you spend $250 million dollars on? Well, you can buy a 50,000 square-foot mansion, a plane that seats over 200 people, a high tech roller coaster, a number of well-known paintings by famous artists like van Gogh or da Vinci, or a trip around the moon. However, if you're Nike, you can take that $250 million dollars and give it to the University of Texas so that their athletic programs will use your uniforms, footwear, apparel, and equipment.
"The new agreement includes cash payments, uniforms, footwear, promotional activities and a minimum of $22.5 million for non-athletic university initiatives. It also includes internships for student-athletes," reports Fox Sports.
Texas's deal is now most lucrative in college sports, topping the contract that the University of Michigan signed earlier this summer, also with Nike, for $159 million dollars.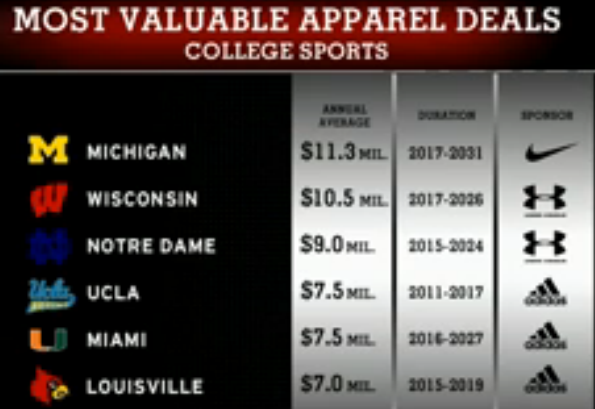 So why?
Why is Nike willing to spend this much money to make sure that at any given sporting event the Longhorns and the Wolverines can be spotted in Nike uniforms?
Part of it comes from the battle between "the Big Three" in the world of apparel: Nike, Under Armour, and Adidas. As they fight over schools to sponsor, they drive each other's prices up.
The competition between the three companies seems to be thickening, too. Under Armour just recently surpassed Adidas as the second highest revenue brand in sports apparel in the United States.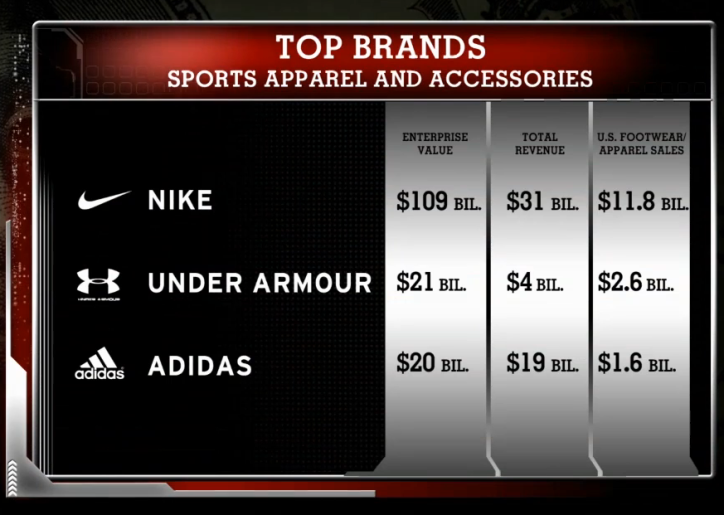 This could have something to do with a business strategy that is unique to Under Armour: offering their clients portions of Under Armour stock.
Under Armour has given several of their professional athletes, such as Steph Curry, Tom Brady, and Jordan Spieth, stock in their company along with their apparel deals. However, according to Kristi Dosh, a sports business analyst who has reported for outlets such as Forbes, ESPN, and Bleacher Report, this perk has been extended to college teams as well. When Notre Dame signed a deal with Under Armour earlier this year, the option to buy stock in their new sponsor's company was present.
Dosh (@SportsBizMiss) wrote, "Notre Dame's Under Armour deal also has another interesting feature: an option to take a portion of the cash in Under Armour stock. Under Armour's stock rose about 3% following the initial announcement of the partnership in January 2014, and it remains at the same share price today (~$85/share). Earlier this year it was also reported Under Armour surpassed Adidas in market share in the United States, so this could be an interesting option for Notre Dame."
Is all of this worth it?
Yes! At least that's what it looks like!
At the end of the day, the goal of every major apparel company, whether it's Nike, Under Armour, or Adidas, is to sell apparel!
Hyundai, while they do not sell apparel, ran a very successful campaign in 2013. The "Show Your Loyalty" campaign took place at 25 schools and 156 football games. They worked with IMG College and Advantage International to forge an effective college football program.
The feedback from fans was very positive. According to Advantage:
71 percent of fans surveyed indicated that as a result of attending an event their opinion of Hyundai had improved
65 percent of fans surveyed stated they are at least "somewhat likely" to consider purchasing a Hyundai vehicle
25 percent of consumers who took the survey opted-in to receiving news and information about Hyundai products
And their campaign was just seen by fans at the games! Apparel companies are able to reach fans at home through the intense following that college football has! Any fan can point out the brand of a team's jersey just by watching a few plays.
This is important because knowing what brand of equipment their favorite college football team is using influences a fan's decision when they are shopping themselves. A recent survey in which fans were asked how influential sport sponsorships are to their inclination to purchase the sponsor's product shows that over the past three years people have become more influenced by sponsors.

Mike Ozanian (@MikeOzanian), an Executive Editor at Forbes, may have said it best when he begged the question, "Why pay for advertising on TV when you're going to have an athlete running around onscreen for 3 hours?"
This blog post was written by Samford University student Ashton Nix. He is a collegiate golfer and Journalism & Mass Communications major.
References
Ozanian, Mike. Forbes.com. Why Nike, Under Armour And Adidas Are Paying Big Bucks For College Apparel Rights.
FoxSports.com. Texas OKs $250 million Nike deal that includes Kevin Durant gear.
Dosh, Kristi. Businessofcollegesports.com. Comparing Apparel and Licensing Contracts in College Sports.
Sponsorship.com. Hyundai Sees Success From College Sports Platform.
SBRnet. Football (NFL, College, HS).
Images
forbes.com
marketingtango.com
google.com