Published on February 9, 2015 by Richard Greene  
Jack Dorsey, co-founder and early CEO of Twitter, had a vision. The founders of the wildly popular information sharing platform just didn't know how influential it would become. In 2006, Dorsey sent a symbolic first tweet that read, "just setting up my twttr." This simple message marked the beginning of a historic real-time data sharing movement. Dorsey spearheaded the 140 character social media site to meteoric success. Twitter is one of the premier social media sites for marketers because it allows specific consumers to be targeted. The company currently has a market capitalization of $24.52 billion. Millions of tweets are sent each day by unique users around the globe. Twitter is littered sports fans, the key audience for the rapidly growing sports marketing industry.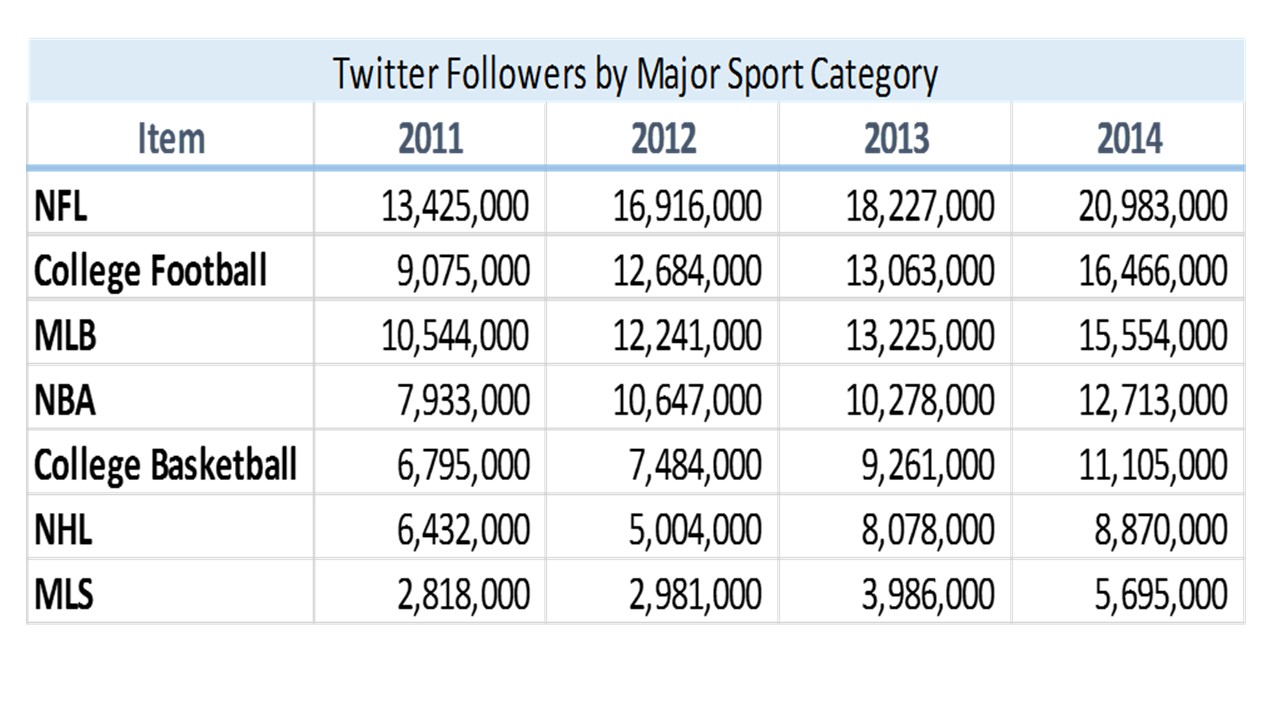 The Sports Business Awards are presented to organizations and companies that made a great impact on sports during the year. The awards are decided upon by Sports Business Journal staff during a six-week deliberation period. Twitter was nominated for an SBA award for the company's efforts to integrate sports into their product. Twitter originally used teams and athletes to gain exposure. Since the company recently went public, it has changed its approach in a way that positively promotes sports.
Sports Business Journal writer Abraham Madkour stated, "Twitter has become an active partner in sports, rather than a communication platform." Twitter is making a push to insert itself graphically in sports broadcasts. Geoff Reiss, Twitter's new head of sports, stated, "We can help create good TV with highly salient information, especially what the crowd sentiment is during a game." The social media platform has the ability to show current data about how the Twitter-verse feels during a particular event. Reiss further explains how Twitter analyzes fans reactions while a game is taking place. Reiss explains, "During the game, we could capture the confidence of fans if their team is going to win. It doesn't bear description but can be expressed effectively graphically." Twitter discovered that an incredible amount of people were active on Twitter during sporting events. The social media site acts as an online town hall meeting, allowing people to voice their opinions to eager Twitter users. With Twitter's new focus on sports, I believe the platform will help promote lesser known sports and athletes. The chart below details the number of Twitter follower's professional league related accounts have.
Why Does Twitter Resonate So Well With Sports Fans?
Twitter is undoubtedly the best social media platform for sports fans and teams alike. The site allows marketers to expose their team to people that would otherwise not know their brand. The United States has traditionally been dominated by three sports. Football, baseball and basketball form a monopoly when it comes to sports in America. Sports such as hockey and soccer often feel like outsiders looking in. Twitter has given people exposure that would have otherwise been impossible ten years ago. USA Today's Hemal Jhaveri is confident social media is the reason for a rise in interest for sports like hockey. Although the famous Winter Classic failed to produce high ratings, Jhaveri stated that some measures "indicate the NHL's appeal is at an all-time high." The NHL has fully embraced digital and social media technology hockey has seen a dramatic rise in popularity in the last couple years.
NHL commissioner Gary Bettman understands that social media has played a big role for the NHL's ratings growth. Bettman stated, "Historically, we were a league that was underserved by traditional media. So the ability to use digital platforms and connect with our fans more than ever ... has been vitally important to us." Social Media, specifically Twitter, is the main reason lesser known sports have the broad influence they currently possess. Technology has changed the sport industry for the better. Fans have access to real-time data about any event across the globe at any time. People relate sports and Twitter together because nowadays it seems the two cannot be separated.
Sources
Sports Business Journal and SBRnet
Blackhawks-Capitals NHL Winter Classic Draws Event's Lowest Audience Since Start In '08. (n.d.). Retrieved January 24, 2015, from http://www.sportsbusinessdaily.com/Daily/Issues/2015/01/05/Media/Winter-Classic-TV.aspx?hl=NHL twitter&sc=0
New names among largest group of SBA nominees. (n.d.). Retrieved January 24, 2015, from http://www.sportsbusinessdaily.com/Journal/Issues/2014/03/17/Opinion/From-the-Executive-Editor.aspx?hl=twitter nhl relevant&sc=0
SBRnet. (n.d.). Retrieved January 24, 2015, from http://www.sbrnet.com/research.aspx?subrid=803
Young Drivers Kyle Larson, Sage Karam Using Social Media To Grow Their Brands. (n.d.). Retrieved January 24, 2015, from https://www.sportsbusinessdaily.com/Daily/Issues/2014/12/04/MMF-Conference/Larson-Karam.aspx?hl=twitter%20helps%20sports&sc=0
This blog post was written by one of my students at Samford University, Richard Greene.