Published on September 23, 2015 by Shaun McCormack  
As we all know, concussions are a serious problem. According to web.md, a "concussion is most often caused by a sudden direct blow or bump to the head. The brain is made up of soft tissue; it's cushioned by spinal fluid and encased in the protective shell of the skull. When you sustain a concussion, the impact can jolt your brain. Traumatic brain injuries can cause bruising, damage to the blood vessels, and injury to the nerves." Concussions are often seen in football. With players running full speed at one another and hitting as hard as they possibly can, sometimes one helmet comes into contact with another helmet.
We are seeing concussions in all types of sports, we are seeing them in hockey, soccer, basketball, baseball, and lacrosse to name a few. The youth of our nation are the ones who are more prone to concussions. Web.md states, "concussions often occur in children because their heads are disproportionately large compared to the rest of their bodies. Kids are going through their adolescence stage in life and so they experience rapid weight game and height gain and accidents tend to happen more often."
In 2013, the American Football Coaches Association passed a new rule, Rule 9-1-3 and 9-1-4, the targeting rule. The rule states that no player shall target and initiate contact against and opponent with the crown of his helmet. When in question, it is a foul. No player shall target and initiate contact to the head or neck area of a defenseless opponent with the helmet, forearm, fist, elbow, or shoulder. The foul would be a 15-yard penalty and ejection from the game against the player who initiated the targeting. Some may say the targeting rule is a little out of hand, but the NFL have seen decreases in the number of concussions since the rule was passed. During the first couple weeks of College Football I have seen more ejections due to targeting than I did all of last season. But to the players' defense, it is really hard to control your body when you are moving at such high speeds.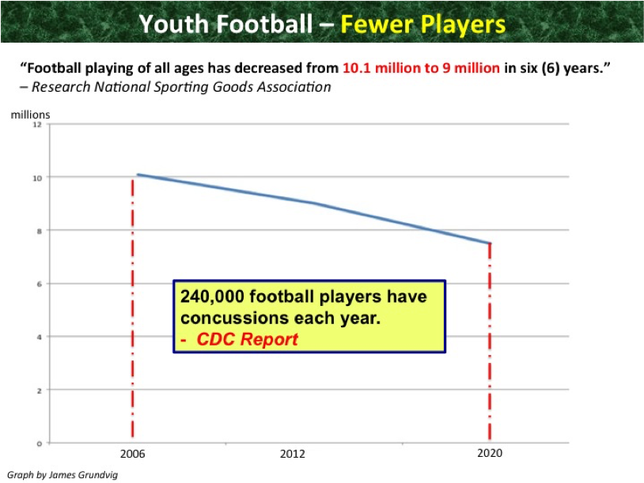 Recently, there have been a lot of former and current NFL players conducting a lawsuit against the NFL for "ignoring, minimizing, and disputing awareness of concussive injuries in football by former players." On July 8, the Judge orders the NFL concussion lawsuit into mediation. A few weeks later, the NFL agrees to a $765 million settlement. Later Judge Brody had concerns about the settlement stating that the proposal might run out, so the NFL agreed to uncapped payments in the revised plan. The revised plan removes the limit on how much can be spent on medical monitoring. Within a few months of the settlement, there were many players retiring because they don't want to jeopardize their health. By November, Pop Warner participation drops 9.5% between 2010 and 2012. Pop Warner is the nation's largest youth football program. During the 2013 NFL season, there were a reported 228 diagnosed concussions that is 13% lower than the 261 total during the 2012 season.
Sources
http://www.cbssports.com/nfl/eye-on-football/25159518/judge-approves-concussion-settlement-could-cost-nfl-1-billion
http://www.pbs.org/wgbh/pages/frontline/sports/concussion-watch/nfl-concussions-the-2013-14-season-in-review/
http://www.webmd.com/brain/concussion-traumatic-brain-injury-symptoms-causes-treatments#1
http://www.afca.com/article/article.php?id=2342
This paper was written by Shaun McCormack. Twitter: @ShaunSportsMark.