Published on December 2, 2015 by Brooks Hanrahan  
Soccer is emerging as one of the hottest and trendiest new sports on the American sports landscape. What was once a fringe sport with few active followers has evolved into something much more. An average audience of over 25 million Americans watched the U.S. Women's National Team dominate Japan in the final match of the FIFA Women's World Cup in the summer of 2015. NBC Sports recently signed a six-year agreement worth right around $1 billion to continue to broadcast English Premier League matches in America in order to cater to the nation's growing appetite for the world's most popular sport. This trend is impacting the popularity and exposure of America's domestic professional league as well.
Currently, the majority of Major League Soccer (MLS) teams are sponsored by groups with strong regional ties (Alaska Airlines and the Portland Timbers, Bank of Montreal and Montreal Impact, etc.) to the property rather than large, nationally and internationally prominent brands. More likely than not, this can be attributed to a lack of significant marketing potential outside of regional markets. However, Major League Soccer is fertile ground for bigger, more prominent brands to connect with an ever-growing and largely untapped target market and is poised for massive growth in sponsorship income across the league for three primary reasons.
Attendance Growth
The most significant, and perhaps most obvious, reason that national brands should begin to consider sponsorship of MLS properties is the overall growth in attendance numbers across the league. According to data collected by the Sports Business Research Network, Major League Soccer has experienced a 63.3% increase in total attendance numbers in a given season since 2009. This trend is also reflected in rise of average weekly attendance numbers per season—21,573 people in the 2015 regular season that just ended, a 12.7% increase as compared to the attendance figures for the 2014 season. Practically speaking, more and more people are attending MLS matches on a weekly basis. The league is becoming increasingly popular. This gives groups seeking to attach themselves to a property with large exposure potential an increased incentive to invest in sponsorship agreements with MLS properties.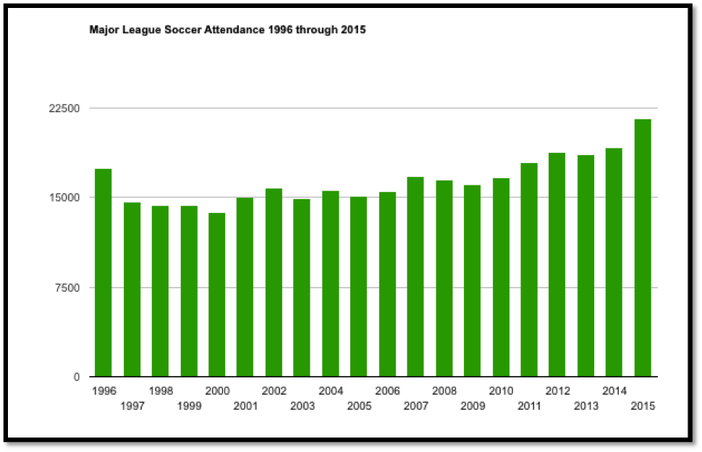 Increased Media Exposure
In May 2014, Major League Soccer signed a landmark agreement with ESPN, FOX Sports, and Univision Deportes, which gave the networks the right to televise MLS matches in the United States through the end of the 2022 season. The deal is reported to bring in over $720 million of revenue for MLS over the course of the eight-year contract. In addition to hosting one game of a weekly doubleheader in conjunction with FOX Sports, ESPN plans to make every regular season game accessible via online streaming on WatchESPN by the beginning of the 2016 season. More than ever before, sponsorship of MLS properties is a viable way to reach any given target market on a national scale—regular live broadcasts on ESPN and FOX Sports is as good as it gets in the American sports industry. The newly added potential for national brand exposure will, more likely than not, see regionally connected sponsors make way for bigger brands and bigger sponsorship contracts.
Increased Influx of European Stars
In general, Major League Soccer was thought to be a metaphorical "retirement village" for a few European greats who were aging and past their prime—David Beckham and Thierry Henry, the pioneers for European stars in MLS, both were in the twilight of their careers when they made their respective moves to the LA Galaxy and New York Red Bulls. This trend is beginning to change. The 2015 season saw two players, Sebastian Giovinco and Giovani dos Santos, make the move to MLS in the prime of their careers after starring in Italy and Spain, respectively. Additionally, the traditional wave of aging European stars to MLS is increasing rapidly. In 2015 alone, MLS welcomed Kaka, Frank Lampard, Steven Gerrard, and Didier Drogba to the league. More and more, European markets are beginning to take notice of MLS. At the beginning of last season, Sky Sports purchased the rights to broadcast MLS matches in England for the next four seasons. The increased exposure of MLS properties in Europe leads to incredible potential for sponsors to reach a massive untapped audience in the European markets. For major firms seeking to increase their international exposure, investing in MLS properties is, more and more, becoming an effective way to make an impact.
This blog post was written by Samford University sports marketing student Brooks Hanrahan.
References
MLS, U.S. Soccer sign landmark TV and media rights partnerships with ESPN, FOX & Univision Deportes. (2014, May 13). Retrieved November 4, 2015.
Phillips, S. (2015, October 27). MLS 2015 Season Average Attendance is 21,573, Smashing 2014 Record of 19,148. Retrieved November 4, 2015.
Sandomir, R. (2015, August 10). NBC Retains Rights to Premier League in Six-Year Deal. Retrieved November 4, 2015.
Sky Sports wins rights to broadcast Major League Soccer. (2015, February 15). Retrieved November 4, 2015.
Soccer - Major League Soccer Attendance. (n.d.). Retrieved November 4, 2015.
World Cup Final smashes TV records in US, Japan. (2015, July 7). Retrieved November 4, 2015.