Published on September 28, 2015 by Brandon Hazouri  
Fan attendance has slowly decreased over the last five years, and it may not be the end of the world. In fact teams might be capitalizing on this, after all, it's not that people don't care about sports any less than they did in 2010, its just that people are choosing the warmth of their living room and the convenience of their tablet. So where is the silver lining in this? T.V. contracts. Yes, it is no secret how much leagues are making off of these deals; in fact, it's very public information. So how much are poor turnouts really hurting sports? Because with every person that chooses to stay at home to watch a game, the more the cable providers are willing to pay for the rights to broadcast. Teams are capitalizing on the attendance decrease by negotiating massive TV rights.
Let's first take a look at the NBA whom last year, struck up a $24 billion deal with ESPN and TNT. In the past 4 years, the NBA has also seen a decline in total fan attendance. Look closely at the total number of games attended, and more specifically, at the number who attended 4 or more games. While total number may only be a slight decrease from 2011, it is the 4+ category that has seen the largest decline.

This category generally represents season ticket holders. I view the decrease as an indication that customers are not seeing the value of a season ticket. But money does not lie, as there is clearly still value to the NBA, even now more than ever. The difference is, the money is pointing at in-home and online viewership, where sponsors can capture more advertising time to a larger audience.
The NBA is not the only market that has seen a hit to fan attendance. We have seen that a decline in college football and basketball attendance has been steady in the last half decade. Numbers indicate that football is down 2.2%.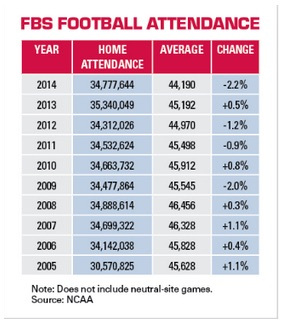 But does that really matter? Because schools are bringing in more revenue than they have ever seen. ESPN is currently paying upwards of $470,000,000 for the rights to the college football playoffs each year, and CBS has locked in the NCAA tournament over the next 14 years to the tune of $14 billion. So should we really be hitting the panic button just yet? CBS and ESPN clearly believe that the market is not disappearing, it's merely shifting. Take the Alabama vs. Wisconsin game, where only 40,000 tickets were purchased for the 85,000-seat venue. People are choosing to stay home, and ESPN is fine with that.
So this isn't to say that one day we're going to watch a world series on TV being played in front of an empty stadium, or that a packed out Bryant Denny isn't every bit worth the $500 you may drop on a ticket. The feeling of being in a crowd for the biggest game of the year can not be replaced, but for the ones in between, maybe we will find that sweet spot where teams can maximize value of the ticket in the same universe they can maximize the value of their TV contracts.
References
http://bleacherreport.com/articles/2560030-wisconsin-vs-alabama-ticket-info-date-tv-schedule-and-live-streamReference Page
http://money.cnn.com/2014/10/06/media/nba-tv-deal/index.html
http://www.sbrnet.com.ezproxy.samford.edu/research.aspx?subrid=526
This blog post was written by Brandon Hazouri.