Published on October 30, 2015 by Corry Mulligan  
Major League Baseball (MLB) fans are old. There is no getting around that. However, baseball lovers can be proud to say that is not the only adjective fit to describe them. Perhaps the most appropriate descriptor for these underappreciated fans is "dedicated." While many say interest in America's pastime is declining, the fan base's willingness to purchase merchandise, attend games and even make overnight trips to see their teams play says otherwise.
Baseball fans will travel for the game they love
If a good measure of how much someone loves something is how much he or she will do to get it, baseball fans must really love their game. According to Sports Business Research Network (SBRnet), 14.1% of MLB fans took at least one overnight trip in 2013 in which baseball was the primary purpose. This means they attended, participated in or visited some sort of baseball attraction. MLB fans top all other fans of U.S. men's professional sports organizations in this category. The next closest group is the NFL fan base, of which only 12.4% made overnight trips for football in 2013.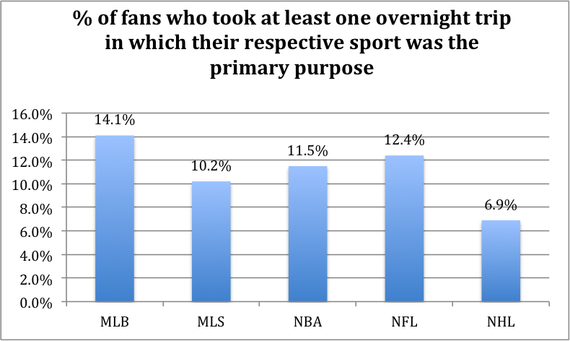 Baseball fans buy tickets
As with the NBA, NFL, and NHL, the total number of fans attending MLB games is down since 2011. However, attendance is up 1.1% since 2013 and 1.7% since 2012. While these numbers may seem small, take into account that attendance for the NFL, which many consider America's new pastime, is down 5.13% since 2013 (SBRnet).
The fans baseball is losing aren't the ones who matter most
Of all the fans that attended MLB games in 2014, 27.5% went to four or more games. This number is up a whopping 7.3% from 2011. The fans baseball is losing are not its major supporters but rather those that only attend, on average, one game a year. This category of fans is down 4.1% since 2011 (SBRnet). While this is not ideal for Major League Baseball, it is much better to lose casual fans than dedicated supporters.
Baseball fans buy apparel
According to SBRnet, the average amount of money spent by buyers on MLB apparel in 2014 was $73.70. This number falls slightly below the average amounts spent by NHL, NBA and NFL fans. However, Major League Baseball hits a homerun when looking at the percentage of the sport's fans that buy apparel. In 2014, 30% of MLB fans who watched or attended at least one game also spent some amount of money on apparel. The only league with a higher percentage was the NFL, which saw 30.27% of fans spend money on apparel in 2014. It is worth noting as well that 41% of MLB fans who spent money on apparel in 2014 spent $50 or more (SBRnet).
The state of Major League Baseball
There is data everywhere to show that the MLB is struggling to reach a young demographic. According to SBRnet, the median age of MLB fans in 2014 was 47. Obviously, that is less than ideal, but let's not act like the entire sport has lost all fan support and is destined for destruction. Even though the MLB has had to devote a significant amount of time and money into its attempt to captivate a younger audience, it has managed to still please its middle-aged to older fans and even propel them over recent years to new levels of support. It is time the MLB and its fans receive some praise.
This blog post was written by Samford University student Corry Mulligan. Corry is a senior mass communication major who has a passion for sports and would love to work in the sports industry after graduation.
References
SBRnet. "Baseball (MLB, Minor League)." Retrieved from http://www.sbrnet.com.ezproxy.samford.edu/Sport-Search/Baseball.aspx
SBRnet. "Basketball (NBA, WNBA, College)." Retrieved from http://www.sbrnet.com.ezproxy.samford.edu/Sport-Search/Basketball.aspx
SBRnet. "Football (NFL, College, HS)." Retrieved from http://www.sbrnet.com.ezproxy.samford.edu/Sport-Search/Football.aspx
SBRnet. "Ice Hockey (NHL, Minor League)." Retrieved from http://www.sbrnet.com.ezproxy.samford.edu/Sport-Search/Ice-Hockey.aspx
SBRnet. "Soccer (MLS, WC 2014, Non-USA)." Retrieved from http://www.sbrnet.com.ezproxy.samford.edu/Sport-Search/Soccer.aspx
Image from http://www.baconsports.com/different-types-of-baseball-fans/