Published on November 12, 2015 by Johnny Richards  
Earlier this year, the NBA made a historic deal that only accelerated what many have seen coming for a few years now. The National Basketball Association agreed to a licensing deal with Stance to be the league's official sock. This was historic because other than shoes, this will be the first item of clothing any player has been allowed to wear that has a logo other than the NBA on it.
With the season's tipoff, more and more people are asking when the inevitable will come to fruition? It is odd to think the NBA hasn't already gone ahead with something that could produce an extra league-wide income of $100 million. The possible income of jersey advertisements is much higher in my opinion. As this graph shows, over 70 million people watched an NBA game in 2014. Additionally, the majority of people who watched a game ended up watching multiple games each of the last four years.

The NBA's footprint does not stop simply at TV views. The NBA impacts social media in a big way. For instance, the official NBA twitter account has 17.3 million twitter followers. The NBA leaves a big footprint in the clothing industry. According to the graph below, the average person spent a touch under $80 on apparel with the NBA logo. Further, that number jumped to over $90 on average if the person is actually investing in the on court product by way of watching a game in some capacity.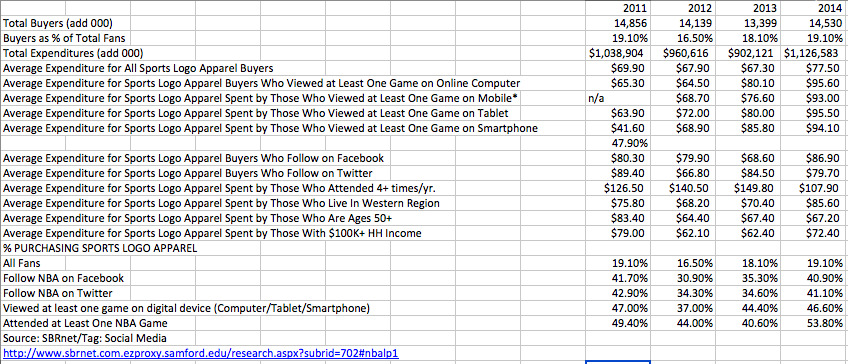 Though the NBA as a whole has a very large influence in the world we live in, it can be argued the superstars of the league have a bigger influence. Player influence has spread to players starting their own clothing lines and trying to diversify and expand the ways in which they can make money. This begs the question, will the NBA start to take this approach now that the Stance deal has been completed? Conventional wisdom would say no because the league is very slow to change traditionally, but there does seem to be one area in which the NBA could make a deal similar to the one made with Stance. Sport and Fitness Wearables as they called are the hot thing today. Whether it's a fitbit, Apple watch, or another item, they have tons of people talking and should have sports leagues eagerly wanting a deal with them. The reason? For starters, the wearables are made to withstand sports activities and are already durable. Also, in an article recently published by Sport Techie written by Fadi Seiklay the market for these wearables will be worth around $15 billion within six years. That sounds like an investment the NBA won't be able to resist for much longer.
So just how close are we to a day in which NBA jerseys have corporate sponsor logos? Only time will truly tell, but the deal struck with Stance earlier this year is certainly a step in that direction. Although, I doubt new commissioner Adam Silver would bring about such drastic change this soon in his tenure. Also, it should be restated that people have been pointing towards jerseys having corporate logos for a while just like David Lariviere did here. The fact of the matter is that the NBA will not be able to resist the huge amount of extra revenue for much longer that jersey advertisements would bring. My best guess for when the jerseys will have advertisements is that a deal will be reached and announced after the 2015-2016 season with the advertisements making their debut in the 2016-2017 season.
If you would like to read further details about the NBA's deal with Stance you can do so here.
This blog post was written by Samford University student Johnny Richards.