Published on September 27, 2015 by Austin G. Ferrer  
According to new research published by the National Bureau of Economic Research, one in six players file for bankruptcy within 12 years of leaving the league – despite the fact that the average player reels in an estimated $3.2 million over his career.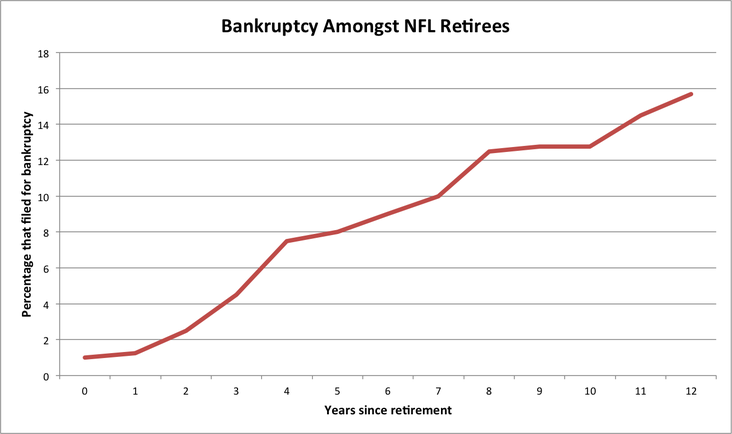 The data above, provided by the American Economic Association, reveals that over 15 percent of NFL players file for bankruptcy 12 years after being removed from the league. Although the 15.7 percent figure of players who filed for bankruptcy may not seem incredibly alarming, this statistic does not account for the nearly 85 percent of NFL alums that remain. One widely cited Sports Illustrated article estimated that by the time they have been retired for two years, NFL players have filed for bankruptcy or are under "financial stress."
How can this possibly be?
Terrell Owens, a six-time pro bowler and Super Bowl runner-up who made an estimated $80 million during his 15-year NFL career filed for bankruptcy in 2012, the same year he played his final season. If Owens' story doesn't sound familiar, you may have heard the story of Super Bowl champion and Hall of Fame inductee Warren Sapp. Sapp made $82,185,056 over the course of his NFL career and found himself with $826.04 in his bank account and subsequently filed for bankruptcy in 2012. These are only two of a countless amount of examples that pinpoint NFL athletes who made substantial amounts of money and went on to file for bankruptcy. In an effort to address the issue that almost 9 in 10 retired NFL athletes encounter "financial stress" at some point after retirement, I have outlined 2 of the most important choices professional athletes across all sports can make in order to avoid a financial pitfall.
Secure a Financial Advisor
Financial planning requires being educated in fields of budgeting, spending, and tax systems. As a professional athlete, the field of financial planning becomes even more muddled, complex, and difficult to deal with as contract negotiations and extra expenses come into play. "Pro athletes have a different set of economic challenges from other clients," says Chong Nam, a 12-year veteran rep and partner in Nam Cortez Wealth Management at Wells Fargo Advisors' Las Vegas branch. Upon entering the professional world, athletes are going to be bombarded with a plethora of tasks to accomplish and a list of people to please. In order to focus on the task and sport at hand, securing a financial advisor who has a proven track record is essential to gaining advice and assistance when it comes to managing finances.
Prepare for the End
Tyson Hartnett (@TysonHartnett), former pro athlete, entrepreneur, and author says that "[Athletes] spend the prime years of their lives training to be world class athletes, yet they don't realize that they have over 40 years left to live once their careers are over." Choosing to spend wisely throughout a professional career by living an affordable lifestyle will help alleviate the burden of a drastically reduced income.
This blog post was written by Samford University student Austin Ferrer.
Sources
Carlson, K., Kim, J., Lusardi, A., & Camerer, C. (2015). Bankruptcy Rates among NFL Players with Short-Lived Income Spikes.
Kong, S. (2010, April 1). Financial Planning For The Pros.
Torre, P. (2009, March 23). How (and Why) Athletes Go Broke. Sports Illustrated.
Torre, P. (2015, May 4). There's A Difference Between Broke And Bankrupt For Ex-NFL Players.
Whoriskey, P. (2015, April 15). One in six NFL players file for bankruptcy, from http://www.washingtonpost.com/news/wonkblog/wp/2015/04/15/its-an-nfl-life-millions-of-dollars-for-banging-heads-then-bankruptcy/