Published on July 18, 2015 by Malcanisha Kelley  
The WNBA is going into its 18th season and things have not been looking good for them. Over the past years the WNBA has been taking loses in fans and sponsorships but recently has picked up in both areas. Will this be enough?
Positive moves for the WNBA
Recently the WNBA has signed a television deal with ESPN. The agreement is worth $12 million annually and continues until 2022. The deal will keep WNBA games on ESPN, ESPN2, and ABC and will bring in $2.6 billion per year over the nine year agreement. This is a positive step for the WNBA which allows them to expand salary caps.
Logos equal more money
Boost Mobile worked a deal with the WNBA to place jersey patches on 10 of the WNBA's 12 teams.The Boost Mobile deal comes during Laurel Richie's first season as WNBA president. She joined the WNBA in May. The Boost Mobile sponsorship has helped the WNBA in many ways and will hopefully lead to expanded use of WNBA jerseys for sponsorship activation.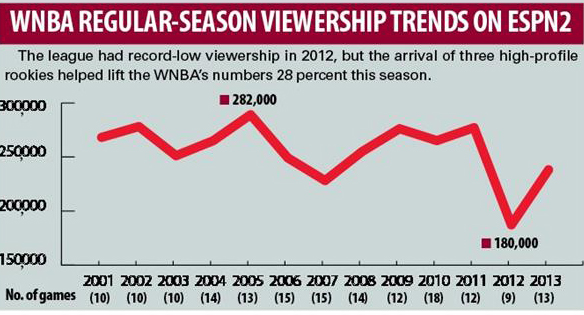 As can be seen in the above graph, these changes have helped the WNBA reverse the negative viewership trends. But will it be enough? Only time will tell.
This blog post was written by Samford University student Malcanisha Kelley.
References
sportsbusinessdaily.com
thinkprogress.org
outsports.com
freevector.com
sportsbusinessdaily.com