Published on July 12, 2015 by Carlyle Crawford  
Wimbledon, long known as one of the most tradition-laden sports tournaments in the world, implemented a highly innovative social media fan engagement strategy over the last few weeks. As shown below, Wimbledon's comprehensive social media strategy has resulted in more fan engagement than any of the other major tennis tournaments. It has also allowed Wimbledon to garner more Facebook, Twitter, and Instagram followers than the Australian, French, and U.S. Open. Their overall social media following currently stands at 4.1 million.
Wimbledon has been very innovative with their Twitter fan engagement strategy. Throughout the tournament they have uploaded game film and interviews which involuntarily play when you scroll over them. Twitter also made a new emoji for Wimbledon that automatically appears when you hashtag Wimbledon. On the fourteenth day they changed the emoji. This encouraged people to continue to hashtag Wimbledon in their tweets to see what would come up next.
They also worked with Gwri Pennar on a string of Vines, Roger Federer in a walking tour of Wimbledon using Periscope and involved many professionals and fans using the hashtag Wimbledon on Instagram.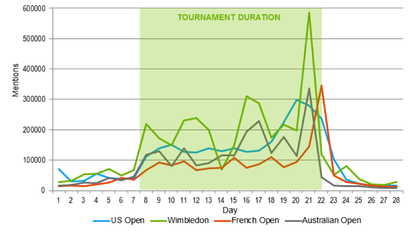 This blog post was written by Samford University student Carlyle Crawford.
Websites Referenced
http://repucom.net/wimbledon-social-media-grand-slam/
http://www.socialmediaexaminer.com/9-twitter-business-lessons-from-tennis-pros/
https://econsultancy.com/blog/66663-how-wimbledon-is-acing-social-media-in-2015/