Published on March 17, 2016 by Alex Golla  
How popular is fantasy football? A fantasy sports have been around for many years. One can play football, baseball, and basketball. Playing fantasy football is a great way to get friends united through friendly competition. The concept of the game is difficult to describe to people who don't play. The main idea is to try to be a successful amateur general manager. As a general manager, you drafts players for your team with the hopes of getting the most points per week. Each person in the league puts a money into a pot. The money is then distributed to the person who has the most points at the end of season.
The explosive development of fantasy football is so popular because fans are able to root interest in a team they have selected. Yahoo! started the trend by creating a free fantasy football league in 1999. Many other companies have developed alternatives including ESPN, CBS, and Fox. According to the Fantasy Sports Trade Association, there are now 33 million people playing fantasy football each year. To start, most of the revenue was generated from the sale of information. Newsstands became crowded with magazines and newspapers dedicated to fantasy sports. TV networks now offer fantasy football programming shows to inform players. NFL.com provides offering fantasy advice and updates. Mobile applications now allow fans to track their players and teams in on a regular basis.
A company called IPSOS (@ipsosna) found that Americans spend around $800 million on sports media products. Private fantasy sports leagues demand a buy-in fee, usually at least $100 to enter the game. Recently Yahoo! decided to make a Pro League. A person pays an entry fee of $20-$100. Yahoo! revenues for fantasy football have grown drastically, as showed in the graph below.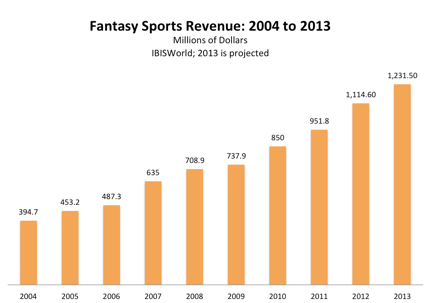 Fantasy sports companies created by ESPN, Yahoo!, and CBS are generating around $1.2 billion this year, lead in part by growing ad campaigns and sponsorships. This revenue has tripled since 2004.
Over the last five years the industry has averaged  11.7 percent growth. Unlike games that involve gambling, fantasy sports are thought as a game of ability by the government. This is why the FBI isn't going and busting down any doors to stop fantasy sports.
Based on all of this information, I expect fantasy football to continue to grow. A lot of my friends compete in these leagues for enjoyment and competition. Being in college, it is neat to see people that I go to class with are also playing in such a huge league. I expect that fantasy sports will continue to grow as interest in sports remains popular.
Written by Alex Golla
General Editor: Macy Marin
Sources
http://www.forbes.com/sites/leighsteinberg/2014/08/29/the-fantasy-football-%20explosion/#2715e4857a0b4aa24b925458
http://www.theatlantic.com/business/archive/2013/09/the-insane-growth-of-fantasy-sports-in-1-graph/279532/
http://fivefootnothingsports.sportsblog.com/posts/3020019/fantasy-football-strategies.html