Published on January 13, 2016 by Jay Davis  
Over the last few years it seems every sports business pundit out there wants to proclaim that baseball is a "dying game". On May 22nd, ESPN published an article titled "Baseball is Dying…Again". It is grim headings and articles such as this that leave fear in the hearts of Americans who worry about the extinction of America's pastime.
Commenting on Major League Baseball's recent efforts to quicken the play of the game, David Schoenfield (@dschoenfield) of ESPN wrote, "Speeding up the game is one small step to making it more fan-friendly, but you still have to worry about getting fans there in the first place."
MLB Revenue is Off the Charts
However, there is great news to all those who are fearsome of this becoming a reality. Major League Baseball is far from dead. All one has to do is look at the financial reports and see that in 2014, MLB recorded its twelfth consecutive year of record revenues with a record high of more than $9.0 billion, and 2015 will undoubtedly be well above that, according to Forbes.
As a matter of fact, the industry revenues in 2014 doubled the figure of 10 years earlier, when 2004 produced $4.5 billion. This success has come about for reasons that baseball fans may not recognize. Two of the huge success stories behind the MLB are sponsorship deals and live streaming video, which will only continue to propel baseball onward to years of revenue records.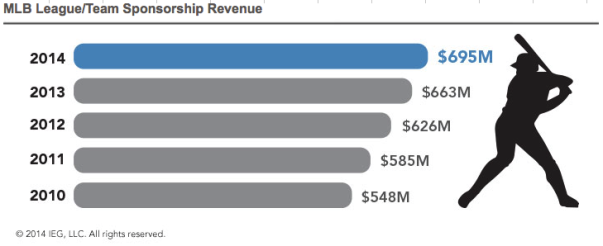 Sponsorships
One of the first changes that Rob Manfred made upon being named the commissioner of Major League Baseball was to reconstruct the leadership of the league into what is now referred to as "One Baseball". Noah Garden, MLB Executive Vice President, Business stated that "the combining of our sales forces into one unit has allowed us to showcase and sell the enormous assets of Major League Baseball more completely and efficiently to the corporate community".
It is because of this, that Major League Baseball has been able to make key sponsorship deals with companies like Esurance, the Hartford, Draft Kings, Maytag, Dunkin' Donuts, and even Amazon Web Services. MLB's most recent win is a multi-year deal that has designated Falken Tires as the Official Tire of Major League Baseball. This is Falken's first deal with a professional sports league after experiencing a large amount of success in motorsports marketing for thirty years now. These unique sponsorship opportunities have now reached total contract value over the life of the deals of $225-$275 million. Major League Baseball's sponsorship revenue has increase every year since 2010 and does not appear to be slowing down anytime soon.
Live-Streaming Video
In April 2014, HBO experienced such large crowds using their online streaming that twice, within five weeks, the service crashed for the subscribers. As a result, HBO turned to an unlikely source to reach the solution. That unlikely source was Major League Baseball, or more specifically, MLB Advanced Media (MLBAM), which is now a worldwide leader in the video-streaming business. MLBAM will now completely take over all of the NHL's web operations, including the live streaming video.
These are just two results that have come about because of the success of MLBAM. The success all started in 2000, when all 30 Major League Baseball teams launched MLBAM as a joint venture after it became clear that mass broadband was becoming very popular. What originally started as a $1 million per club for four years has truly paid dividends for Major League Baseball. This led to MLB.tv, a subscription service that shows live games to viewers outside the teams' local markets.
Remarkably, it only spent $77 million before becoming profitable in 2003. MLBAM generated $800 million in revenue for Major League Baseball in 2014, which made up 9% of total revenue. MLBAM's success will only continue as it enjoys incredibly strong barriers to entry because of its reliability and its network of data centers. Not only this, but the number of smartphone owners who are MLB fans have greatly increased every single year since 2012.

Tradition Meets the Modern Digital Age
Baseball may be a very traditional game, but the MLB has used sponsorships and streaming video to modernize the experience for businesses and fans. Because of the ingenuity of the MLB's sponsorships as well as the high quality live streaming of games during a time of increasing usage of tablets and smartphones, the game of baseball will be around for a long, long time.
This blog post was written by Samford University sports marketing student Jay Davis.
Sources
Brown, Maury. Forbes. "New Sponsorship Deals Help Power MLB Toward Another Record Revenue Year". Retrieved From: http://www.forbes.com/sites/maurybrown/2015/09/28/new-sponsorship-deals-help-power-mlb-toward-another-record-revenue-year/
*Received Noah Garden quote from this source.
The Economist. "A business home run". Retrieved From: http://www.economist.com/news/business/21647979-baseballs-flourishing-media-division-may-have-outgrown-its-parent-business-home-run
Epstein, Adam. Quartz. "Major League Baseball's streaming video unit is taking over hockey, too". Retrieved From: http://qz.com/471692/major-league-baseballs-streaming-video-unit-is-taking-over-hockey-too/
IEGSR. "MLB Sponsorship Revenue Totals $695 Million in 2014 Season". Retrieved From: http://www.sponsorship.com/iegsr/2014/10/20/MLB-Sponsorship-Revenue-Totals-$695-Million-In-201.aspx
Schoenfield, David. ESPN. "Baseball is dying…again". Retrieved From: http://espn.go.com/blog/sweetspot/post/_/id/58508/baseball-is-dying-again
*Received David Schoenfield quote from this source.