Published on March 24, 2016 by William Cole McCrary  
Michael Jordan is one of the greatest basketball players to ever play the game. The poll below proves that Michael Jordan is the greatest athlete through all of sports. This poll goes through all the major sports such as basketball, football, baseball, tennis, golf, and soccer. These top players are listed in the top 10 best athletes ever (Harris). The list may shock you, but it's proof that Michael Jordan is the greatest. All the players listed below have proved that they are the best athletes or players in their sport. It is important to know that all of them have changed or are currently changing the game. Michael Jordan is the greatest is because he changed the way everyone plays basketball, but he also changed Nike's reputation in sports.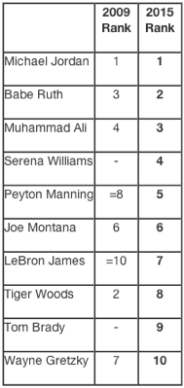 Michael Jordan has created the largest Nike name. Nike has created a logo that will forever change the game. Michael Jordan has changed more than just basketball; he has changed the face of Nike completely. Michael Jordan is having other people in sports sponsor his brand as well, such as Carmelo Anthony, Derek Jeter, Dez Bryant, and many others. This is a way for Jordan to spread his name and earn more money. Michael Jordan may be the greatest athlete, but he is also a great sports apparel figure.
Michael Jordan had the great career no one would argue that. His career has made his name worth millions, and this allows him to still make a lot of money. Jordan made more money in 2014 than he did in his historic NBA career combined. His income in 2014 was over 100 million dollars. Over the course of his 15-year career, Jordan brought in 94 million dollars. This Nike contract Jordan has is the greatest thing to happen to the company (Moore). Jordan had a great career, and that is what has made his brand so great. It would not be like this today if it was not for him being the greatest athlete ever.
Jordan sued a store called Dominick's for not using his name properly. They used his name illegally, and he sued. He said, "It was not for the money, but it was for his name that he had made for the past 30 years" (Moore). The 8.9 million dollars he made in this law suit shows how much companies would like to get the Jordan name in their stores. This all goes back to him being the greatest athlete ever and being able to brand himself so well.
If it weren't for his legendary career his Nike contract and everything else would not be possible. His career set up his tremendous sports apparel. Sports' marketing allows Jordan to become the richest retired player in the world with his Nike contract. Overall Jordan has earned his name through his career, but his Nike contract allows him to reign the sports world today.
Written by William Cole McCrary
General Editor: Macy Marin
Sources
CBSSports.com
http://proplayerinsiders.com/wp-content/uploads/2014/04/michael-jordan-logo-e1397329909577.jpg
http://www.bet.com/news/sports/photos/2015/03/michael-jordan-s-most-significant-comeback-moments-wearing-no-45.html
http://proplayerinsiders.com/wp-content/uploads/2014/04/michael-jordan-logo-e1397329909577.jpg