Published on April 13, 2016 by Paul Richardson  
Since 1978, there have been 148 National Basketball Association (NBA) games played internationally and the push for increase in international play is constantly being raised. Ex-Commissioner of the NBA, David Stern, has entertained the thought of actually expanding the league beyond the continent of North America and into Europe.
With the league's conception in 1949, international players were already apart of the then Basketball Association of America (BAA) with the Toronto Huskies in Canada and their Italian player Hank Biasatti. Since then, more international players have continued to infiltrate the NBA with most recently, the San Antonio Spurs winning with the 2014 NBA championship with ten of its fifteen players being born outside of the United States.
Marc Gasol, a Spaniard playing for the Memphis Grizzlies, credits the growth of international players in the NBA to the NBA's push to play overseas. Gasol was seven years old when the "Dream Team" dominated the 1992 Summer Olympics in Barcelona, Spain. Gasol describes it as, "I was a young kid but what [they] did, [they] really put a sports mentality to the people. People fell in love with sports after them" (Eisenberg, 2013).
The key, though, after seeing this influx and wave of international player, is to continue to harvest the potential business side of international sports. Ex-commissioner David Stern believes that twenty years in the future, the NBA could see multiple teams in cities such as London, Paris, Madrid, Rome or Berlin. This venture would be very risky and would have to have full commitment from the NBA and its foreign partners. Commissioner Adam Silver said the league would "have to put both feet down" (Feldman, 2015).
Expansion presents many challenges to be properly successful. The first is the amount of possible teams in Europe. Originally people suggested having one team, but it would not be time-efficient to fly there to simply play one game. Silver said, "It would be difficult for us to have one team in Europe. That would mean having four franchises in Europe" (Feldman, 2015). It would allow the addition of another division and allow current teams to make it a long road trip and play multiple European teams on the same trip. It also would allow the NBA to further expand itself as the second most popular international sport behind soccer (Tack, 2015). Below is a glimpse at how large the Federation of International Basketball Association (FIBA) market has been in a nine-year span and adding European teams to the NBA would only expand those numbers and glean revenue.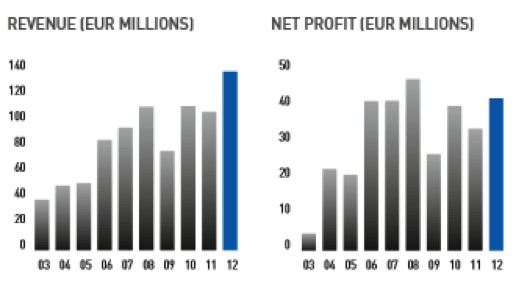 Global expansion does present many possible problems, which have been considered by then David Stern and now Adam Silver. The first would be scheduling. With the NBA, teams play multiple games a week so trips to Europe would be timely. Dealing with jetlag and time of travel could take Western Conference teams up to a week of round trip all for one game. Another problem would be arenas and facilities. Besides London and Berlin, there really are no arenas ready for NBA caliber capacity and thus would require new arenas to be built (Bontemps, 2014). A third potential reason would be the time difference. From London to New York City is a five-hour time difference, but from London to the West Coast, there's a potential eight to ten hour time difference (Botemps, 2014). With all the potential problems, there also is a world of potentiality but it will only start with action.
As seen, there is a large fan base around the world and expanding the NBA would only increase the revenue of the NBA. For example, recently the NBA has done massive advertising in China. Going back to 1979, the NBA has played occasional games over there and in 2002, it attracted then 7'6" center Yao Ming, which in turn attracted an entire nation. In 2012, NBA China's revenue was $150 million and is projected $200 million very soon (Zhou, 2014). That growth is simply through fandom and interest in the sport. Imagine, though, the potential growth when actual NBA teams are located all around the world and the booming success it would bring.
This blog post was written by Samford University student Paul Richardson.
Works Cited
Adam Silver: NBA needs four European teams for overseas expansion to work. (2015, January 15). Retrieved September 30, 2015, from http://nba.nbcsports.com/2015/01/15/adam-silver-nba-needs-four-european-teams-for-overseas-expansion-to-work/
Bontemps, T. (2014, January 18). NBA's Euro trips could lead to expansion overseas. Retrieved September 30, 2015, from http://nypost.com/2014/01/18/nbas-euro-trips-could-lead-to-expansion-overseas/
Eisenberg, J. (2013, November 13). The NBA Goes Global. Retrieved September 30, 2015, from http://jacobeisenberg.com/2013/11/14/the-nba-goes-global/ [link broken as of 9/10/2018]
Martin, J. (2013, December 3). How the NBA Can Expand Overseas. Retrieved September 30, 2015, from http://bleacherreport.com/articles/1874707-definitive-plan-for-expanding-the-nba-abroad
Quant Trading. (2013, December 24). Retrieved September 30, 2015, from http://quant-trading.com/498/my-favorite-pick-for-2014-evs-broadcast-equipment/ [domain defunct, 4/23/2018]
Zhou, M. (2014, April 4). Most Viewed. Retrieved September 30, 2015, from http://usa.chinadaily.com.cn/epaper/2014-04/04/content_17409032.htm [link broken as of 1/28/2019]