Published on July 12, 2017 by Charles E. Stokes  

Now that the NFL draft and the spring scrimmages are over, college football fans are left with only scraps of real news about their beloved teams. To fill these four months, sports writers have turned to covering summer workouts, recruiting updates, and preseason predictions. In recent years, colleges and their equipment suppliers have given fans a new subject to discuss and debate: uniform combinations.
College football uniform combos used to be fairly straightforward. For home games, jerseys were usually in the primary school color, and pants were white. Road uniforms were white jerseys with white pants or, sometimes, primary color pants. Teams had one helmet design, and they used it for all games. Occasionally teams would stray from the pattern, but even these deviations were a matter of tradition; Notre Dame's green jerseys and Clemson's orange "britches" are well known alternates from the past. For very special occasions, teams might break out a "throwback" design. Uniforms were also updated over the years, of course, as technologies improved and fashions changed. Then, around the turn of the millennium, Oregon alum and Nike chairman Phil Knight convinced the Oregon athletic department to try something new. And the world of college football uniforms was transformed.
Throughout the 2000's, Oregon experimented with a number of alternate uniform combinations. They used multiple helmet designs, introduced nonofficial school colors (like gray) to the uniform palette, gave names to the different combinations and, in the process, drew lots of media attention to a program that was already performing well on the field. Just as Knight and Nike intended, Oregon became a "hot" school by bucking tradition. In the 2010 season, it reached the pinnacle of the college football world, playing for the national championship. The very next year, Under Armour used its flagship school, Maryland, to introduce some of the most unusual and polarizing uniforms ever. And Adidas, the second largest supplier of CFB uniforms, introduced flashy alternates at several of its schools. The college football uniform arms race was officially on.
The business strategy of alternate uniforms seems fairly clear. For schools like Oregon and Maryland, who weren't considered among college football's blue bloods, alternate uniforms were a way to build their brand in a way that appealed to recruits, attracted eyeballs to televised games, and most importantly for apparel companies, moved product. One team jersey wasn't enough anymore for the passionate fan; he needed all four possible styles. It sounds like a winning formula, and Oregon's on-the-field success signaled to the college football world that alternate uniforms with multiple combinations is more than a passing gimmick. Nonetheless, some commentators and fans wondered if Oregon's success could be replicated. Oregon and Maryland were building their brands around being edgy and different. But if too many other schools imitated their pattern, would it still be cool?
Even a casual college-football observer can't have missed the proliferation of alternate uniforms. But how widespread is the trend? We examined a sample of SEC and Top 25 teams since Oregon's 2010 championship-contending season. The results are striking.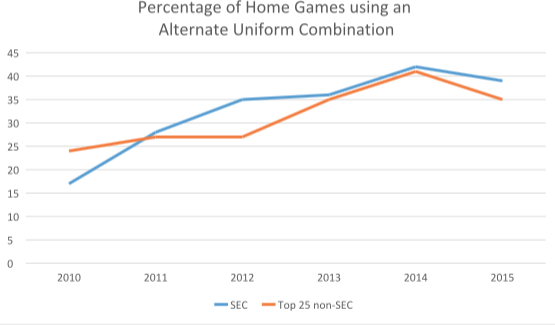 The "Oregon effect" is clear. From the tradition-loving SEC to the top teams of the past six years, alternate uniform combinations have caught on. From 2010 to 2014, SEC teams moved from wearing alternates in only 17% of home games to 42%. By 2014, Non-SEC Top 25 teams were wearing alternates for 41% of home games. But, as the graph indicates, a counter trend may be emerging.
The most recent national championship game featured two teams (both Nike schools) that take a very traditional approach to uniforms. Both Alabama and Clemson have bucked the alternate uniform craze. Instead, they pride themselves on uniforms that are consistent with tradition and consistent from week-to-week, both coaches declaring alternate uniforms a "distraction." They support their approach with on-the-field evidence; the teams are among the five winningest of the last five years (along with FSU, Ohio State, and yes, Oregon). For these schools (and others), tradition is the brand, and apparel companies like Nike and Under Armour capitalize on rather than transform it. 
Clemson released a video the week following Clemson's spring game, where the Tigers double-down on their traditional brand by reintroducing uniform elements from their 1981 National Championship season: "The great thing about Clemson," states a voice over compelling images of star quarterback Deshaun Watson, "you don't have to start over to achieve greatness. Tradition does it for you."Thus, it appears two approaches to college-football uniforms have emerged. Building a brand with alternate combinations or branding tradition by highlighting a conventional approach. The emerging "uniform wars" will give news-hungry college-football fans something else to debate about during the summer months. For apparel companies like Nike and Under Armour, either approach can be a winner at the cash register.
Note: This is the first of a series of blog posts on the impact of alternate uniforms in college football, all based on our College Football Uniform Study. Do alternate uniforms motivate teams to play better, or distract them? Are recruits really paying attention to alternate uniforms? Stay tuned for the answers.
Written by Charles E. Stokes
General Editor: Macy Marin
http://collegefootballuniformstudy.weebly.com/