Published on November 16, 2016 by Alex Matthews  
On Sunday, November 6, Real Madrid and Portugal's Cristiano Ronaldo signed the bottom line of a record-breaking contract with sports giant Nike, Inc. He earned nearly $17.5 million per year in the previous Nike contract; however, this new deal will place him closer to the $1 billion lifetime agreement that Nike offered NBA champion LeBron James.
Nike Looking to Gain Soccer Market Share
While Nike dominates footwear market share in basketball (77.6% in 2015), football (60.8% in 2015), as well as a 20% lead in the fitness market, the lead is much more narrow in the soccer industry. In footwear, Nike comes in at 44.5%, while Adidas follows closely behind at 34.4%. Furthermore, in sports equipment, Nike holds on to market share by a thread at 31% with Adidas on the tail at 29.4%.
The two highest paid athletes in the world according to Forbes are Nike's Cristiano Ronaldo and Adidas' Lionel Messi. The soccer footwear, apparel and equipment industry is a constant back and forth between Nike and Adidas. This Nike deal with Ronaldo is another tactic to help push Nike toward the lead it seeks in an international soccer market.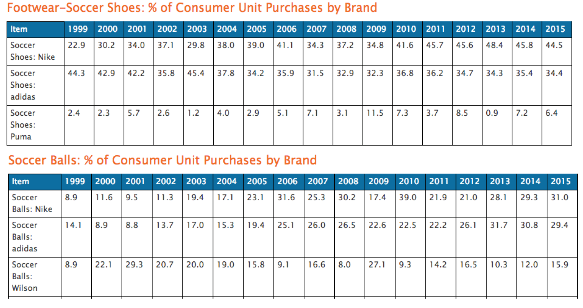 (Tables courtesy of SBRnet)
Ronaldo Doubling Up
In addition to his new Nike contract, Ronaldo also signed a new deal with the iconic soccer club Real Madrid. The contract runs through June 2021, extending Ronaldo's previous Real deal, which was set to expire after the 2017-18 season. Ronaldo's annual compensation from salary and bonuses is expected to be similar to his prior deal at more than $50 million a year before taxes. Some sources estimate he will earn $280 million over the next five years from Real Madrid.
The deal will expire when Ronaldo turns 36 and the biggest in international football history. Ronaldo is estimated to earn $545,000 per week and includes a buyout clause set at $1.1 billion. This deal also allows Ronaldo to overtake Barcelona rival Lionel Messi in wages.
The Return on Ronaldo
In Nike's announcement on the contract extension, the company writes, "Ronaldo is having yet another incredible year, for both club and country, and is unquestionably an icon of the game. He transcends football and is the most popular athlete on social media and the most famous athlete in the world."
According to Hookit, a firm that tracks sponsorship value in social and digital media, Ronaldo's social media posts in the 12 months ending June 2016 generated $176 million in media value. That number seven times more than any other athlete. See the breakdown of Cristiano Ronaldo's social media presence below:
Cristiano Ronaldo's Social Media Presence

| Social Media Platform | Likes / Followers |
| --- | --- |
| Facebook | 117 million |
| Instagram | 81.6 million |
| Twitter | 48.1 million |
Ronaldo's history with Nike is longstanding. He originally signed in 2003 and has since worn more than 60 different Nike Mercurial boots. In the aftermath of Brazil's 2014 World Cup, sales showed that Nike produced 7 of the 10 top selling cleats in the world.
"I have a great relationship with this brand, I have great friends here in the company," says Ronaldo. "We work as a family too," he adds. "This is my brand."
Written by Alex Matthews  
General Editor: Macy Marin
Citations
Badenhausen, K. (2016, November 7). World's Highest-Paid Athlete Cristiano Ronaldo Signs New Real Madrid Contract. Retrieved November 14, 2016, from http://www.forbes.com/sites/ kurtbadenhausen/2016/11/07/ worlds-highest-paid-athlete-cristiano-ronaldo-signs-new-real-madrid-contract/#40ed98135a13
Lloyd, T. (2016, November 9). Ronaldo signs massive Nike renewal. Retrieved November 14, 2016, from http://www.sportspromedia.com/news/ronaldo_signs_massive_nike_renewal
Nike and Cristiano Ronaldo Extend Long-Term Relationship. (2016, November 8). Retrieved November 14, 2016, from http://news.nike.com/news/nike-and-cristiano-ronaldo-extend-long-term-relationship
Ronaldo celebrates signing $1bn Nike deal with training camp in Portugal. (2016, November 9). Retrieved November 14, 2016, from http://www.spbnews.com/info/4/182700/ [link broken as of 12/1018]