Published on December 5, 2016 by Margaret A. Grogan  
In the Beginning
The Summer Olympic Games is the largest sporting event in the world. Every four years, countries rally behind their athletes in order to display their physical dominance in a variety of athletic activities. What better way to market your brand to the world than to partner with the Olympic Games?
Visa realized that a partnership with the Games would create an opportunity to assert the company's dominance as the global leader in payments. Visa has now been a global sponsor of the Games since 1986. According to Kevin Burke, the global chief marketing officer for core products at Visa, a partnership with the Games "is a perfect opportunity for us to drive our business and build our brand, and also gives us an opportunity to showcase new products and innovations" (Finkle, 2012).
Visa: Proud Sponsor of the Olympic Games and the Only Card Accepted There
One of the main perks of being an official partner is that Visa is the only card accepted at the Games. Their Olympic campaign commercials proudly proclaim this perk. Visa's sponsorship with the Games has lasted over twenty-five years. Since it is the only card accepted and is the exclusive payment service for the Olympics, "Visa's Olympic sponsorship has provided strong brand preference and proven results for its Members and merchants since 1986" (Sports Industry Daily, 2002). According to the graph below, Visa sees an average increase in Visa Debit Card use during the Olympic Games.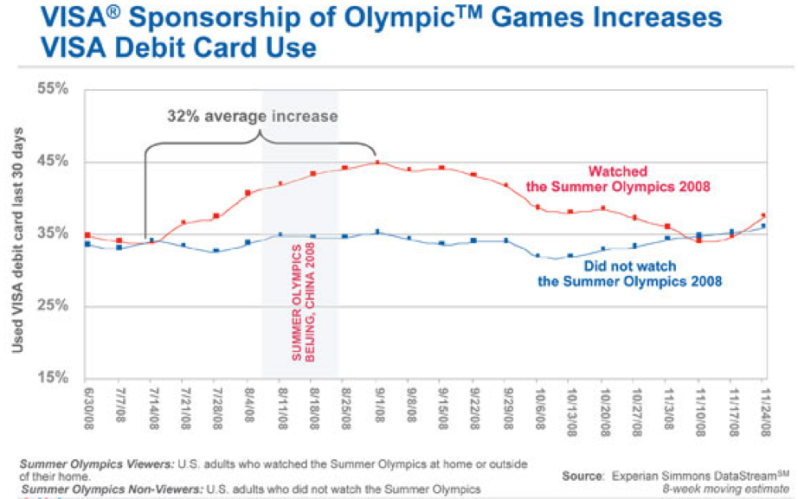 This increase in Debit Card use has prompted Visa to portion a large amount of its budget toward its Olympic Sponsorship. According to Riedman, Visa "launched the biggest integrated marketing campaign in the company's history via TV and online." The campaign was driven by a social media strategy.
Since becoming a sponsor of the Olympic Games, Visa has seen a major increase in brand preference at approximately 50 percent. According to Sports Industry Daily, Visa has been "the number one payment system worldwide" beginning in 1986 with 137 million cards and a global volume of $111 billion to more than one billion cards today and a global volume of over $2.3 trillion. The numbers do not lie. Visa made a wise choice in partnering with the Olympic Games.
The "Go World" Campaign
However, it is not just their choice to partner with the Games back in '86 that made the Visa brand rise to the top of their industry. Visa's campaign advertisements had to be on top of their game as well. Were they? Just watch the following "Go World" advertisement for the 2012 Summer Olympics with Narrator Morgan Freeman and then answer that question.
If that commercial did not motivate you and send shivers down your spine, then you must not have watched it. Visa masterfully created a stunning piece of art in that advertisement, as well as in the rest of their "Go World" campaign ads. Initially, the ad visually draws in the attention of the consumer with the choice of a colored filter. Also, the smooth, steady, and strong narration by Morgan Freeman creates a sense of awe as the audience watches the spectacular feats that these Olympic athletes have achieved. Finally, the montage of athletic feats were arranged in such a way as to create a tension that keeps the consumer watching (and cheering) as Yelena Isinayeva clears the Pole Vault and Nadia Comaneci scores a Perfect Ten. The tension builds and builds as the whole world cheers until finally Michael Phelps wins the 100 Meter Butterfly by 0.01 seconds, tying Mark Spitz's record of winning seven Gold Medals in a single Olympics.
Visa launched their "Go World" campaign prior to the 2010 Winter Olympics (Cardline, 2009). The company targets a global audience with this campaign, inviting their audience to join in on their "global cheer" for the all the athletes that compete in the Games. The approach was a strategic move in supporting athletes from around the world in order to draw in customers from around the world.
The Takeaway
Overall, Visa's partnership with the Olympic Games has proven to be fruitful. The company continues to see increases in cardholders during the Games each year and their campaigns have inspired billions of people. The company's campaign strategy in targeting a global market is a prime example of what it takes to attain success in the sports business world.
This blog post was written by Samford University student Margaret A. Grogan. You can learn more about Margaret A. Grogan.
References
Graph
OlympicTM Sponsorship Benefits VISA® - Marketing Forward. (2010, February 16). Retrieved October 18, 2015, from http://www.experian.com [link broken as of 2/19/2018]
Picture
Visa Olympic Sponsorship: "Go World, Historical" TV Commercial by TBWAChiatDay Los Angeles. (n.d.). Retrieved October 18, 2015, from http://www.coloribus.com [link broken as of 12/3/2018]
Articles
Cardline (2009). VISA LAUNCHES OLYMPIC 'GO' MARKETING CAMPAIGN. (2009). CardLine, 9(46), 27. Retrieved October 18, 2015
Finkle, V. (2012, July 26). Visa Uses Olympics Sponsorship to Drive Transactions, Demo New Products. American Banker, 177(115).
Riedman, P. (2012). BtoB's Best 2012 Marketers. B To B, 979), 17. Retrieved October 18, 2015.
Sports Industry Daily. (2002, Jan 1). Visa Extends Olympic Sponsorship For Eight Years.