Published on October 31, 2016 by Alex Matthews  
Arnold Palmer and Paul Pogba should go down in the record book as premier sports marketers. Bet you did not expect to hear those two names in the same sentence. However, any sports business professional should take a look at how these two have navigated the atmosphere of marketing in and through sport. Arnold Palmer made his fortune off of the golf course through strategic personal brand management. Paul Pogba, one of the world's hottest names in soccer, is rewriting the handbook on marketing through social media. While the two come from vastly different epochs, there are commonalities: innovation, creativity, and relentlessness.
Arnold Palmer: Image is Everything
Companies and organizations saw Palmer's persona as one they could easily align with. However, this image took time to build. First, it took winning. Then, in 1959, a strategic player-agent partnership arose with Mark McCormack, who founded IMG a year later. Sponsorship executives would eventually see the dollar signs attached to this golf legend.
"Elite golfers like Palmer are attractive corporate spokesman because they reach a demographic with high levels of disposable income to spend on apparel, equipment, cars and watches," writes Kurt Badenhausen, Senior Editor with Forbes. Palmer recognized this too. He was personable, had an infectious smile, and demonstrated a strong presence on television advertisements.
McCormack and Palmer trademarked the golfer's name with the signature script and umbrella in 1968. That is a big step considering 9 years prior Palmer signed a contract with Wilson that required him to return the clubs the company provided if he gave up golf.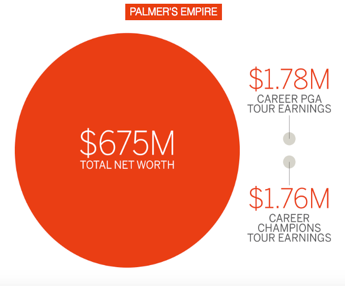 Another upside for Palmer was that a golfer could have the spotlight for decades due to the nature of the game, unlike athletes in many other major professional sports. Naturally, Palmer took advantage: he never stopped marketing. While the "Arnold Palmer" beverage had been attached to his name since the 1960's, he capitalized on a profitable opportunity through a deal with Innovative Flavors and Arizona Beverage Company. In 2010, the drink reached $100 million in sales, and in 2015, $200 million. Overall, Arnold Palmer's $1.78 million PGA earnings are nothing next to his $675 million net worth.
Paul Pogba: #FirstNeverFollows
In March, Pogba signed his first sponsorship contract with Adidas citing the brand's "imagination and creativity" as the driving forces behind the deal. When he signed, Pogba was active on the Juventus roster; however, the announcement of his transfer from Juventus to Manchester United in August created a huge marketing opportunity for the club, Adidas, and Pogba.
In the week that followed, an onslaught of strategic social media campaigns were launched. The traditional PR method of player acquisition would call for a press conference, but United announced Pogba's return to the club after a four year hiatus at 12:35 AM with the hashtag #POGBACK. This tactic allowed the news to hit morning reports in the Far East and evening headlines in the United States.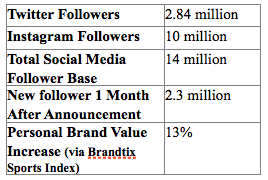 Furthermore, Adidas, in partnership with Pogba and rapper Stormzy, released a 48-second video spot featuring the two rapping and dancing while adorned in Adidas apparel. This clip was pushed in conjunction with the hashtag #FirstNeverFollows. In the week that followed the announcement, there were over 153,000 mentions of the transfer on social media, compared to the 38,000 mentions attached to Manchester City's acquisition of John Stones from Everton, which was announced on the same day. 12,000 of these mentions included Adidas or Stormzy.
Max Barnett, global head of social at Nielsen Sports, suggests that the Stormzy music video was created to help United and Adidas reach a young, lifestyle-oriented audience on social media. "Pogba is not just a fantastic player – he also has that lifestyle element to him," says Barnett.
Pogba, Adidas, and United are taking advantage of the same personal characteristics that Palmer capitalized on decades before. The distribution and execution may vary; but the results are the same: a strong and sustainable individual brand image.
Written by  
Alex Matthews
General Editor:
Macy Marin
Citations
Adidas' New TV Campaign Debuts Thursday. (2016, September 6). Retrieved October 24, 2016, from http://www.sbrnet.com.ezproxy.samford.edu/Article-Detail.aspx?id=245754
Adidas Signs Paul Pogba. (2016, March 16). Retrieved October 24, 2016, from http://www.sbrnet.com.ezproxy.samford.edu/Article-Detail.aspx?id=242234
Bacon, J. (2016, August 12). How Manchester United's Paul Pogba transfer rewrote the ... Retrieved October 24, 2016, from https://www.marketingweek.com/2016/08/12/how-the-paul-pogba-transfer-rewrote-the-rules-of-sports-marketing/
Badenhausen, K. (2016, September 26). How Arnold Palmer Earned $875 Million During Legendary Career In Golf. Retrieved October 24, 2016, from http://www.forbes.com/sites/kurtbadenhausen/2016/09/26/arnold-palmer-earned-875-million-during-legendary-career-in-golf/#4ebee7ff338d
Rovell, D. (2016, September 25). Arnold Palmer was father of modern-day sports marketing. Retrieved October 24, 2016, from http://www.espn.com/golf/story/_/id/17639848/arnold-palmer-was-father-modern-day-sports-marketing