Published on December 4, 2016 by Brian Smith  
The most watched sports network in the world is one you have probably never heard of, unless, of course, you are in high school or middle school. It's not ESPN or the NBA or the NFL. Rather it is Whistle Sports, a YouTube sports network that was launched less than two years ago and now has over sixteen million subscribers across its 250 partner channels.
With most 13 to 18 year olds getting their news and entertainment not from traditional sources but rather from digital media, Whistle Sports seized on an opportunity and began a YouTube sports network with channels that have become an everyday go to for millions of teens all over the world.
Whistle's Channels Dwarf Main Stream Channel Subscribers
Just to show how large Whistle's numbers are, consider this: according to Vidstatsx.com, as of December 2014, the NBA had 6,500,327 subscribers, ESPN 1,669,357 subscribers, the NFL 514,003 subscribers, and FIFATV 1,255,763 subscribers. Dude Perfect, a trick shot basketball group and just one of Whistle Sports 250 partners, had 7,304,740 subscribers.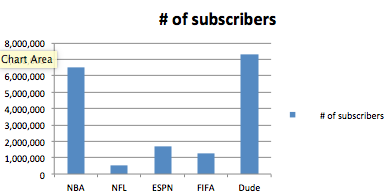 Whistle Sports is continuing to sign on new partners including basketball star Jeremy Lin. Whistle also has rights deals with the NFL, MLB, and NASCAR although its content is different from the channels of those sports themselves.
A Different Approach to Sports Content
Whistle tends not to show highlights but rather behind the scenes videos. John West, Whistle Sports CEO said in an interview with digiday.com, "We can help pro leagues represent their sport in different ways that we think is very appealing to the young audience. They want to know how athletes got started, what their training regimen is and so on." But Whistle is not just interested in big leagues. One Birmingham group is also a Whistle partner.
Birmingham, Alabama and Whistle Sports
Whistle has recently signed a Birmingham trick shot basketball group, the Legendary Shots. This is a small group of guys who started making trick shots in their driveways during middle school and stuck with it. While not as nearly as well-known as Dude Perfect (or as costly to obtain), the Legendary Shots, however, have slowly and quietly built a large YouTube following on their own but needed a partner to take their group to the next level.
Enter Whistle Sports. After a trip to VidCon in Los Angeles this summer, the group was approached by Whistle and signed a partnership agreement. Since signing, the Legendary Shots has been flown by Whistle to Sarajevo to film basketball shots at the site of the 1984 Winter Olympics.
Chase Martin, a University of Alabama senior and one of the founders of the Legendary Shots, told me, "We feel blessed to be able to partner with Whistle. They are the YouTube network that everyone respects. We have so much more opportunity now."
Whistle is also using its network to help different sponsors advertise their products. For example, Dude Perfect helped Gillette launch its new brand of razor by performing trick shots at New England's Gillette Stadium, and the Legendary Shots is working now on a promotion for Verizon.
CEO John West has said of his multi-channel network, "We are not building the sports network for the millennials. We are building the sports community with the millennials." As millions of millennials and young millennials tune in daily, the future of Whistle Sports and sports themselves seems very bright.
This blog post was written by Samford University student Brian Smith
References
Vidstatsx.com
digiday.com