Published on January 6, 2016 by Mary Kate Thomas  
The way people view sports is changing. Traditionally, people would view sports-related videos through ESPN and other media outlets. But with an increase in technology and social media platforms, the way people consume sports and sports-related videos are changing.
Facebook & YouTube coming in hot
Whistle Sports, a social media start-up, has collected data on 13-24 year olds and how they view the sports videos. While 42% still use ESPN, 64% use YouTube and 52% use Facebook. 13-17 year olds have even more significant data; 73% find videos on YouTube and 48% on Facebook. This change in viewership could negatively affect ESPN as these viewers age.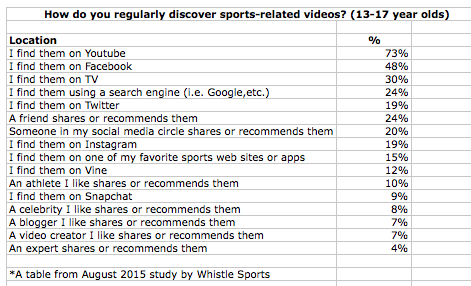 Snapchat shows up
However, sports fans can now find their favorite teams not only on traditional social media platforms like Facebook, YouTube, and Twitter, but also on Snapchat. In the past year, Snapchat has released live stories all users can view from all over the world. They have begun to partner with sports leagues to live stream pictures and video clips from sporting events.
NFL has partnered with Snapchat to offer weekly global stories that market and reach fans all over the globe. Snapchat recently reported that it is receiving 6 billion daily views compared to Facebook's 8 million*. Real Madrid also recently partnered with Snapchat to offer stories just in time for their biggest event of the year, 'El Clásico'. Within 12 hours of creating a channel, Real Madrid already had 200,000 views.
Other sports media networks bringing in the views
Sports Techie also cited 4 other sports media brands performing very favorably on Snapchat: Chat Sports, USA Today, SB Nation, and SportsManias. These brands are combining comedy and sports to bring engaging and creative content to fans. Channels on Snapchat allow users to be interactive by screenshotting and sending comments back or sharing content easily with a friend. SportManias attempts to make the experience feel personal with direct-to-camera narration. These brand stories have grown increasingly in popularity. Chat Sports said their viewership grew ten times in less than a month of existence.
Does ESPN have what it takes?
These easy-access sports news networks are possibly the future of sports media viewing. Millennials are less likely to turn on the television to tune into Sports Center and more likely to swipe over after snapchatting to quickly view highlights on these channels. These other media outlets are cause for concern for traditional networks such as ESPN. The ease of access to these social media platforms and the constant sharing of content gives the outlets a foot in the door to the sports media world. So can traditional outlets compete?
ESPN can surely compete if they begin to adapt more to the changing environment. ESPN relies much more on users seeking them out and their television strategy. But with more competition, ESPN could eventually fade if they do not prove they are scalable in their industry. They must continue to adapt to their consumers to keep up with the growing trends in social technology.
*Facebook counts a view as 3 seconds, while Snapchat counts it as less than a second
This blog post was written by Samford University student Mary Kate Thomas.
References
Blumenthal, E. (2015, September 17). NFL teams up with Snapchat to expand social experience. Retrieved November 19, 2015, from http://www.usatoday.com/story/tech/2015/09/17/nfl-snapchat-team-up-live-stories/32542355/
Heitner, D. (2015, November 18). Cool Story: Real Madrid Partners With Snapchat. Retrieved November 19, 2015, from http://www.forbes.com/sites/darrenheitner/2015/11/18/cool-story-real-madrid-partners-with-snapchat/
O'Reilly, L. (2015, November 8). Snapchat is closing the gap on Facebook in video with a reported 6 billion daily video views to Facebook's 8 billion. Retrieved November 19, 2015, from http://www.businessinsider.com/snapchat-generates-6-billion-video-views-a-day-2015-11
Roberts, D. (2015, November 16). This Study on Millennials' Video Preferences Should Worry ESPN. Retrieved November 19, 2015, from http://fortune.com/2015/11/16/millennials-sports-tv-study/
4 Sports Media Brands Exploding On Snapchat. (2015, August 25). Retrieved November 19, 2015, from http://www.sporttechie.com/2015/08/25/4-sports-media-brands-exploding-snapchat/
Pictures Cited
http://fortune.com/2015/09/18/snapchat-nfl/
http://www.telegraph.co.uk/technology/mobile-app-reviews/11049495/The-Apps-designed-to-keep-your-Teen-under-control.html
http://www.scoopnest.com/user/JustNateLoucks/609475592308846593
http://www.scoopnest.com/user/SBNation/607928213147238400
https://twitter.com/sbnation/status/608280829069021184