Published on October 30, 2016 by Micah Green-Holloway  
Game ticket: $3,081. Airbnb rental: $750. Parking: $175. Seeing the Chicago Cubs play in the World Series for the first time since 1945: Priceless?
Depends on how much you value this opportunity.
Ticket Prices
According to Chi (2016), "To get into Wrigley Field for Games 3, 4 or 5 this weekend, the sellers are asking anywhere between $5,400 to $7,400 per ticket.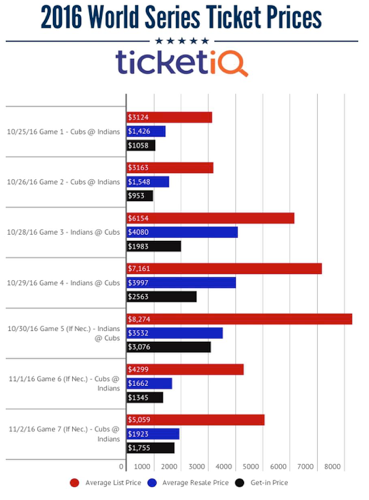 So far, business has been brisk, with an average sale price of between $3,000 to $4,200. Even standing room-only tickets are fetching north of a grand each." This evidence is supported by the table to the right by TicketIQ (TicketIQ 2016).  "This will smash every other World Series pricing, by every measure. I doubt it will ever be broken. Nearly 200 years of combined pent-up demand won't ever happen again in any sport," says Jesse Lawrence, founder and CEO of TicketIQ, which works with more than 50 sports teams to help them analyze and sell their tickets directly to fans.
After reading different articles, analyzing charts, and watching EPSN, one must wonder why these tickets so expensive? Through thorough research and heavy thought, I discovered two reasons why the Chicago Cubs World Series tickets are double the previous World Series record: The Cubs' Value and Fan Loyalty.
The Cubs' Valuable Organization
This year's World Series tickets are expensive considering that the Cubs can potentially win a title, but also their organization is richly valued in the MLB. Wrigley Field is the second oldest ballpark behind Fenway Park, which is an incredible testament in itself. For this reason, the Cubs organization is amongst the top valued teams in MLB. To support my evidence, according to SBRnet, as of 2015the Cubs are valued at 1,800,000,000, which is the fifth most amongst all MLB teams. In contrast, the Cleveland Indians are only worth 825,000,000. Market research proves why the Cubs tickets would be twice as much as the Cleveland Indians'. As a result, we see a positive correlation between that the value and history of the Chicago Cubs and the customers' willingness to purchase tickets, despite the cost. Thus, raising ticket prices will not likely affect fan attendance.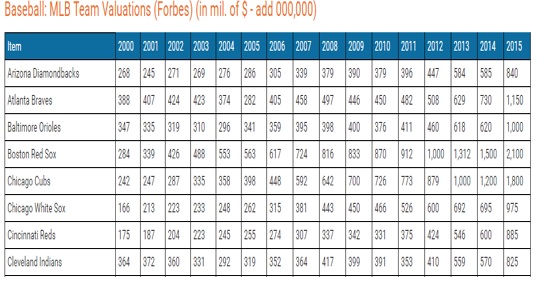 Fan Loyalty
Over the years, it may seem paradoxical for Cubs fans to root for a losing team, but needless to say, the fan base for the Cubs are steadily increasing every year. According to SBRnet, the Cubs' attendance increases every year, for the past four years. In 2015, the attendance was 2,960,000 and this year according to ESPN, the attendance is 3,232,420, which is an astounding 9.2% increase from 2015. For this reason, the demand to attend a Chicago Cubs World Series game, will always be there---fans will not miss their one opportunity to watch their childhood favorite team compete for a chance to bring home a championship. Therefore, since the demand supports Cub's ticket cost, prices will remain the same or continuously increase.

Will They Stop the Drought?
Here's what a 38-year-old Cubs fan named Raymond Fuller told the NY Times:
"I'm scared," he said. "My entire life, the Cubs have never been able to do this. If the Cubs end up winning the World Series, what it means to be a Cubs fan is going to change, and, I confess, I'm not certain it is something to be valued. The moniker 'lovable loser' — I hate it, but it means something. It's shared hope and disappointment. It means accepting loss and trying your best and not coming out on top." 
The Cubs fan base waited 108 years for this very moment to occur—it's finally here. The drought is very prominent in Wrigley Field, but it is up to the Cubs to change this reality. As Cub fans hold up their sign, "It's Gonna Happen," this exemplifies the hope that this organization has to change things around. So, despite the cost of the ticket, the chances to see the Cubs win the World Series is priceless.
Written by  Micah Green-Holloway
General Editor: Macy Marin
Works Cited
Chi, S. (2016, October 28). Cubs Making World Series History ... For Ticket Prices. Retrieved October 29, 2016, from http://www.thepostgame.com/cubs-world-series-tickets-most-expensive-history (First and Last Picture)
TicketIQ.com - http://www.tiqiq.com/mlb/chicago-cubs-tickets/chicago-cubs-vs-cleveland-indians--10-29-2016/4025957138285 [link broken as of 5/29/18]
SBRnet- http://www.sbrnet.com.ezproxy.samford.edu/researchrc.aspx?ResCode=mlbte1 (Valuations) and http://www.sbrnet.com.ezproxy.samford.edu/research.aspx?subrid=649 (Attendance)
MLB. (2016, September 09). Retrieved October 29, 2016, from http://www.espn.com/mlb/attendance (ESPN Graph)