Published on April 14, 2016 by Cole McCrary  
Under Armour is one of the biggest sports apparel companies in the world along with Nike and Adidas. Under Armour is trying to pass these competitors and become the leader in sports apparel. Under Armour and Nike are signing contracts with teams to spread their own brand. Under Armour has now made history within their own business, and this allows them to spread their name even more. Under Armour just recently signed a contract with Yale. This contract is the first Ivy League school that Under Armour has ever signed. This is very important because now Under Armour has even a bigger market.
This contract and partnership with Yale is Under Armours thirty-third Division 1 partnership in the company. Under Armour will supply everything for Yale's sports teams. Yale Athletic Director, Tom Beckett, said, "We are excited to work with a world-class company on a very special partnership that provides our student-athletes with the best sports apparel, footwear and equipment." This is a huge partnership for both sides. This allows Yale to have access to some of the greatest sport apparel in the game, and also gives Under Armour the opportunity extend their market to knew customers and spreading their name.
In July of 2015, Nike signed a partnership with Providence. This started to the movement that Under Armour made into the Ivy Leagues. Nike has always been one step ahead of Under Armour, but Under Armour is still on the rise. One day they might catch Nike. The partnership with Providence is a big step with Nike, but that partnership motivated Under Armour to step out of their comfort zone and join the Ivy League. This push allows Under Armour to extend their market.
Under Armour is the leading competitor to Nike. With Under Armour finally being apart of the Ivy League this gains one step back on Nike, and this could eventually lead to Under Armour eventually passing Nike.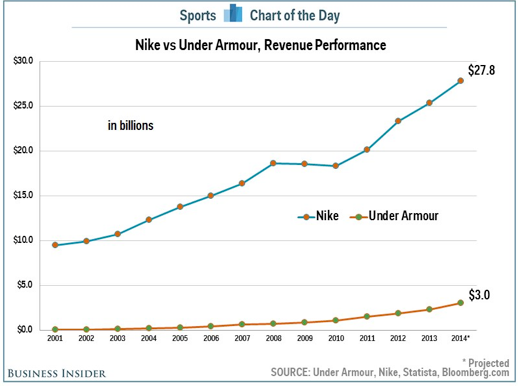 This graph below shows through 2014 how behind Under Armor is. It is important to know that Nike has ran the competition for years, and Under Armour is relatively new. Under Armour has a more consistent rise. With Under Armour gaining more and more contracts with big name schools, Nike needs to watch out for what Under Armour can do in the future (Gaines).
Written by: Cole McCrary
General Editor: Macy Marin
Sources
Gaines, Gork. "Under Armour Is Growing But Still Has A Long Way To Go Before Catching Nike." Business Insider. Web.
"Providence Signs Long-term Partnership with Nike." FoxSports College Basketball. Fox Sports, 6 July 2015. Web.
"Under Armour To Sponsor Yale University." Sports Business Research Network. SBRnet, 1 January 2016. Web.
https://g.foolcdn.com/editorial/images/140186/under-armour-logo_large.png (Under Armour)
http://www.sports-logos-screensavers.com/user/Yale_Bulldogs2.jpg (Yale) [link broken as of 8/14/2019]
https://twitter.com/underarmour/status/686548690195091458