Published on November 2, 2017 by Drew Laing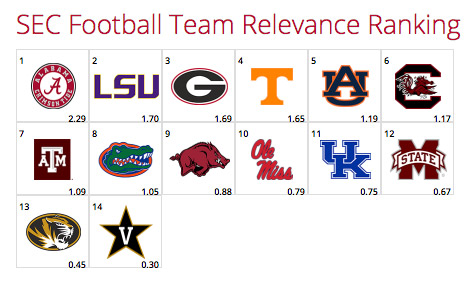 "It Just Means More."
The now-infamous SEC tagline may seem cheesy, but according to Samford University's College Football Relevancy Rankings, it's right on the money.
When compared to the other Power 5 conferences in college football, the SEC was the clear front-runner with a relevancy ranking of 1.1. The Big 10 was runner-up with a ranking of 0.7, followed by the ACC (0.6) and tie for fourth between the Big 12 and PAC-12 (0.5).
SEC fans pride themselves on their devotion to their respective teams. Southerners would argue the emotional connection to their beloved football schools is unparalleled anywhere else in the country.
Although the SEC can boast an impressive eight teams in the top 15 in all of college football, the Alabama Crimson Tide lead the way as the SEC's most relevant team with a 2.2 rating, followed by the LSU Tigers (1.7 rating).
Based on consistent on-field performance, it's not surprising that Alabama and LSU occupy the top two spots, given their success in the current decade.
Arguably the most surprising ranking would belong to the South Carolina Gamecocks. While the Gamecocks have always had an incredibly passionate fan base, their average on-field performance and lack of historical success would lend itself to a lower ranking. However, South Carolina is tied with Auburn and one spot ahead of the Florida Gators, two historically more prestigious programs.
As expected, Missouri and Vanderbilt round out the bottom of the rankings. Despite an appearance in the 2014 SEC Championship, Missouri's lack of SEC history ultimately hurts the Tigers in relevancy to SEC fans.
The Commodores, on the other hand, have always endured an uphill battle building their football program, and these rankings hold that narrative to be true.
The rankings, developed in partnership with Affinio, were compiled based on data from approximately 6.9 million sports fans. Through a deep dive into the social media habits of U.S. sports fans, Samford University's Center for Sports Analytics and Affinio conducted a detailed study and analyzed how millions of fans are connected to teams, tapping into billions of interest variables and network connections.
Drew Laing is a Samford University journalism and mass communication alumnus and writes for the Division of Marketing and Communication.