Published on October 2, 2017 at 10 a.m. by Steven Goldberg  
On Sunday September 17, 2017, the Washington Nationals became the first team to secure a berth in the 2017 post-season. The team was at that point 88-55, which, combined with a weak division, gave the Nationals an early ticket to the 2017 post-season. This team is star-studded with superstars such as Bryce Harper (who has very recently been re-instated from the DL), pitchers Stephen Strasburg and Max Scherzer, and other position players such as Daniel Murphy, Ryan Zimmerman, Trea Turner, and Adam Eaton (who has spent the entire year on the disabled list with an ACL tear). The one player who is not on this list and I believe has been the most underappreciated player during the 2017 MLB season, is Nationals 3rd baseman, Anthony Rendon. Rendon is still in his arbitration years which results in the club getting a huge bargain in paying him only $5,800,000 for the 2017 campaign. Rendon has been a catalyst for the team's success and has quietly been one of the best players in all of baseball.
The argument can start with his WAR of 6.5, which is second (among position players) in the MLB, only behind the Houston Astros' Jose Altuve. WAR is an all-inclusive statistic that shows a player's value over the "replacement level." To provide context, the Nationals would win 6.5 more games in the 2017 season with Rendon into the lineup instead of Joe Random (not a real player) who is an available minor league/fringe MLB player. A report from Justin Bopp from Beyond the Box Score showed that majority of players from all players in have a WAR between 0 and 1 during a given season. For context during the 2017 season players with 0 WAR include Hunter Pence, Alcides Escobar, and Jose Peraza, all of which are household names in the baseball world.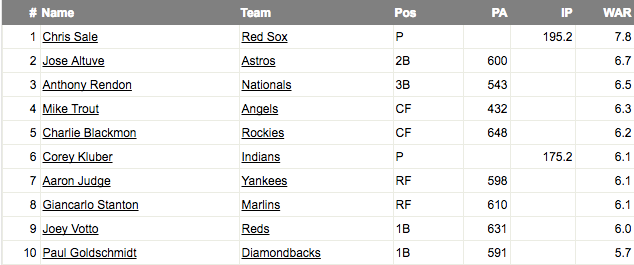 Rendon's defense has been incredible this year, which has led to a Def of 15.3 which is best among all 3B in baseball and second only to Andrelton Simmons, the defensive wizard of the Los Angeles Angels of Anaheim. Def is a metric created by fangraphs.com that "measures the numbers of runs above or below average a player is worth when combining their fielding runs and positional runs" (positional runs account for the fielding difficulty of the position). His hitting statistics over the course of the year have put him in elite company. Rendon ranks 11th (2nd among 3B) in the game in wRC+ which tries to measure a player's total offensive value and quantity it using runs. His OBP of .401 shows he has been on base over 40% of the time this year, which is also good for 11th best in baseball. His BB/K ratio of .97 ranks 5th best in all of baseball which shows his plate discipline which can also be seen by him swinging at roughly 21% of pitches outside of the zone.
Rendon has been superb with his glove and his bat, but now it is time to give credit where credit is due with his acumen on the bases. Fangraphs BsR statistic is the complete base running statistic which accounts for: stolen bases, caught stealing, taking extra bases, base running mistakes, etc. into account. Yet again we see Rendon with a BsR of 3.4 which is good enough for the share of the lead among all third basemen. Outside of him and Cubs 3B Kris Bryant, there are no 3B with a positive BsR Value.
This article was not trying to state that Rendon is deserving of the NL MVP, but more so that he has been a constant star on an injury plagued Nationals team and deserves to be in the conversation for baseball's best all-around third basemen.

Author: Steven Goldberg
Steven Goldberg is a recent graduate from Lehigh University with a degree in Economics. Steven is pursuing a job with an MLB team for the 2018 season.
Sources
Fangraph's Sabermetric Glossary. Retrieved September 11, 2017, from fangraphs.com