Published on November 27, 2017 by Bo Burgess  
For years Nike has completely dominated the college football landscape. Almost every major school sports that all familiar swoosh and even with all the money different apparel brands throw at schools, Nike shows no signs of letting up. The Beaverton, Oregon based sports clothing brand has outfitted the college champion all but one of the last 17 years. Only Auburn in 2010 (Under Armor) has won a national championship since 1999 not wearing a Nike uniform. (Reddit, 2017)
This has been on full display since the start of the College Football Playoff. Since the playoff's conception and inaugural season in 2014, all 12 participants (Alabama three times, Clemson twice, Ohio State twice, Oregon, Florida State, Oklahoma, Washington and Michigan State all once) have all been outfitted by Phil Knight's company. Before you start feeling sorry for the other brands, however, they haven't even gotten close to making the CFP. The highest-ranked, Non-Nike school in 2016 was Wisconsin (Under Armor) at 8th. Adidas' highest ranked team was Cinderella story, Western Michigan (SBR, 2016). Not exactly who you want to represent your brand if You're Adidas.
But, why does it matter? It's not as if what brand a team wears impacts the player's performances? Right? Well, actually, a study by The Huffington Post's Kai Satom, (@KaiDaywalker) suggests that recruits are more drawn to these Nike-affiliated schools as shown in the chart below.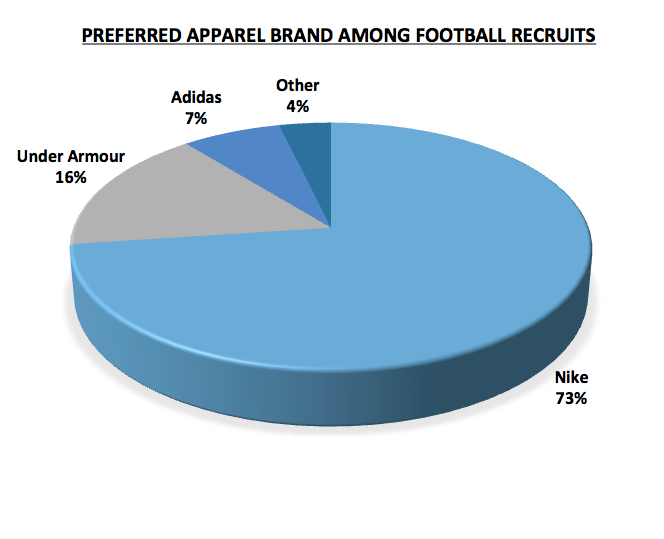 Nike was the more popular brand over Under Armor by 57% and Adidas by 66%. This chart to me speaks volumes about brand recognition and the importance of cultural relevance in sports.
Perhaps the best example of this is the Oregon Ducks. The Alma Mater of Nike founder Phil Knight have been the largest and most visible school to take advantage of their Nike apparel Deal. Every Saturday the whole team is a walking, four hour Nike commercial. All the different uniform combinations as well as advanced Nike tech they usually get before almost every other Nike-endorsed school make it a huge source of advertising for the brand, not just for the average everyday consumer but other big-time college programs as well. They see all the awesome uniform designs and materials that the Ducks sport every week and want it for their own school, and usually have no problem paying top dollar for whatever Nike will send their way.
Of course, all this gear is custom made for each school, driving up the cost even more, but it goes beyond just the jersey, pants, and cleats that a Nike-sponsored Student-Athlete puts on for every game. It's the workout shirts, the travel suits and custom team shoes that each athlete receives. A few years ago, Clemson Football released a video detailing all the Nike gear a Student-Athlete received (for free) from the school. You can see in the video here that they get thousands of dollars' worth of free Nike gear annually. Videos like this appeal to recruits in uncommon ways.
At the end of the day, Nike dominates the college football world. And the other companies are not even close.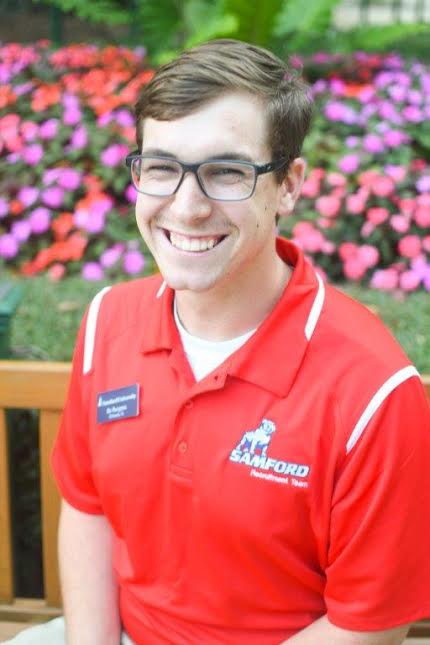 This blog post was written by Samford University student Bo Burgess. You can learn more about Bo Burgess at LinkedIn.
Sources
sportsmarketanalytics.com
huffingtonpost.com
reddit.com