Published on December 13, 2017 by Sydney Berry  
Even as NFL spokesman Joe Lockhart (@joelockhart) is calling for the league to be "getting back to football," it seems that the college football world is also looking beyond the field. Predictions for the 2018 NFL draft are flooding in, and there seems to be a pattern.
Relevance Rankings and Draft Predictions
Relevance is a relatively new term in the world of sports marketing. According to a recent report released by Samford University, the term is used to indicate a passion for a team that goes beyond a nominal dedication.
As Samford University's relevance rankings are being released during this college football season, it is time to ask if this "big data" is pointing towards more than just relevance on social media. The data actually reflects a positive correlation between the number of players from college teams predicted to be drafted in 2018 and the numerical relevance score, as seen from the chart below.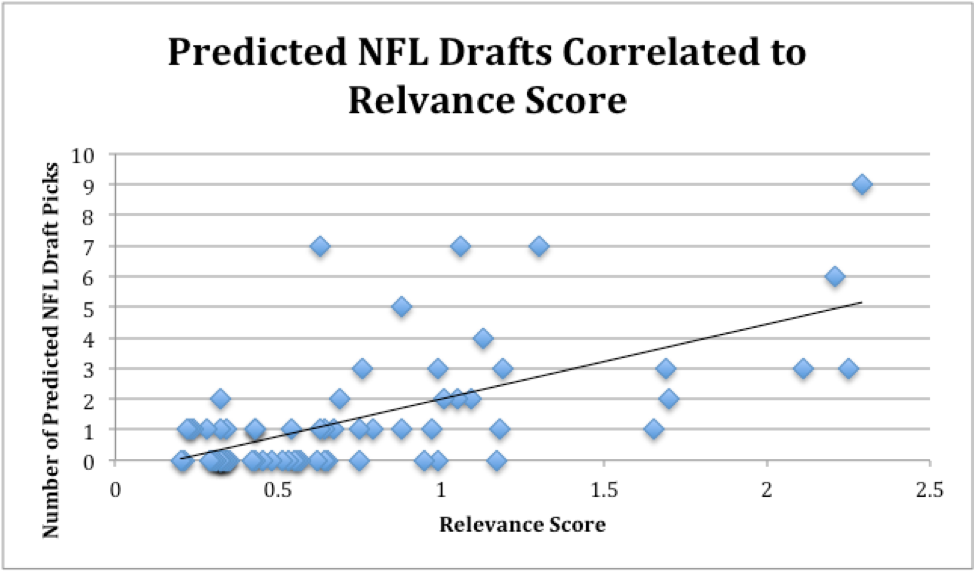 Sources: Cbssports.com, Samford.edu/sports-analytics
The point in the top right corner, far above the others, is (obviously) Alabama. With the highest relevance score of 2.29 and the largest number of predicted NFL recruits, 9, Alabama is most definitely ahead of even the second closest data point, Clemson, with a score of 2.21 and 6 draft picks.
Perhaps the oddest point on the chart, however, set at .63 relevance, yet 7 predicted picks, is Washington. Since 2016, Washington has seen consistent success on the field. Why then is their relevance on social media so low? Comparing Washington to FSU, there is one clear reason why. FSU, while also having 7 draft picks, also has 322K Twitter followers (@FSUFootball), while Washington (@UW_Football) has less than half as many with 124K. Twitter is the hub for sports social media, and the lower follower count will only hurt, not help, Washington's relevance score.
There are two other teams with relevance rankings that are above 2.0, yet have only 3 future NFL players: Michigan and Notre Dame. Michigan's record this fall, while not abysmal, is not as extraordinary as in years past. As for Notre Dame, @DraftCountdown's Scott Wright has some doubts to the likelihood of the three players being drafted. Wright says of #34 pick Quenton Nelson, "there's some risk in terms of his draft value" (qtd. in Ironside).
In short, with most college football teams, one can expect the relevance on social media to have some relation to the number of NFL draft picks.
How Does Attendance Relate to All of This?
Although NFL draft prospects are interesting for the fans, the bottom line for college teams relates to attendance. More fans in the seats means more ticket revenue. Full stadiums improve the image of a team, showing a fan base that is committed and enthusiastic about their team.
Relevance rankings are in fact related to the average 2016 attendance for each college team. As the relevance increases, the attendance of fans increases.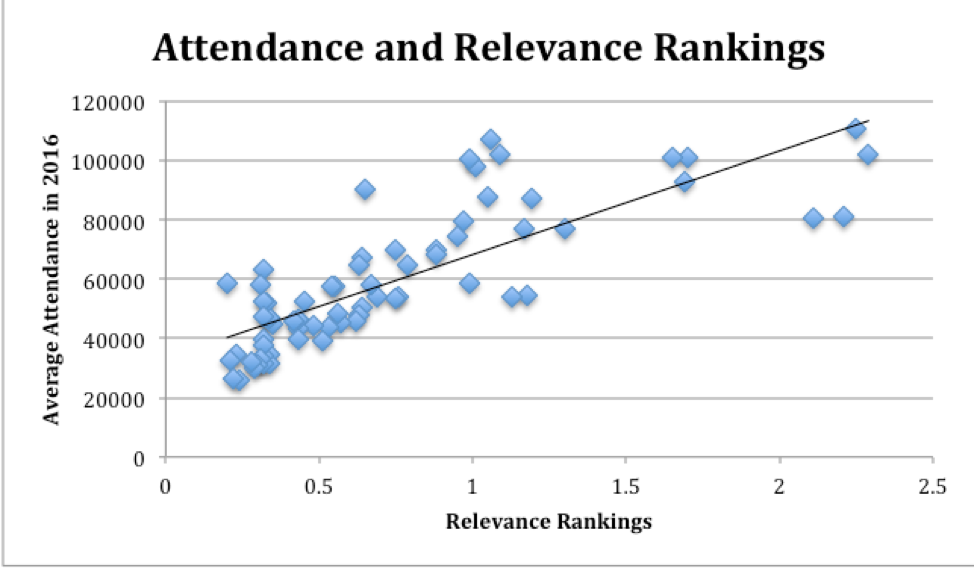 Sources: SBRnet, Samford.edu/sports-analytics
While one cannot be said to cause another, it is likely that relevance improves attendance and vice versa. After attending a game, a fan having a positive experience is likely to use social to connect with the team. Likewise, a good presence online is likely to gain a team more attenders hoping to partake in what they see online.
In short, while many other factors affect a college football team's success in the NFL draft and in gate revenue, perhaps one of the largest factors to this success is their online relevance.
This blog post was written by Samford University student Sydney Berry.
References
2018 Top NFL Draft Prospects. (2017). Retrieved October 24, 2017.
Belson, Ken. Goodell and N.F.L. Owners Break From Players on Anthem Kneeling Fight. (2017, October 10). Retrieved October 24, 2017.
College Football Relevance Rankings. (2017). Retrieved October 24, 2017.
Football: College Football Average Game Attendance Trends, NCAA Division I. (2016). SBRNet. Retrieved October 14, 2017.
FSU Football. (2017). Retrieved October 24, 2017.
Ironside, Nick. (2017, January 24). Retrieved October 24, 2017.
UW Football. (2017). Retrieved October 24, 2017.