Published on November 19, 2017 at 11 a.m. by David Abee  
Sponsorship is a major revenue stream in the sports industry. Outside the United States, it is normal to have the team's sponsors on all team apparel, especially game jerseys. For many years, U.S. sports have banned sponsors from putting their logo on the jersey. However, the NBA approved a three-year program, to begin this season, allowing teams to put their logo on the jersey. When the league voted a surprising 28-2 vote was won in favor of the program. The patches are 2.5 inches by 2.5 inches and are on the left shoulder opposite of the Nike logo. This season marks the unveiling of Nike's exclusive apparel. The deal is worth about $1B over eight years.
In 2006, Major League Soccer became the first American professional league to allow sponsors to put their logo on the jerseys. After the MLS switched, the WNBA followed. The four major sports leagues are slowly moving towards this idea. For instance, the NFL allows practice jerseys to be sponsored in 2009, and the NBA added the Kia brand patch. Nonetheless, it remains unclear whether the owners will approve sponsors to put their logo on the game jerseys.
If more sports leagues decide to allow sponsors to display their logos, which brands or companies would be in the front running? The two below charts demonstrate which product/service catergories are most active in this space in the MLS.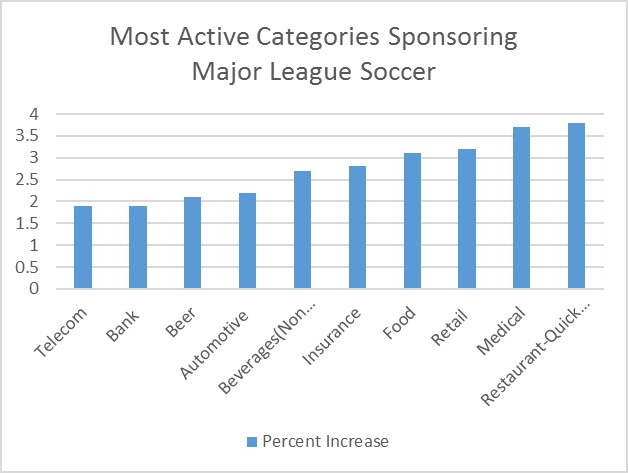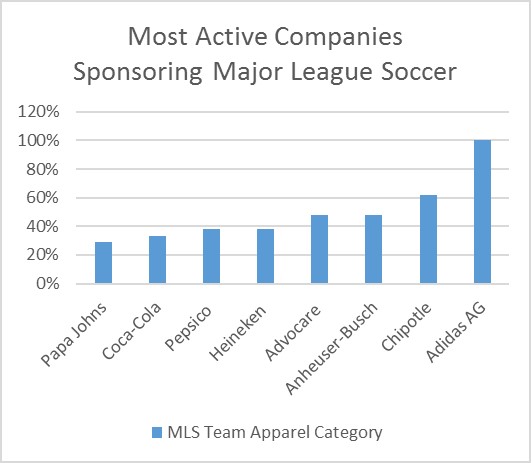 Adidas clearly is superior to all other major companies when it comes to soccer teams. The growth in quick-serve restaurants in MLS sponsorships is likely a reflection of the youthful demographic that follows professional soccer. While having sponsors display their logo, the MLS has increased in total profit since 2006. From 2016, the MLS revenue shot up 9.2 percent in just one year. This may be because of the rising popularity of soccer, in addition to the U.S. ongoing league expansion and excitement around the 2016 Copa America Centenario.  "The increase exceeds the projected 5 percent increase in sports spending and 4.5 percent increase in overall North American sponsorship spending"(PRO Sports).
Imagine the revenue increase the NBA will see in this upcoming season. This will allow teams to have more cap space for players, more money to improve stadiums and recreation activities for their fans to experience, and so much more. Another top four sports league has an incredible opportunity if the league allows it.  Just imagine the amount of money that the NFL will gain if they decide to join this sponsorship movement. "Daniel Kaplan of SportsBusiness Journal reports that the NFL expects to generate $14 billion in 2017. That's a $6 billion increase from 2010, when the NFL racked up $8 billion"(Florio).  All of the revenue that the NFL expects to receive is without having sponsors on the teams' jerseys is enormous. We as fans can only imagine what kind of money the NFL will receive just from a little patch on the jersey.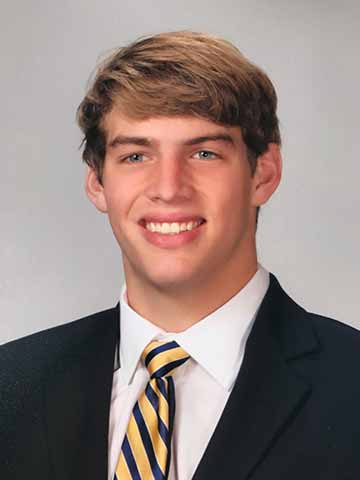 This blog post was written by Samford University student David Abee. You can learn more about David Abee at LinkedIn 
Works Cited
Cella, Robert. "One Small Patch of Fabric – A Lot of Weight." One Small Patch of Fabric - A Lot of Weight | UO Business Blogs, blogs.uoregon.edu/uobusiness/2016/04/29/one-small-patch-of-fabric-a-lot-of-weight/. Accessed 7 Sept. 2017.
"Sponsorship Spending On North American Soccer To Grow 9.2 Percent In 2016." Sponsorship Spending On North American Soccer To Grow 9.2 Percent In 2016 - IEG Sponsorship Report, 7 Mar. 2016, www.sponsorship.com/iegsr/2016/03/07/Sponsorship-Spending-On-Major-League-Soccer-To-Gro.aspx. Accessed 8 Sept. 2017.
Florio, Mike. "NFL will reach $14 billion in 2017 revenue." ProFootballTalk, 6 Mar. 2017, profootballtalk.nbcsports.com/2017/03/06/nfl-will-reach-14-billion-in-2017-revenue/. Accessed 8 Sept. 2017.