Published on October 9, 2017 at 5 a.m. by Marcus P. Wingate  
The sports industry operates on wins and losses, so improving service for our fans, is always a win for the books; whereas, failing to focus on servicing fans, is a hard loss. Currently, as a business analyst, a graduate assistant, and a master's student, my experiences in the sports industry stem around the fan experience. As a former student-athlete, our team's focus was on winning, thus putting a show on for our fans. As a business analyst for SME Solutions Group, Inc. and an analytics graduate assistant, I analyze the transactional data surrounding a fans overall interaction with a team (transactional analytics). As a master's student studying the sport and entertainment industry, analytics can be utilized to understand how a fan's relationship with a team is cultivated (relational analytics). Fans are more than tickets sales and concession purchases; they are the heartbeat of sport and entertainment.
"The Fan is Always Right"
The essence of sports is competition. Behind the scenes, organizations use competing business models to strategize success. Consumers, also known as fans in the sport industry, are the drivers of success, so sport organizations must deliver a world class product. Interaction with fans starts well before the initial ticket purchase and continues after "kick-off." The pinnacle of interaction is game day – entering the stadium parking lot, engaging in hype during the game, and post-game pride – and the time leading to the next game day (or season). As technology advances, so does the constantly shifting landscape of game day.
"The Only Constant in Life is Change"
With the rate of change in the sports environment, organizations need to leverage data to hedge smarter bets like any business. In the race to be the best and win on and off the field, the sports industry is adopting Sports Analytics to create a competitive advantage. When the general population hears this term, they may think of drafting, releasing, or trading players and other on-field related analytics and statistics, but that is just one component popularized by media outlets like ESPN and Fox Sports. Conversely, the less glamorous component focuses on increasing revenues and improving internal processes, both of which are coveted by all businesses. In the sports industry, this includes determining the worth of corporate sponsorships, drivers of ticket sales, geolocation of consumers, as well as determining success of marketing and sales campaigns. As such, Sports Business Intelligence empowers data driven decisions and enterprise-wide collaboration.
In a world where everything creates a data point, it is important to understand how to source data and evaluate information that will lead to better business decisions. Examples of external data sources include, but are not limited to, competing events, geographic locations, weather effects, and third-party ticket services. External data sources compared to internal metrics such as ticket pricing, game times, social media campaigns, concessions, and email marketing provide actionable consumer insights.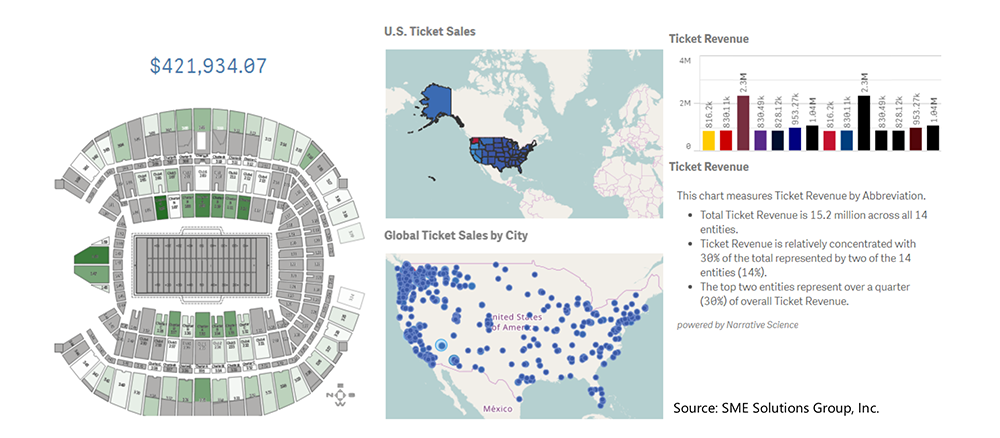 Not only is it important to collect the right data, but to create visualizations that equip the decision maker to make the best decision. For example, a variety of visualizations lends itself to a business' competitive advantage. In the example above, decision makers can visualize ticket sales by region, city, or game. Such an analysis can lead to more targeted promotions for a marketing team. Additionally, external weather data can be used to better understand patterns in sales by seat section, which may be key for organizations with outdoor stadiums facing inclement weather. By understanding where fans sit during games and seat section fill percentages, sport organizations can enhance game day experiences and drive revenue. In short, sourcing data allows organizations in the business of sports to visualize their data and make data-driven business decisions. The big picture of who their consumers are, from both an internal and external perspective, will allow them to expand their fan base and drive revenue. Most businesses talk about customer service – sport business is fan service. Thus, everyday sport organizations should be asking "How can we better serve our fans today?"
Why is Your Fan a Fan?
This may be a puzzling question for sport organizations if they become too focused on the transactional data because in-game purchases, like a favorite beer or snack, are not what makes someone a fan. Undoubtedly, this enhances their game day experience, but lacks the insight into why a fan came to the game in the first place. Did their dad take them to a game when they were young or did they receive a hockey stick as a birthday present and became a fan of the game? Luker (2016) explains that sports fans are declining at fast pace, even though the sports world has been inflated by females and those over 35 years old against the landscape of sharp losses of interest from youth, especially males.
To recoup this loss, sport organizations should recognize that sports start and end with the fan, and the landscape of sports is changing, so new consumer insights should be measured to ensure the favorite past times of sport do not remain in the past. In today's world, fans have many alternatives to attending sporting events. Luker (2017) breaks down how fans prioritize attending sporting events as compared to other options, and suggests organizations should put more emphasis on reaching and developing fans for the future growth of sport fans.
On the brink of technological breakthroughs in artificial reality and virtual reality, the way fans watch sports is changing. In fact, it has already changed with options like watching Thursday Night Football on Amazon and the Major League Soccer streaming games on Facebook live. Fans have an opportunity to be even more connected to a team digitally than ever before without ever stepping into a stadium, eating a hotdog on opening day, or catching a foul ball, which may have carved a lifelong memory.The way fans engage with their teams is also evolving. While utilizing transactional analytics – ticket sales and concession purchases – allows teams to operate more efficiently and increase revenues, using reliable external data sources for demographics and other fans options with internal data creates a single version of the truth for existing fans. Furthermore, utilizing emails and market surveys to understand why fans become fans may ensure the future of fandom. With the availability of watching multiple games at home or streaming other events and shows from the comfort of one's home, it is of precedence that sport organizations use relational analytics to understand why fans become fans.Eventually, sports businesses will need to solve the multibillion dollar question of how do we cultivate a relationship with the fans of tomorrow?
About the Author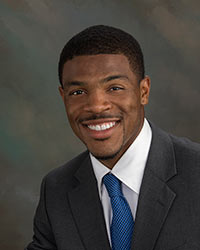 Marcus P. Wingate is a MBA/MS student in the University of South Florida's Vinik Sport and Entertainment Management Program. As a former football student-athlete, he graduated from the University of South Florida in 2017 with a bachelor's degree in Business Analytics and Information Systems. He currently works as a business analyst and application developer for SME Solutions Group, Inc. and serves as an analytics graduate assistant for USF Athletics. Upon graduation, he wants to work in analytics for a brand or sports agency.
Sources
Luker, R. (2016, November 21). Cold reality: Growth no longer uncontested. Sports Business Journal, 15. Retrieved from http://www.sportsbusinessdaily.com/Journal/Issues/2016/11/21/Research-and-Ratings/Up-Next-with-Rich-Luker.aspx
Luker, R. (2017, April 17). Sorting out priorities: How sports can improve standing with fans. Sports Business Journal, 28. Retrieved from http://www.sportsbusinessdaily.com/Journal/Issues/2017/04/17/In-Depth/Luker.aspx