Published on October 25, 2017 at 7 a.m. by Drew Woolley  
Major League Soccer has long prided itself on parity. For years, the chorus from league executives has been that MLS may not have the best players, most skill, or trendiest tactics — but no other league can match it for pure competition.
And yet, with the inception of new salary mechanisms like targeted allocation money in recent seasons, the league has opened the door for teams with the right resources, and the knowledge of how best to use them, to set themselves apart from the pack.
That might sound farfetched considering that lower spending teams like the Columbus Crew and New England Revolution have competed for the MLS Cup in recent seasons. Surely their presence in that game, or the championship run of the Colorado Rapids in 2010, is evidence of an egalitarian league.
It's true that, as long as the playoff structure remains in place, there will always be room for chaos in MLS. Any team that can stay above the line on Decision Day and build momentum at the right time has the chance to shine for a few games and produce thrilling underdog storylines.
But teams like Toronto FC, NYCFC, and even Atlanta United have begun to show signs of mastering the arcane salary mechanisms of MLS, as well as the financial resources to take full advantage of them, in a way that could begin solidifying perennial powers across the course of multiple seasons.
Don't be surprised in the coming years to see familiar teams distance themselves from the pack over the course of each season. The door to building MLS dynasties has been cracked open, and we may already be seeing the first teams walk through it.
The Beckham Rule
The league's gradual movement away from a hard salary cap isn't anything new. It goes back more than 10 years, when MLS decided to do whatever it took to sign David Beckham to the LA Galaxy.
There was no way Becks' salary would fit into the league's stringent salary cap so, not for the first time, they rewrote the rules. Each team was allowed one Designated Player whose wages beyond the maximum player salary wouldn't count against the salary cap.
Dubbed the Beckham Rule by many fans, DP slots paved the way to more star power in MLS. But they also created the first inequality among teams.
Today, each club is allowed three DP slots. Theoretically, that means every team has an equal opportunity to sign star players that will make a splash on and off the field. In reality, since the excess wages of a DP fall on the club, some teams might not have the funds to pay for a single DP, while others have the financial backing to bring on three stars.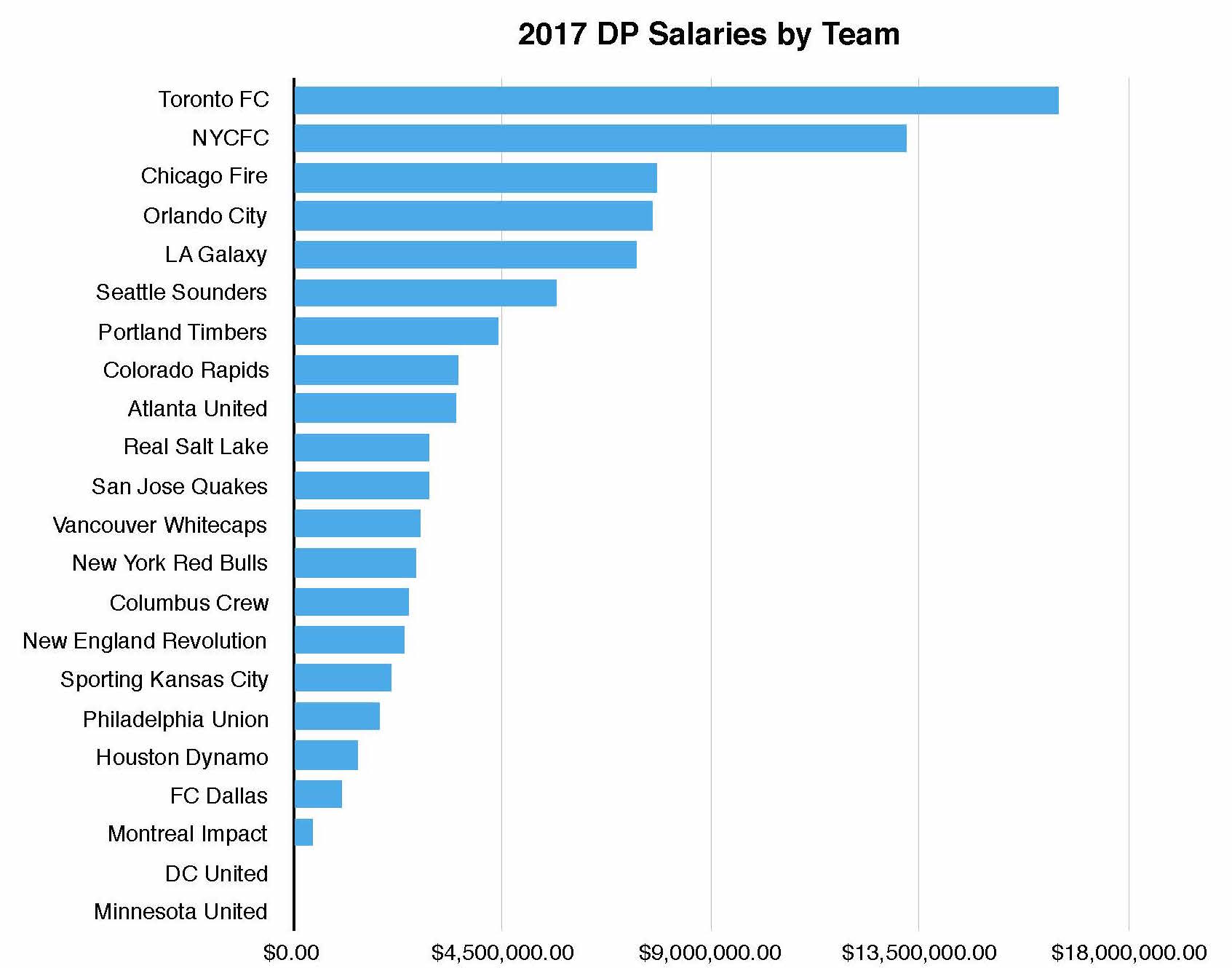 Over time, some lower-spending teams have been able to even out some of that inequality through strong academy programs or selling young talent to refill the coffers. But the introduction of Targeted Allocation Money in 2015 has made that task even more difficult.
Depth and Dynasties
At heart, what TAM does is give teams a helping hand in building greater overall depth in a squad. For the 2015-2019 seasons, each team receives the same amount of TAM, which can only be put toward buying down DP contracts.
But what does that actually mean? Take, for example, Atlanta United's purchase of midfielder Carlos Carmona. According to the salary information released by the MLS Players Union this April, Carmona's base salary is $675,000, well over the 2017 max budget charge of $480,625.
Atlanta United could have used its last DP slot on Carmona, but the club had its eye on forward Josef Martinez for that spot. Instead of being forced to choose between them, the team was able to use TAM to bring Carmona's salary cap hit below the $480,625 threshold, and use its last DP slot to offer Martinez even more money.
It's a complicated system, but it allows teams with financial resources to spread across their squad to invest more in players on the level just below their stars. And it puts teams without those resources at a greater disadvantage than before.
The evidence was on display this August when the Philadelphia Union travelled to BMO Field to play Toronto FC. The Union brought Alejandro Bedoya, a DP paid approximately $1 million. He faced off against Toronto's Victor Vasquez, a TAM player in the same salary range — plus Jozy Altidore, Michael Bradley and Sebastian Giovinco, the team's three DPs each making nearly $5 million or more. Toronto eased to a 3-0 victory.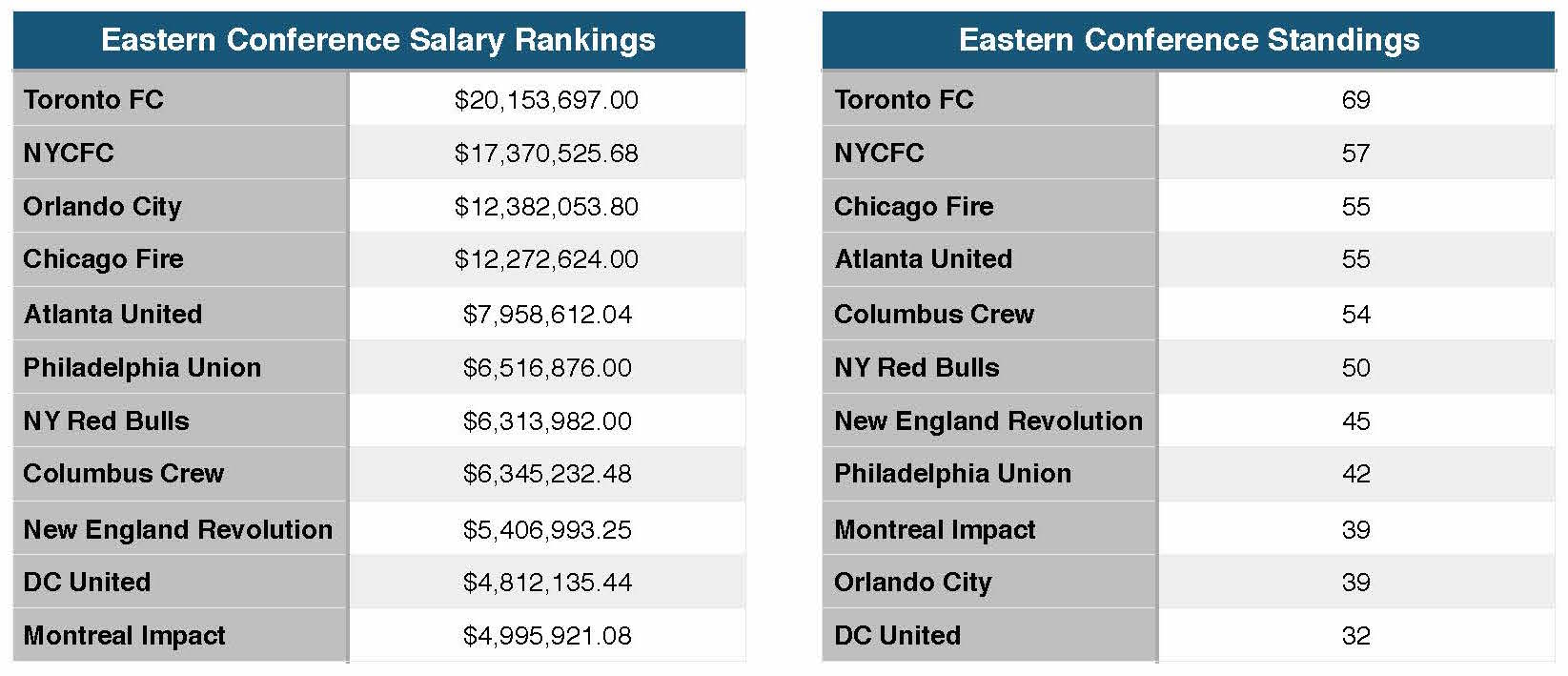 And while Toronto has been particularly dominant this season, they aren't the only team to climb the table on the back of a fat wage bill. In fact, with the exception of an underperforming Orlando City, the top of the eastern conference standings show that salary spending was a pretty accurate predictor of regular season success in 2017.
That trend hasn't gone unnoticed by those inside the league, either. Speaking to FourFourTwo this May, an MLS source expressed their concern that we're only just beginning to see the separation between the haves and the have-nots.
"We're going into an era soon that if your ownership doesn't spend, we are going to have a divide in the league," one MLS source said. "And if you don't spend and you don't have an academy, you're in big trouble."
Sources
"MLS Roster Rules and Regulations." (February 1, 2017). Retrieved October 22, 2017, from https://www.mlssoccer.com/league/official-rules/mls-roster-rules-and-regulations
"MLS Designated Players." (January 1, 2017). Retrieved October 22, 2017, from https://www.mlssoccer.com/glossary/designated-player
"Why a league of parity is evolving into haves and have-nots." (May 8, 2017). Retrieved October 22, 2017, from https://www.fourfourtwo.com/us/features/mls-parity-increased-spending-haves-have-nots-targetted-allocation-designated-players
"2017 MLS Salary Report". (September 15, 2017). Retrieved October 22, 2017, from https://mlsplayers.org/salary-guide/ [Link broken as of 10/22/2018]
"MLS team payrolls 2017: Toronto FC leads team spending". (April 25, 2017). Retrieved October 22, 2017, from http://www.denverpost.com/2017/04/25/mls-team-payrolls-2017/
Drew has worked as a reporter for Sports Illustrated in New York and covered the retail and marketing industries for FierceMarkets in Washington, D.C. Now back in Alabama, he writes for Alabama Living and a variety of other publications under the WordSouth banner.