Published on September 28, 2018 by Patrick Schilling  
Football is back.
No matter how upset the last NFL season made you, whether it was players kneeling, the refs being flag-happy or your team going 3-13 after making the playoffs at 11-5 (still upset about it), you can be excited that football in some way shape or form is back.
The 2017 Season
One of the biggest storylines in sports in 2017, was just how much the attendance and viewership for the NFL, usually the most dominant sports league, was on a slide. Since 2015, all primetime broadcasts (Sunday Night, Thursday Night and Monday Night Football) have been declining.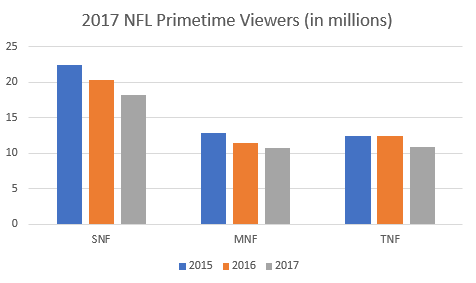 The chart above was even more concerning for the NFL after the 2017 season, would they be able to pull out of the tailspin of support they were experiencing as this was the first of its kind for the NFL. To put those numbers in an even clearer light, they experienced drops of 28.78%, 16.58% and 11.97% from 2015-2017 for Sunday Night, Monday Night and Thursday Night Football respectively.
As for the overall attendance in 2017, it dropped by around 500,000 total fans that attended games.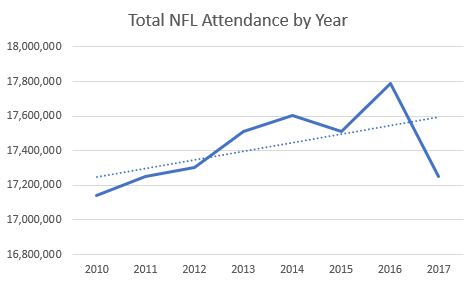 Although overall attendance by year had gradually been trending up even while television views fell, 2017's overall numbers took a nose dive that the NFL hopes not to replicate in 2018.
Support in 2018
Just before the 2018 season got underway, the NFL had plenty of reason for concern. Nike had just released an ad featuring current "free agent" Colin Kaepernick that reignited the opposition that looked to boycott the NFL. But finally, the concern over whether players should kneel during the National Anthem seemed to take a backseat to the brilliant games in the NFL's first week.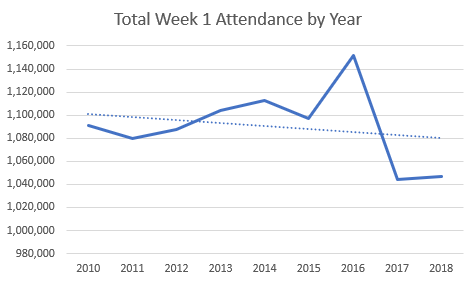 Looking at this chart, it was a breath of fresh air for Rodger Goodell and NFL executives. Although their week one attendance only increased by about 2,000 fans, it was a relief to not fall down even farther.
On the television side of things for the NFL during Week 1, there are mixed feelings. The Sunday Night Football matchup between the Chicago Bears and Green Bay Packer drew the second highest number of viewers for the week (22.12M) and although that's right around the 2015 average for SNF viewers, it's down 9% for the same game last season. As for the Thursday Night Kickoff, it pulled a respectable 18.98M viewers but was down 13% from last year's kickoff (most of it attributed to the rain delay experienced this season). The Monday Night broadcasts didn't fair very well either, both games right around last year's MNF average but down 9% and 3% respectively from last season.
Overview
So, what does all of this mean for the NFL as they continue into the 2018 season?
The short answer, it's very uncertain.
In game attendance looks like it may be able to rise this year and avoid another cliff dive. Whereas TV viewership looks like it could be in for another tough year although they've tried to combat that problem by scheduling better Thursday night matchups. It will however take some serious work by the NFL and its teams to regain the TV power they had just a few years ago. NBA TV contracts are growing quickly and it's the NFL's job to maintain their current position as the top of the food chain in sports.
Works Cited
https://www.pro-football-reference.com
https://www.si.com/tech-media/2018/01/03/nfl-ratings-decline-espn-fox-nbc-network-tv
http://www.sportsmediawatch.com/nfl-tv-ratings-viewership-nbc-cbs-fox-espn-nfln-regular-season-playoffs/