Published on August 20, 2018 by Niki Brooks  
On March 5, 2017, Atlanta natives turned out in record-breaking numbers to support Atlanta United in their very first game at Bobby Dodd Stadium, more narrowly known as the home of the Georgia Tech Yellow Jackets. Over 55,000 fans decked-out in red and black came to support the new Major League Soccer team's opening debut. With their first game's attendance higher than the average attendance of every team in the MLS that year, Atlanta United turned the heads of sports critics worldwide. While many attributed the large crowds to beginners luck, Atlanta United proved their high attendance records to be anything but a fluke.
This year, ATLUD continued to impress. On March 11, 2018 Atlanta took home a 3-1 win against DC United, and drew out a crowd of over 72,000 people; making it the fourth most attended soccer game in the world. Then, on June 30, 2018, Atlanta packed the stadium with more than 71,000 fans to witness their 4-0 win against Orlando City. Not only did Atlanta have the largest live audience the world, but it did so on the same day of the World Cup! Sports business daily says, "Atlanta United now owns the 'five highest single-game attendance marks in MLS history'" and that doesn't happen by accident.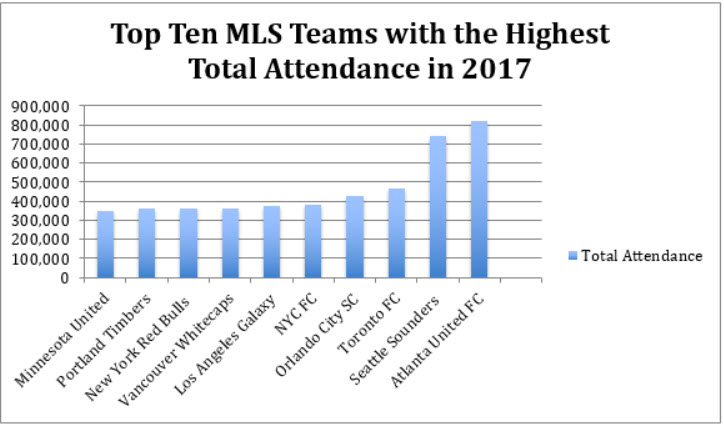 How did this soccer team from Atlanta become a seemingly overnight success with the highest attendance numbers in the league? Three reasons: branding, stadium quality, and sponsorships.
Number One: Branding
Team owner, Arthur Blank, also owner of the Atlanta Falcons, founded Atlanta United in 2014. Interestingly, the team didn't play their first game until 2017. Why the three-year gap? Blank took the time to develop a brand that he knew would be successful with the community. He used a very interactive approach to choose the name, launching various social media and online campaigns to let the community decide what the MLS team should be called. Once the results were in and Atlanta United FC became the official name, the team moved straight into the marketing phase.
ATLUD held a Jersey reveal at the Tabernacle, a trendy concert venue in Atlanta, to show special appreciation to their base. Atlanta devoted the number 17 to their fans.
Atlanta United worked diligently on community outreach programs for example giving perks to "supporters groups" who analyze the game and feel as though they are part of the team. This helps to builds strong fan identification and in turn increases attendance at live games. In addition, ATLUD also works with local community soccer teams to develop talent and skills.
Finally, Atlanta is full of diverse people and culture, which the team represents quite well.
Number Two: Stadium Quality
Stadium quality is a huge part of why people not only come to games, but more so come back to games. Whether they realize it or not, everything that the fan sees from the moment they step inside the stadium, affects them in a positive or negative way. The entire 'sportscape', i.e. parking, whether there's enough legroom in the stands, how long the food lines are, or if they can see the score board clearly are all contributors to the fans overall experience. Stadiums that are difficult to park at, or where it takes an hour to get food subconsciously tells the customer to eat at home next time, or even to stay at home. With all these factors in mind HOK, one of the top ranked engineering and architectural firms, took these matters into consideration when designing Mercedes Benz Stadium, home of both Atlanta United and the Atlanta Falcons.
The Mercedes Benz Stadium was built August 26, 2017 to replace the slightly older Georgia Dome. One of the new features that distinguish this stadium from other is the retractable roof. Fans of course love this feature, because it means year round weather protection. Other fan favorites include the new spacious seat sizes, making it easier to move in and out of the aisles, which in turn, incentivize more trips to the concession stands.
Concessions prices at the Mercedes Benz Stadium have generated lots of buzz. Normally food at sports events is extremely expensive, even more so if you're trying to feed a family. The new concession prices were one of Mercedes Benz stadiums top selling points. Instead of spending $10 for a hamburger, $5 for a bottle of water, and $6 for a hot dog; you can spend $5 for a hamburger, $2 dollars for a soda, and $2 for a hot dog. Scott Jenkins(@ScottAJenkins), stadium general manager, told SB Nation, "you can come to an NFL stadium or a Major League Soccer stadium and be able to feed your family, a kid for $10…I don't think there's a sports venue in the country that can say that."
Number Three: Sponsorships
Corporate sponsorships aim to engage in mutually beneficial relationships in which financial support is exchanged for promotional gain—thereby, increasing revenue and awareness for both brands. In the sports industry, one of the quickest and most effective ways to attract new fans and build your brand aside from games is through telecommunications. Atlanta United's partnership with AT&T will make a huge impact on the amount of potential new fans it can reach. People in Atlanta who may not have heard about the soccer team now have a much higher likelihood of seeing them on DirectTV's trending page in the sports section. Consequently, the more people who know about your brand, the more people will be likely to go to a game. The exclusive new series with AT&T, "Mic'd Up" will offer a new premium option for pre-existing Atlanta United fans to choose Direct TV as their main provider. Bill Leahy, president of AT&T, said that the "goal with sponsorships is to connect our customers with their passions wherever they may be," also the goal of ATLUD.
Atlanta United is sponsored by a couple other corporate heavyweights like Delta, Children's Healthcare of Atlanta, Fanatics, and American Family Insurance, all of which offer special promotions to customers of these companies and Atlanta United fans. The team has also partnered with several community organizations, like the YMCA of North Metro, The Boys and Girls Club, MLS W.O.R.K.S, and Soccer in the streets. Partnering with the community is just one of the many ways Atlanta United fulfills its mission to give back.
High Attendance numbers don't happen by accident, it requires dedicating time to develop proper branding, stadium quality, and engaging in the right sponsorships.
This blog post was written by Samford University student, Niki Brooks. You can learn more about Niki Brooks at: https://www.linkedin.com/in/niki-b-942885102/ .
Works Cited
12, 2. J., 9, 2. J., 28, 2. J., 18, 2. J., & 13, 2. J. (2017, October 05). Atlanta United Break MLS Attendance Record, 4th Largest Attended Match in the World. Retrieved July 12, 2018, from http://mercedesbenzstadium.com/atlanta-united-break-mls-attendance-record-4th-largest-attended-match-world/ 
16, 2. J. (2018, July 16). Atlanta United Once Again Sets MLS Attendance Record. Retrieved July 13, 2018, from https://www.sportsbusinessdaily.com/Daily/Morning-Buzz/2018/07/16/ATL-United.aspx 
ESTAtlanta United. (2017, February 17). AT&T Gets Atlanta United Mic'd Up with New Digital Series. Retrieved July 13, 2018, from https://www.atlutd.com/post/2017/02/17/att-gets-atlanta-united-mic-d-new-digital-series 
HOK's Mercedes-Benz Stadium Will Be the First LEED Platinum-Certified Pro Sports Stadium in the US. (2017, November 23). Retrieved July 12, 2018, from https://www.archdaily.com/883864/the-worlds-first-leed-platinum-certified-professional-sports-stadium 
Marketing Victories: Building the Atlanta United FC Brand from the Ground-Up. (2017, October 20). Retrieved July 13, 2018, from https://relishmarketing.com/2017/10/09/marketing-victories-atlanta-united-fc/ 
November 16, 201610:03AM ESTEric RossitchATLUTD.comFollow@ erossitch. (2016, December 09). A night to remember: The Kit Unveil party. Retrieved July 13, 2018, from https://www.atlutd.com/post/2016/11/16/night-remember-kit-unveil-party 
Roberson, D. (2016, August 13). Atlanta United's first jersey sponsor revealed. Retrieved July 12, 2018, from https://www.ajc.com/sports/pro-sports/atlanta-united-first-jersey-sponsor-revealed/Se5NK0AzD6yE5zlMde7FKK/ 
Roberson, D. (2018, July 01). Atlanta United leads world in soccer attendance on Saturday. Retrieved July 12, 2018, from https://www.ajc.com/sports/atlanta-united-leads-world-soccer-attendance-saturday/nApcAISN336rHXx4dRQCBN/ 
(Ed.). (n.d.). Soccer - Major League Soccer Attendance. Retrieved July 12, 2018, from http://sportsmarketanalytics.com.ezproxy.samford.edu/research.aspx?subrid=389 
Umontuen, I. (2016, May 17). Fan Experience: Mercedes-Benz Stadium Food Truck. Retrieved July 13, 2018, from http://www.fansfavoritefan.com/mbstadium-food-truck/