Published on January 1, 2018 by Victoria Shelton  
In recent years, sponsorships have become synonymous with the teams and arenas they represent. Fans immediately associate Minute Maid Park, Mercedes-Benz Stadium and Staples Center with the Houston Astros, Atlanta Falcons and the Los Angeles Lakers. Sponsors and brands have even made their way into college bowl games. With names like the Dollar General Bowl, Allstate Sugar Bowl and Camping World Bowl, brands are integrating themselves into the sports industry in ways like never before.
It is no secret that the sponsorships that provide naming rights come with a large price tag. Barclays Center, home of the Brooklyn Nets, costs a hefty $20 million per year. Similarly, MetLife pays $19 million per year to have their name at the top of the stadium for the New York Giants and New York Jets. According to John Boyd (@JohnnyNewsroom), senior editor for the Houston Chronicle, NRG pays $12 million every year to keep its name on the front gate at the Texans home stadium, making it one of the most expensive naming deals in American professional sports. But just how effective are these multimillion-dollar brand deals and are they worth the return on investment?
According to market research conducted by SMA, fans were asked how much sport sponsorships influence their inclination to purchase the sponsor's product or service and the results were astounding, as evidenced by the charts below.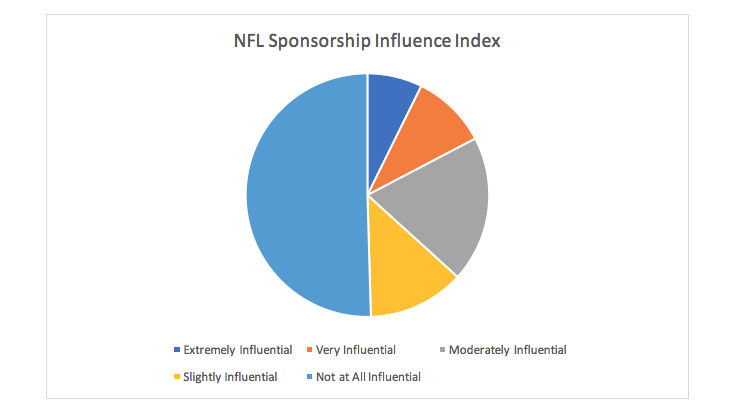 Source: SBRnet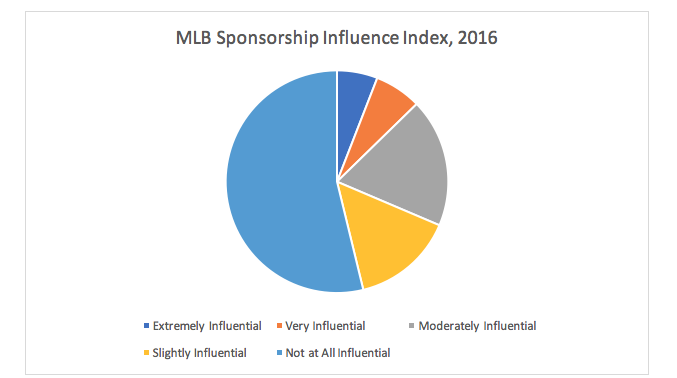 Source: SBRnet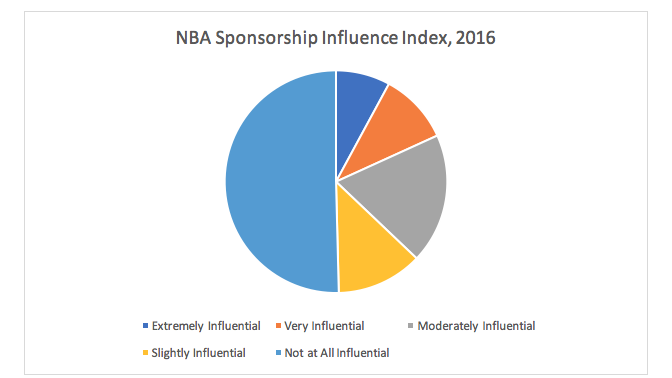 Source: SBRnet
These results demonstrate three of the highest-grossing leagues for sports sponsorships, yet they each demonstrate that over half of fans report not being at all influenced by the sponsorships of their favorite teams. If brands are paying millions of dollars to secure the naming rights to various sporting events and venues, but over half of fans are not at all influenced by the name, is it really worth the investment?
Michael Leeds, a sports economist at Temple University, conducted a study published as "A Stadium by Any Other Name: The Value of Naming Rights," in which he examined 25 years of data and came to the conclusion that, "We find little evidence that the purchase of naming rights had a statistically, significant impact on the value of the companies that bought them, even less evidence that the impact was positive, and no evidence at all that there was a permanent, positive impact."
It is one thing for fans to recognize a brand name, but it is another thing altogether for fans to then put their money towards the product or service offered by that name. According to CNBC's Darren Rovell (@darrenrovell), "It's a step that not a single company that has ever landed naming rights has ever accomplished."
While there is no doubt that naming rights are making the team owners much richer, brands should take a closer look at just how effective these deals are in terms of their return on investment. If the data shows little to no influence among the league's fans, maybe companies should think again before signing their next naming rights deal.
This blog post was written by Samford University student Victoria Shelton.
Resources
Boyd, J. (2013, August 02). The richest stadium naming rights deals in US sports. Retrieved December 07, 2017, from http://www.chron.com/sports/article/The-richest-stadium- naming-rights-deals-in-US-4703583.php
Chartrand, S. (2017, September 28). Are NFL Stadium Naming Rights Worth It? – Front Office Sports. Retrieved December 07, 2017, from https://frntofficesport.com/are-nfl-stadium- naming-rights-worth-it-7b4205b1c9cd
Leeds, E. M., Leeds, M. A., & Pistolet, I. (2007). A Stadium by Any Other Name. Journal of Sports Economics, 8(6), 581-595. doi:10.1177/1527002506296546
Rovell, D. (2010, March 17). Are Naming Rights Deals A Good Buy? Retrieved December 07, 2017, from https://www.cnbc.com/id/34958917
SBRnet (Sports Business Research Network). (2016). Sports Marketing Analytics. Retrieved December 7, 2017, from http://sportsmarketanalytics.com.ezproxy.samford.edu/ Research.aspx?subrid=857