Published on November 6, 2018 by Natalie Flexer  
This year the NBA broke the one-billion-dollar ceiling for sponsorship sales. So, for the NBA, this noteworthy achievement begs the question what happens next year, and the year after that? Some may argue that the sponsorship sales are going to begin to plateau with time, however I believe the somewhat steady growth will soon accelerate, as the competition for various sports properties will be fierce.
The type of companies that are sponsoring NBA teams is changing as the value of the properties are recognized. Companies like Gatorade, or Coca-Cola most naturally come to mind when thinking about the companies we see around the arena on game night. However, they rank second and fourth respectively as far as most active sponsorships. State Farm has taken the lead for active sponsorships within there industry. That is really good news for NBA teams, the competitions within industries to simply be a sponsor for a team is increasing. For example, only 32% of properties reported a sponsorship with Papa Johns in the pizza category, meaning companies like Dominos or Pizza Hut may have gotten in on the action. The company with better ingredients and better pizza may not have the better deals anymore. Papa Johns used to be known for its alliances with sports properties, but it has even backed out of its sponsorship deals with the NFL. Even though this was done on a mutual basis it opens the NFL up to more opportunity to attract more official pizza business, meaning more dough all around.
Companies want to dominate the competition for sports properties in their own industry.
That may be why in the last year State Farm has bought the naming rights to two stadiums, one of which was the NBA's Atlanta Hawks. This deal is valued at roughly $175 million dollars. Currently, Madison Square Gardens is the only NBA arena that hasn't sold its naming rights. Another deal made this year was for the Scotiabank arena in Toronto with a whopping value of $639 Million and it expires, just like the State Farm arena, in 2038. It will be interesting to see what price arenas will go for in the future. For example, the deal for The American Airlines Center in Miami will expire in 2019. This past deal was for a measly $42 million. When compared to the deals happening today, that seems like a steal. Most arenas will be up for renaming before 2030, and almost all were bought for less $100 million previously. I think it is safe to say that going forward, all stadiums will have a shiny price with nine digits and maybe some change.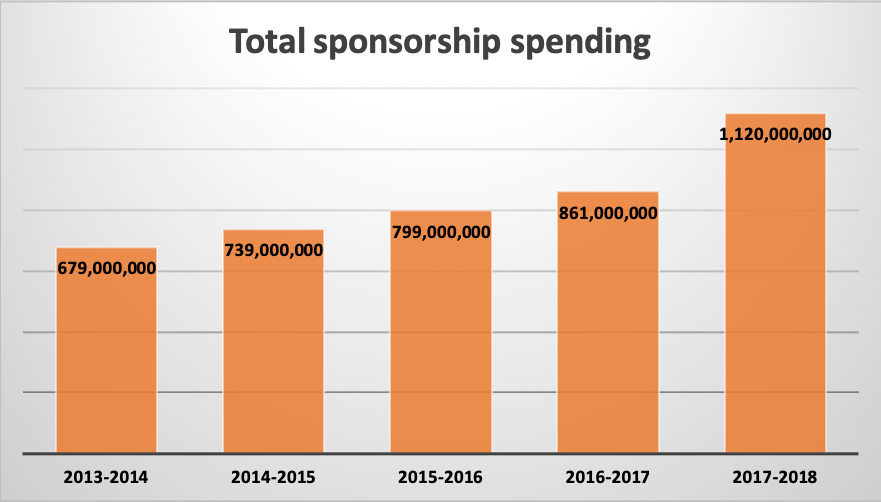 The type of property is changing too. This year, the NBA introduced the patch. Not an eye patch, that would make seeing the floor a little difficult but uniform patch for purchase. You might be thinking what's next, the ability to sponsor a specific grain in the wood floor? I hope it will never go that far. But sports teams are maximizing what they can sell. This type of marketing was seen in the WNBA, beginning a few years ago in an effort to raise more money for the league that doesn't raise nearly as much revenue as its male counterpart. Although it was initially controversial having players being walking billboards, this move by the NBA proves that the revenue stream out ways the fans slight distaste in uniform aesthetic.
In red carpet style, we all want to know, who are the players wearing?
Some teams chose to adorn business that represent their city, a smart move to reach the community. This also makes it seem less likely that this was purely a money decision, something that, ironically, is good for business. Disney now has a patch on the players of the Orlando Magic, I can see a proud Mickey in his magician's hat now (I think in the movie it was actually a Wizards hat but that's beside the point). The New Orleans Pelicans are now wearing the company that allows you to make dirty rice worthy of Bourbon street no matter where you are, Zatarans. It may be a surprise to some that technology companies make up more than half of jersey patch sponsorships. The Miami Heat wears Ultimate Software, the Minnesota Timberwolves have Fitbit and the Boston Celtics are sporting GE. The category percentages drop form 57% in technology, to 19% in financial services and 10% in both automotive and food and beverage industries. Forbes claims that these deals are on the economic end of the sponsorship spectrum, most costing about $5 million dollars. How much return on investment these companies receive, will be seen with time.
Everyone wants a piece of the pie.
Companies that have supported these organizations like the headsets and game chairs are still there, but they only make up 46% of the sponsorships. Companies who have little to do with the basic functions of a sports organizations like financial services and restaurants now make up 54% of the sponsorships. The new endemic vs. non-endemic relationship is just in time, as the NBA 2k League kicks off this year, which aided in flopping this relationship in the first place. And just like that corporate sponsorships take the lead!
It's a simple supply and demand equation
Like, something out of high school economics, the more companies want these sponsorship deals, the value only goes up. Teams are simply ramping up supply to keep up with demand. Following this model, you would expect that prices would begin to drop. The more of something tends to lead to lower prices. However, given historic numbers, $1.12 Billion in sponsorship sales this year, up nearly 31% from last year's $861 Million dollars proves that the market is still wide open. There is room for more league growth as some teams have still, yet to include patches on their jerseys. As property components available for sale begin to dwindle, demand will go up. In just the first season of patch sales, NBA sponsorship spending increases are six times greater than any other league.
There will be no rebound period as sports properties have the ability to sell virtually anything for a substantial profit. If companies could sponsor player sweat without it being a health hazard or invasion of property they would and could, successfully. Despite the variations of property that the NBA can sell, I don't foresee sponsorship sales plateauing anytime soon. The NBA has what everyone wants and can capitalize on it for any ticket amount.  
Sources
Heitner, D. (2018, February 15). Sponsors May Be Pleasantly Surprised With NBA Jersey Patch ROI. Retrieved from https://www.forbes.com/sites/darrenheitner/2018/02/15/sponsors-may-be-pleasantly-surprised-with-nba-jersey-patch-roi/#7015978c47ee
https: //www.sportsbusinessdaily.com/Journal/Issues/2011/09/19/In-Depth/Naming-rights-deals.aspx
http://www.sponsorship.com/Latest-Thinking/Sponsorship-Infographics/Sponsorship-Spending-on-the-NBA-Totals-$1-12-Billi.aspx