Published on September 24, 2018 by Patton Park  
Look around you and you will notice that sporting stadiums around the country all have one thing in common: they are relatively new or are being demolished to make way for a new stadium. What is the root cause behind this trend? Why are new stadiums being built?
In the social and digital media age that we are now accustomed to, sport franchises and leagues are having to get creative when it comes to venues. The old, traditional stadium that was entirely focused around the game is no longer cutting it for the up-and-coming generations.
Recently, I went to a concert at SunTrust Park in Atlanta, Georgia. I was blown away by the level of planning that went into not only the true baseball park but the area surrounding it as well. By creating a world-class stadium, and surrounding it with bars, clubs, family activities, and retail outlets, Battery Park knocks the ball out of the park!
To begin, take a look at recently finished stadiums, as well as new stadiums that are slated to open within the coming years. These stadiums are either new or renovated and are spaced around the country in no purposeful geographic way. The prices for these stadiums range from the tens of millions to the billions. Table 1, below, shows each stadium with identifying information about each one (Cheah).

The list of stadiums and arenas could stretch on, but it illustrates an important point and one that should not be easily ignored. Traditional sports are simply not attracting the same number of fans that it has in previous years. This can be caused by several factors, but the main reason is because of the intense social and digital media worlds.
In the day of live television, as well as being able to record and watch from mobile phones, spectators identify the opportunity cost and choose to participate in other activities while also watching or keeping up with the score. This is a direct result of the interconnected world that we live in today.
The below chart with data compiled from Sports Market Analytics, shows a steady downward trend occurring at sporting events around the country. The interesting feat about this is that the decrease in viewership is not mutually exclusive to any one sporting league or sport.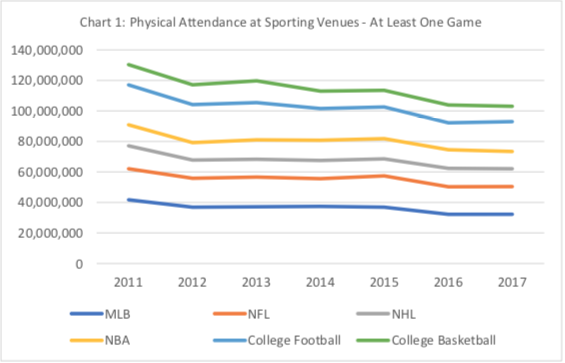 Across the board, fewer people are attending at least one game per season. For example, from 2011 to 2017, the National Football League (NFL) saw a decrease from barely over 60,000,000 people attending a game at least once, to just at 50,000,000 people. This is a significant drop in attendance, and again, shows that fan engagement is reaching extremely low levels.
What does this information mean? To begin, it shows that sports teams and leagues are not doing a very good job at keeping spectators and fans engaged. The sudden and new trend of creating stadiums that are entertainment venues, as well as sporting arenas, is overdue. The lateness of high tech stadiums that cater to a fan's each and every need should have been pioneered years ago. Instead, the stadiums and arenas rolled out slowly and were inconsistent among sporting team and league.
Nathalie Zimmermann of Kantar Media writes about this phenomenon, specifically how sports marketing and media are changing drastically. She writes, "Getting fans into the stadiums is one challenge, especially with growing accessibility of live sports on TV, whilst monetizing fans once inside is another. Stadiums are starting to improve the fan experience once inside."
In the coming years, sports management companies as well as the actual teams and leagues themselves will need to commit set goals and plans to improve the fan experience. While fresh new and exciting stadiums have the potential to increase attendance, that tactic will not reach every fan. But, of the fans that these teams can salvage, it needs to be purposeful and motivated to increase customer satisfaction and engagement.
Athletic leagues and teams can achieve engagement success by not only creating new and exciting stadiums but also by successfully marketing the provided services in different ways. This is a requirement should companies want to see the downward trend of physical attendance shift upward.
This blog post was written by Samford University student Patton Park. You can learn more about Patton Park at https://www.linkedin.com/in/pattonpark/ .
References
Cheah, S. (2017, July 5). America's biggest and best upcoming sports stadiums. Retrieved July 29, 2018, from https://archpaper.com/2017/07/america-new-sports- stadiums/  
Sports Market Analytics. (2017). Attendance: Total Number of Spectators Attended at Least One Game or Event, by Major Sport Category. Retrieved July 29, 2018, from http://sportsmarketanalytics.com.ezproxy.samford.edu/Research.aspx?Subrid=804 
Zimmermann, N. (2017, March 24). The future of football – Social, fan engagement and smart stadiums. Retrieved July 29, 2018, from https://www.kantarmedia.com/uk/thinking- resources/blog/the-future-of-football