Published on September 26, 2018 by Jalen Dupree  
August first denoted a historic day for the University of Michigan as they restored a contract with Nike that will go through 2027, with the choice to reach out to 2031. On the off chance that Michigan practices the alternative, they will be paid in any event $173.8M – $88.8M in base pay and $85M in Nike clothing/items. With this reestablished connection, many are hoping for a jump start to a depleted Michigan program.
This is not Michigan's first contract with Nike, as they had already been accomplices for a long time (from 1994-2007) preceding marking a then-record contract with Adidas. Be that as it may, this time around conditions are diverse since Michigan will be the first football program to wear the Jordan "Jumpman" logo on their regalia. Nike will furnish every one of the 31 sports within the athletics program with regalia, attire, hardware, and footwear; yet only the football and ball groups will speak to the Jordan mark.
Why Michigan Walked from Adidas
In 2007, Michigan consented to an eight-year contract with Adidas that would start in August 2008, repaying them $7.5M every year in real money and stock. At the time, this was the biggest clothing bargain in the nation, and albeit the past supplier, Nike, had the authoritative ideal to coordinate the arrangement, they chose to leave.
Michigan arranged terms that would guarantee them to be Adidas's most generously compensated school for the length of the agreement. While at the same time that Michigan had a monetarily productive agreement with Adidas, the Wolverines' prosperity on the field began to go downhill as shown in chart 1 below. A recorded program known to be one of school football's tip-top groups was suddenly a noteworthy fool.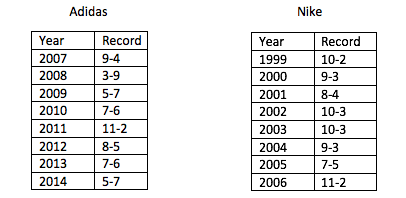 Measurably, Michigan football went 64-24 in their most recent seven years with Nike, while in contrast with only 46-42 in their most recent seven years with Adidas. Furthermore, their fan base reported blended surveys in response to the shirt design Adidas was continually delivering. It was apparent that their logo, the square M, required some reviving.
How the New Deal Unfolded
Back in December of 2015, Jim Harbaugh moved toward, then athletic executive, Jim Hackett about changing back to Nike. In any case, who would disagree to reconnect Nike with a standout amongst the most notorious University in the nation?
There were two key players who kicked it into high gear, and it wasn't Michigan president, Mark Schlissel or Coach Harbaugh. At an old Ford Model-T plant in Detroit, the Wolverines revealed their new Jordan garbs, where present and previous players were introduced for the occasion – including the man who first drafted the thought.
Legends Connect
Michigan legend and Jordan competitor, Charles Woodson (@CharlesWoodson) handled inquiries, and when inquired as to whether this was something Nike approached him about, he reacted, "No, I came to them. I sent Michael a content, and I inquired as to whether I had his approval to bring it up. At that point, I had a discussion with Jim Hackett, and he said he'll keep it in mind. My considerations were returning to Nike, yet it'd be far and more superior if we wore the 'Jumpman' on Michigan football. [Hackett] was open to it and I surmise that made history."
Mentor Harbaugh said on Tuesday, that the first occasion when he caught wind of the Jordan thought was from his most established child, and Michigan tight end mentor, Jay Harbaugh.
With the impact of the more youthful Harbaugh and the solid contribution from Woodson, Coach Harbaugh (@CoachJimforUM) got a call from the legend himself, Michael Jordan. At first, Coach Harbaugh couldn't trust it.
"My telephone rang, and it was a number I didn't have even an inkling, and I stated, 'Hi,' and I didn't get the entire name. You know how mobile phones cut out occasionally. I got some portion of it, and I stated, 'Reason me, the telephone cut out. Who's this?'
"Furthermore, he stated, 'This is Michael Jordan.' And I stated, 'Go ahead!' And he says, 'This is Michael Jordan.' And I went, 'The genuine Michael Jordan?' So that is somewhat how it went. It was extremely cool."
Opportunity of a Lifetime
At the point when offered the chance to incorporate the Jordan mark with the Nike bargain, Harbaugh knew it was an easy decision. "You are with whom you connect with," Harbaugh (@CoachJimforUM) said.
"The opportunity to be a group with Michael Jordan, share a sideline, empty our substances into Michigan football being incredible, that was something that would have been a win the distance."
The arrangement was initially manufactured and declared in July 2015, by then interval AD Hackett. Be that as it may, the concluded contract was not marked until March 16, 2016, by Nike administrators and current AD Warde Manual.
The Jordan Effect
The progress to speak to Jordan has caused enormous discourses around the nation, and the gathering has drawn rave surveys. After the pullover divulging on Tuesday, Michigan took to web-based life what their new garbs would resemble: tastefully satisfying yet adhering to convention.
There weren't radical changes to their new look, yet the basic expansion of the Jordan 'Jumpman' on a football uniform was sufficient to start positive surveys from players, graduated class, fans, and secondary school initiates.
The Mutual Goal
Jordan's objective, as per Harbaugh is to make another cooperative energy around college football where players and enlisted people will take a gander at the advancement encompassing the Jordan organization, with Michigan, much similarly Nike has set up a leader with Oregon football. There is no uncertainty, this will change the scene of college football, and the truth will eventually surface to how huge of an effect this will really have.
With this reconciliation of classic brands, a special spotlight will be on Jim Harbaugh and the Michigan Wolverines, and he completely craves it. The enormous house will hop like Jordan, who will be their privileged chief for their season opener against Hawaii on September third.
About the Author
This blog post was written by Samford University student Jalen Dupree. You can learn more about Jalen Dupree at http://www.linkedin.com/in/jalendupree.
 Works Cited
Sports Reference LLC. (2018). Michigan Wolverines School History. [Data file]. Retrieved from https://www.sports-reference.com/cfb/schools/michigan/index.html
Taketani, Yuki. (August 4, 2016). "The Jordan Effect: The Blueprint to Michigan's Lucrative Apparel Deal with Nike." Retrieved from http://businessofcollegesports.com/2016/08/04/jordan-effect-blueprint-michigans-lucrative-apparel-deal-nike/