Published on September 25, 2018 by Patrick Schilling  
Two weeks into the 2018-2019 season, there is one overwhelming thought across the league in both organizations and fans: Ryan Fitzpatrick may just be magical. Not only is he the clear front runner for MVP (sorry Chiefs' fans), but he's been putting up ridiculous numbers: 819 yards, 78.7% completion percentage, eight touchdowns, one pick and a 151.5 QBR.
Now, will Fitzpatrick end the season, presuming the Bucs don't hand the starting job back to Winston, with a 151.5 QBR? Absolutely not. But it is worth looking at his career numbers to show just how incredible this start is. If this were Aaron Rodgers, we wouldn't be impressed, but it's a QB who's been regarded for his mediocrity for his entire career, at best.
Before this season, Fitzpatrick has put up one winning season his entire career. He's never topped 4000 yards, only thrown for 30 touchdowns once and never ended a season with higher than a 65 QBR.
The 2018 Season, Two Weeks of it Anyway
Two weeks into the season and Ryan Fitzpatrick is a clear front runner for MVP. Not only has he led the seemingly worthless Tampa Bay side to a 2-0 start in one of the toughest divisions in football, but he's done it in style. He opened the season dropping 48 points on the Saints in New Orleans to the tune of 417 yards and four six-pointers. He followed that show up by taking down the defending Super Bowl Champion Eagles at home with 400 yards, four touchdowns and just one pick.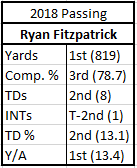 The above numbers tell the story. Fitzpatrick finds himself in the top-five and in most cases, top-three in virtually every passing category. If it weren't for Patrick Mahomes and the pass-heavy offense in Kansas City, Fitzpatrick would stand alone.
Don't worry, I'm not kidding myself. Fitzpatrick is not going to average 400 and four the entire season. Disappointingly enough, if he happens to play badly in the next two games, the Bucs may just be silly enough to put him back on the bench. However, I don't believe he will have that bad of a game. I truly believe he can continue to play well the whole season, and why not? His divisional opponents don't seem to have the same power as previous years. The best linebacker in the league, Luke Kuechly, is hurt. The Falcons have lost starters in all parts of the defense, and the Saints just haven't looked sharp.
The History of Fitzpatrick
If you take these two games of the current, hopeful season away from Fitzpatrick, there's not much to look at in his 13-year career. He's had one winning record (two counting his three games started in 2017), four seasons with more interceptions that touchdowns, and he's been picked of 15 times or more in a season five times. But, it's seemed to have changed this year.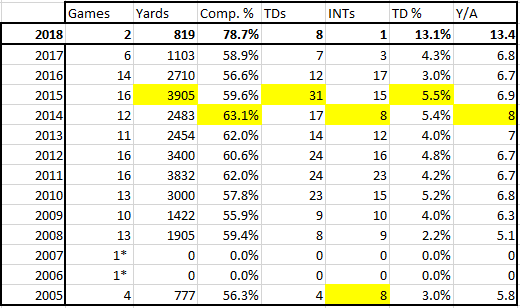 Above, are the same numbers he dominates in 2018, but spanning his entire career. Besides a few years peaking close to 4000 yards, he's mostly hovered around the high 1000s to 2000s. His career completion percentage is around 60% and his yards per attempt are normally around 6.7. Although it's just a two-game stretch, Fitzpatrick is making strides in all parts of his game. If he could even maintain 75% of what he's doing right now, we could be looking at a legit MVP candidate and potentially, a division win for the Bucs.
Works Cited:
https://www.pro-football-reference.com