Published on October 10, 2018 by Patrick Schilling  
Coming off a 19-26 loss on Sunday Night Football in Week 5, a huge question is starting to shape in Texas. Is Dak Prescott the quarterback of the future that everyone thought he could be in 2016?  Prescott went 18-29 with 208 yards, one TD and two INTs. That was only the second time this season that Dak broke 200 passing yards and the second time as well that he threw more INTs than touchdowns.
Ezekiel Elliot on the other hand was held to 54 rushing yards on 20 carries and no touchdowns. Houston stuck to its game plan of forcing Dak Prescott to throw to a below-average receiving core and it led to an overtime victory for them.
This puts the Cowboys at 2-3 to start the year, tied for 2nd in the miserable NFC East with the defending Super Bowl Champions and not at all out of making the playoffs this year. The question is, with the game in his hands, can Dak take over to lead them there.
2016
In 2016, the Cowboys took the league by storm with a combination of their rookie quarterback and running back duo (Dak and Zeke) and their all-pro offensive line. There offense was unmatched and looked like a ground and pound offense from the '80s, not the hurry up, high risk and high reward offenses you see now.
For a rookie, Prescott had a promising year. He threw for 3667 yards, 23 TDs and an incredible 4 INTs. He was known for his patience and ball protection, never giving away possessions and instead, playing it safe. Ezekiel Elliot on the other hand, was a dynamo as a rookie. He rushed a league high 322 times (the only player to even break 300 carries), a league high in yards with 1631 (300 higher than 2nd place) and was third in rushing touchdowns with 15.
The Cowboys played to their strengths, tiring out defenses with an unstoppable run game and then tossing them over the top of a defense protecting against the run and it worked almost all year long. Instead of looking at the 13 wins, I want to find the common factors in their three losses (four including the playoffs).


Above are three of the losses for the season, I chose not to count their last loss because Zeke didn't play and Dak played just one drive. In the regular season losses, the comparison is clear. When Zeke is held below his average in yards and doesn't score, Dak was a mediocre QB, they both played well in the playoffs however, they were out matched by Green Bay.
2017
This was a prove it year for Dak since he knew that Elliot had a suspension coming at some point in the season he would be left without his safety blanket. What followed, was not promising.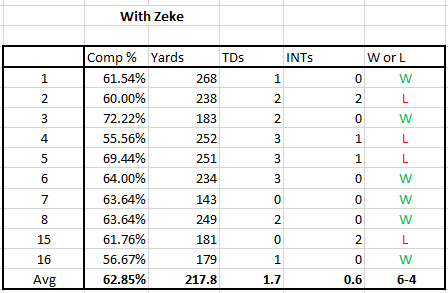 His per game stats with Elliot playing weren't bad at all. A quality completion percentage with a fair touchdown to interception ration would make any coach and organization happy. They went on to a 6-4 record with both in the game and overall that isn't too bad.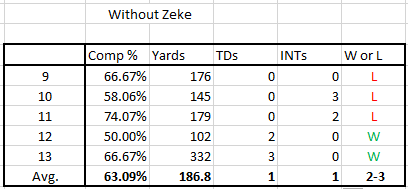 However, Dak's stats without Zeke were below average. When he was forced to carry the team on the offensive side, he averaged around 30 less yards, almost a touchdown less and half an interception more. Teams were quickly figuring out the formula on how to stop the Cowboys attack.
2018
Although the Cowboys are still very much in the hunt for the NFC East title, their offense has been underwhelming at best. They've only broken twenty points two times this season and they were the only games that the team has won. The defense is doing their part but Dak and Zeke must perform.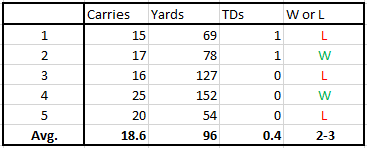 On that note, Elliot has been decent so far this season. It's nothing compared to his historic rookie year but averaging 20 carries and 100 yards is good for any running back.

It's clear that Dak is the one under performing in Dallas this season. With his team at 2-3 he's not even averaging 200 yards a game and is close to averaging an even 1-1 touchdown to interceptions per game. This is quickly becoming the worst statistical year of his career.
Dak Prescott is currently 23rd in the league in yards, 25th in touchdowns, 15th in interceptions thrown and 29th in yards gained per attempt. Teams are making the Cowboys throw the ball more and more, Dak so far does not seem up to the challenge. He is not a QB who can survive without a run game like Aaron Rodgers, Tom Brady or Andrew Luck. He needs a strong ground game to keep him afloat.
Work  Cited
https://www.pro-football-reference.com/