Published on November 19, 2018 by Brooke Adams  
Starting in 2015, NFL Apparel sales experienced a steady decline in revenue. Due to the rise of ticket prices, stadiums seats are more likely to be empty. The lack of fans attending games directly coincides with the lack of memorabilia being purchased at stadiums. This raises the question, is apparel revenue down due to a lack of fan attendance? Another thought could be, is technology allowing consumers to take their shopping elsewhere? Has the classic brick-and-mortar store lost its appeal amongst the younger generation?
Fanatics, an online sport merchandising company has managed to bridge the gap between fans and the marketplace. The company did the unthinkable by generating 40% more revenue on NFL gear alone during the 2017 season. One might wonder how this could be possible, especially when overall statistics indicate a decline in merchandise revenue? See Graph 1 Below.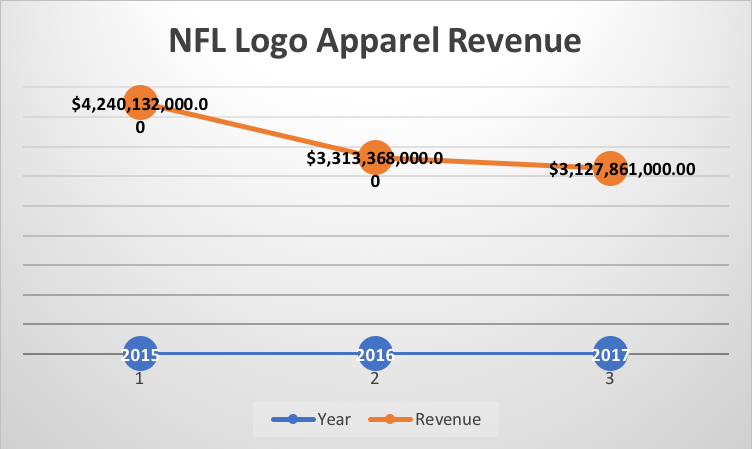 Sell First, Produce Second
Fanatics was able to generate revenue through its ability to hone into human nature. As humans, we crave instant satisfaction. This often causes our wants and desires to shift. What some may view as negative drama, Fanatics translates into added merchandise sales for the company. The sporting goods company shifted its production pattern to demand based ordering. Rather than producing products before selling, Fanatics chooses to sell the item first and then produce the product. This is a different model than teams have used throughout the past. Sporting goods stores used to produce championship memorabilia for both teams playing in the Super Bowl. Upon the game's ending, the company would either burn or donate the losing team's products and swallow the costs associated with producing the goods.
What's Trending?
Through the utilization of social media, Fanatics was able to predict consumers' purchasing patterns. For the 2017 season, data indicates that 48.4% of buyers were following the NFL on Twitter. We all know how social media can be used to influence. Many companies use various forms of social media to promote their brand, with some even paying popular social media users to be influencers themselves. What Fanatics has done is essentially reverse engineered this process. Instead of only using social media to tell their story and push their products, Fanatics is letting social media tell it the story and what products to push. By monitoring social media trends, the company was able to generate products that satisfied fans in a changing market. A prime example of this can be seen through the story of Pittsburgh Steelers offensive tackle, Alejandro Villanueva. Villanueva stepped out of the tunnel in honor of the national anthem while his fellow teammates remained off the field. Many fans commended the player all over various social media platforms. Suddenly, a jersey that was rarely purchased prior to the game was now in high demand.
Capitalize on Drama
Fanatics understands that fans seek to identify themselves with "winners" and players who brand themselves well. Fans were moved by Villanueva's actions and his ability to remain true to himself and distinctive amongst other players. Fanatics wasted no time in deciding to capitalize on the athlete's actions, they were able to produce a jersey while the market was hot. 
Consumer purchasing tendencies not only shift in results to athletes' actions but also with player movement. Well known players throughout the industry have generated a loyal fan base. Knowing this, Fanatics is able to view player movement and trades as wonderful opportunities possessing the potential to make more money. When a player moves, so does their jersey. With this being said, demand for the player's new jersey goes up. When this demand increases, so does Fanatics production. A company that always seems to hit the market with just the right stuff at just the right time, maybe Fanatics has discovered a new recipe for success. Traditional economics and marketing has always taught us the art of supply and demand, but did we overlook how powerful it can be to reverse the two? Instead of supply and demand, perhaps demand and supply is the better way to approach the world of retail apparel. Perhaps other companies should take a page from Fanatics' playbook and see if this strategy would work for them.
About the Author
This blog post was written by Samford student Brooke Adams. You can follow and connect with Brooke at https://www.linkedin.com/in/brookeadams-/.
Sources
Sports Business Research Network. Retrieved from the SBRnet database.
http://sportsmarketanalytics.com.ezproxy.samford.edu/Article-Detail.aspx?id=257706
Schonbrun, Z. (2017, November 21). Fanatics, Maker of Sports Apparel, Thrives by Seizing the Moment. Retrieved from https://www.nytimes.com/2017/11/20/business/fanatics-apparel.html
Garcia, A. (2018). How NFL jersey sales thrived during a bad year for the league. [online] CNNMoney. Available at: https://money.cnn.com/2018/03/16/news/companies/fanatics-nfl-jerseys-national-anthem-protest/index.html?iid=EL  [Accessed 1 Aug. 2018].
(n.d.). Retrieved from https://www.bizjournals.com/jacksonville/news/2018/05/25/nfl-partners-with-fanatics-on-merchandising-model.html