Published on November 20, 2018 by Max Rebol  
Being a professional tennis player can have huge potential to make a living out of…If you are one of the best in the world. While there are around 14,000 people who claim to be "professional tennis players," around 6,000 haven't even made a penny. It is one of the most expensive sports to play considering the pricy racquets, apparel, travelling and tournament fees. There are thousands of players out there that have potential to be great but do not have the funds to provide for them. The International Tennis Foundation (ITF) has tried to implement a system where players can earn more money from the smaller professional tournaments.
There are no salaries in tennis therefore you only make what you earn. Being considered a "professional tennis player" means that a player has earned at least one ATP point. By winning a point you have to win a match in a pro tournament. These tournaments start at Futures Events (the lowest pro tournament), then go to Challenger Events, then finally ATP World Tour Events (250, 500, 1000, then grand slams.)  If a player were to win the US Open, he would earn around $4 million dollars. If a player were to win a smaller professional tournament such as a Futures, he would only earn around $1,000. These tournaments are held all around the world and typically held at sites that are in poor conditions. Even after winning this tournament, you have to account for flights, hotels, food and stringing. None of this is accommodated, therefore the player makes barely anything profit even if he wins it! After winning an event like this you typically need to win a few more to make it to the Challenger Tour. Challenger Tour events offer a total prize money of $40,000 to $200,000 depending on the strength of the tournament. That money is then divided down to players who make 2nd round, 3rd round, 4the round, quarterfinalist, semifinalists, finalist and the winner. The winner of this even makes only around $10,000 depending on the tournament. It is clear that making a living on the pro tour is extremely expensive and difficult.
For example, Roger Federer currently has earned the most prize money on tour with a whopping $116 million. This is strictly prize money and does not even account for his sponsorships and endorsements with Nike, Mercedes-Benz, Rolex, etc. In comparison, Radu Albot, from Moldova, is currently ranked 100 in the world. Most people have probably never heard of him but his career prize money is currently $1,956,945. Being considered the 100th best player in the world and only making $2 million over 10 years on the pro tour is astonishing.
Here is a look at the top 10 players who have earned the most money this year so far:
As you can see, if you're at the top of the game, you can make some serious money. While these players are making great profits, the rest of the tour doesn't even compare.
Here is a list of the top 175-185 earners this year so far.

As you can see, there is a huge difference in the earnings from just a 100 spot difference. This is strictly their prize money and has no salary included. For instance, if a player goes through a losing streak and not playing well, he won't make any money. This makes being a professional tennis player one of the most difficult sports to make a living out of in my opinion.
The (ITF) is trying to implement a system in which players at the lower pro level can make more money which can allow more people to earn more. This data below shows the overall earnings of a professional tennis player.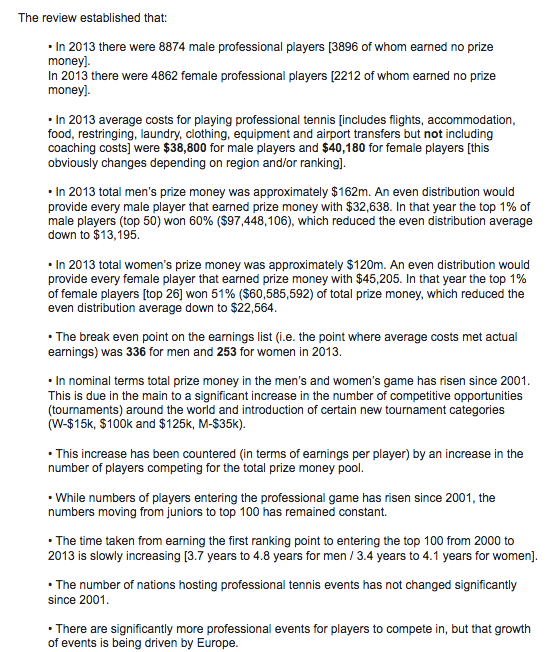 As you can see, only 336 men and 253 women in 2013 broke even without considering the cost of coaching. While the time it takes from a player to earn their first ATP point to the time crack the top 100 is slowly increasing, the transition period from juniors competing on the pro circuit to finally crack the top 100 is taking longer. When the ITF added the new tournament categories, there was an increase in prize money which gave players more opportunity to earn money. The New York Times wrote an article on this new system. David Waldstein wrote, "The plan is to funnel the top 750 men and 750 women into the Challenger Tour, where prize money at each tournament would equal $25,000 or more. Those would be true the professionals. The remainder would play on the new Transition Tour, which would be restructured to favor promising young players through a new ranking system and make it less costly. The I.T.F would continue to assess and possibly tweak the system to establish a major league and a minor league with a clear link between them" (Waldstein, 2017, online.) The Transition Tour is also implementing "play-down rules." These rules prevent anyone inside the top 150 to participate in these events. This will reduce the risk of transition players to face a top ATP player in the tournament. They will also reduce the price of hosting a tournament which will make more places able host at their sites. Lastly, they are reserving spots in the tournament for the top 5 juniors who entered the tournament. This will make it easier for juniors to attempt to earn more points at bigger tournaments which will make the transition a bit easier for them The Transition Tour is meant to give top juniors a more clear path towards success on the tour. Also, it is meant to keep people from being stuck in these lower professional tournaments not making any money.
As you can see, making a living on the tour is extremely difficult. While the players at the top of the game keep on getting richer, the new Transition Tour should help make this process more feasible for players. This not only can help benefit current players, but it can give current juniors more motivation to strive to take their game to the next level.
About the Author
This post was written by Max Rebol, a student-athlete at Samford University. You can learn more about him at https://www.linkedin.com/in/max-rebol/
Works  Cited
http://stats.washingtonpost.com/tennis/rankings.asp?rank=3&tour=ATP
https://businesssideofsports.com/2016/03/15/breakdown-of-professional-sports-salaries-and-its-issues/ [link broken as of 12/10/18]
https://www.nytimes.com/2017/08/18/sports/tennis/itf-futures-tour.html
https://www.itftennis.com/procircuit/about-pro-circuit/player-pathway.aspx
https://www.itftennis.com/news/278962.aspx