Published on January 10, 2018 by Jacob Gholson  
Everyone knows the iconic scene. The home team has just completed a huge upset and fans begin to rush the court. Students are shown on camera, decked out in their team's gear as they celebrate with their players. However, this scene is misleading. From going to games or seeing actions like this, it may seem like a college team's target market are their students. However, data suggests that this is a myth. The real college basketball fan is someone completely different.
The Real College Basketball Fan
When looking at the data of NCAA basketball viewers, the fan population by age proves that college students do not dominate the market.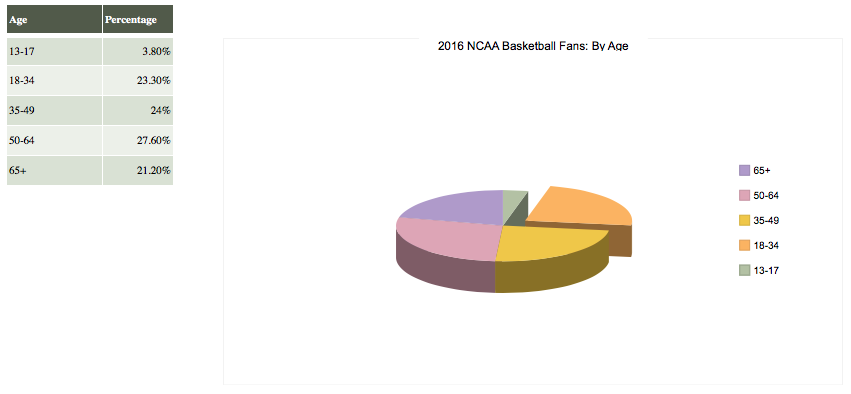 From this, we see that college aged students or those who have recently graduated (18-34) make up only 23 percent of the total population. They are simply average when it comes to being fans of this sport. The true college basketball fan is 50-64 year olds. But why is this?
Adult fans still want to get involved with sport. They often have families or free time on nights or weekends, and they are seeking ways to support a team. As a result, they will turn to their community. Regarding basketball, it is much more convenient for this group to support their local college team. Geographic proximity often favors that of NCAAB when compared to the NBA simply because of the amount of teams in each league. There are 11 times more NCAA Division I teams (351) than in the NBA (30). NCAA basketball is also more affordable and, unless you live in a big city, you will have to travel a long way to an NBA game. For these reasons, the median age for NCAA fans attending games is 45, much older than the age people would assume.
Students Drop Out
Because of the increased interest rate of older fans in college basketball, students are often forced out of the system, unable to purchase tickets to games or attend basketball team events. Some students, though, are lucky. Schools in lower divisions and even students who attend smaller Division I schools often have easy access to their basketball games. Sometimes, it is even offered free. However, that is not the case for state schools and other schools from the Power Five (SEC, Pac-12, Big 12, Big 10, and ACC). Students are required to pay for their tickets, with money they are already using for tuition. As a result, they must watch from the sidelines, unable to get the full fan experience. Even though we see crazy fans going wild at games and through social media, this is not a reflection of the fan base as a whole.
NBA as a Fall Back
Even though students may feel cut off from their campus's team, the college aged sports fan still loves basketball. Through its popularity on social media, the NBA has been extremely successful in attracting millennials. These young fans can follow their favorite players on Twitter, see highlights of their team every night, stream games on multiple platforms, and play as their favorite team on NBA 2K. Recently, the NBA is using this online game to get into esports, connecting with even more young fans. When interviewed about this new partnership, Managing Director of the new NBA 2K league, Brendan Donohue (@BDeagles), informed us that, "'We have data on NBA fans, and that's a massive audience...We see that NBA fans are actually more likely to engage in esports than fans of other sports. We think there's a pretty nice marriage here.'" There are so many more ways for millennials to get involved in the NBA when compared to NCAA basketball. As a result, the NBA fan age is much younger than the NCAA.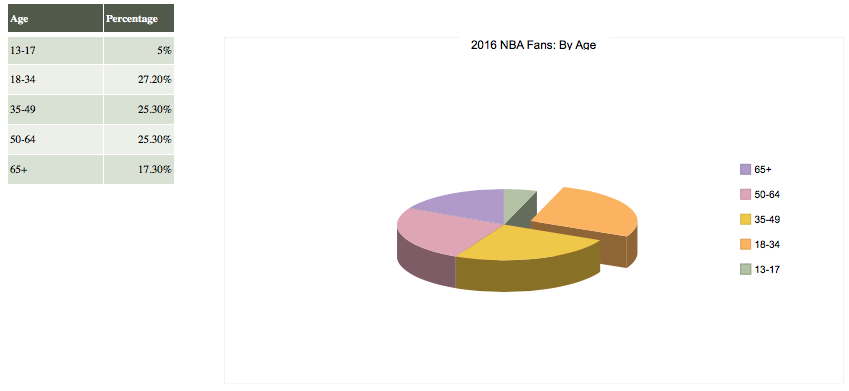 It is clear that those aged from 18-34 want to get involved in the sport that they love. As they are able to become more involved in the NBA, their fan base is becoming younger, while the NCAA's is becoming an older one. Even though we see college students going wild for their team, more prefer another league.
This post was written by Samford University student Jacob Gholson.
Sources
Donnelly, J. (2017, October 16). NBA esports investment 'a long-term play' that will be 'around   for decades'. Retrieved from:
http://www.pcgamer.com/nba-esports-investment-a-long-term-play-that-will-be-around-for-decades/
SBRnet Sports Market Analytics